The Best Fitness Trackers
To share this page via email, fill out the fields below:
Message Sent!
Oops! Please try again
Send
We conducted research, surveyed readers, interviewed industry and exercise-physiology experts, walked, ran (and ran some more), slept, grocery-shopped, jumping-jacked, swung kettlebells, analyzed user experience, and got many a curious look from passersby. And after 60 hours of all that activity, we determined that the Garmin vívosmart HR is the best fitness tracker for most people. It effectively collects the same data as top competitors from Fitbit and Jawbone but offers a larger, more legible touchscreen and more useful smartphone-notification options, as well as full waterproofing to 50 meters—other models are merely splash-resistant.
Last Updated: May 24, 2016
Expand Most Recent Updates
May 16, 2016:
We've inserted details on the
Garmin vívosmart HR+
 into the
What to look forward to
section. In addition to the functions of our main pick, this model offers GPS tracking and some workout-guidance features.
February 19, 2016:
Garmin's new
vívofit 3
doesn't have heart-rate monitoring, so we won't be considering it for this guide. We've added it to our 
Competition
 section below.
February 4, 2016:
Fitbit's new
Alta
band doesn't have heart rate monitoring, so we won't be considering it for this guide. We've added it to the
Competition
section.
January 19, 2016:
We last performed a full review of fitness trackers in March 2015. Since then, features once considered optional or lightly supported, especially accurate heart-rate monitoring and sleep tracking, have come to the forefront. At the same time, the lines dividing activity trackers, sports monitors, and smartwatches have blurred, and the competition to determine which product crams the most features into the sleekest package has heated up. Here's who's succeeding (and who's not) at this point.
January 6, 2016:
After testing the Charge HR against the latest competitors, we've concluded that it's still really good, but the
Vivosmart HR
is a little bit better because it's fully waterproof and has a better screen. The
Charge HR
remains our runner-up pick. We are still finishing up some reporting and writing, but expect a full review this month. We've also added a note on the
class-action lawsuit
against Fitbit alleging that its heart rate monitoring technology is inaccurate below.
September 9, 2015:
Runtastic
—the fitness app company recently acquired by Adidas—has announced its first wearable device, the Moment. It's very similar in design to our basic, but stylish pick, although pricing runs between $130 and $180 for the four different models. We'll be comparing the two trackers to each other soon.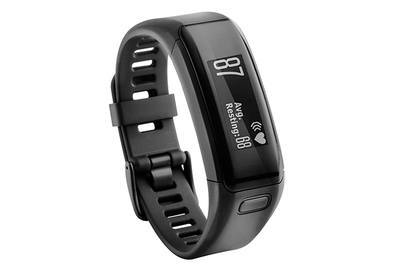 Garmin vívosmart HR
Feature-packed and equipped with an easy-to-read display and exceptional distance measuring, this model topped our test.
*At the time of publishing, the price was $150.
The vívosmart HR checks off nearly all of the boxes: It tracks steps, floors climbed, distance traveled, calories burned, and active minutes. Its display is easy to read, and you can customize it more than its peers to show whatever metrics you desire. The display also manages to show smartphone notifications and the current weather along with music-player and camera remote controls, something its closest competitor, the Fitbit Charge HR, can't touch. Its distance-measuring accuracy is particularly impressive, even when compared with that of trackers sporting built-in GPS receivers. It also monitors heart rate continuously, keeping a record of both resting pulse and workout intensity; many rivals do one or the other but not both. (However, the heart-rate data isn't always accurate, which is true of every tracker we tested.) And it packs all of this functionality into a slim, waterproof package.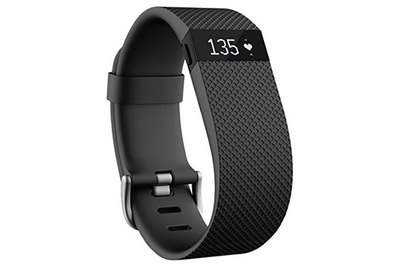 *At the time of publishing, the price was $127.
Fitbit Charge HR
The Charge HR has an excellent app and great social integration, but its screen is tiny, and its construction is only splash-resistant.
For about the same price, the Fitbit Charge HR offers a more user-friendly app and better online opportunities for friendly competition than the Garmin vívosmart HR. Unlike our top pick, however, it's merely "splash-proof" rather than waterproof, and its screen lacks an always-on mode—you have to tap the display or move your wrist to view the time or other metrics, including your heart rate during a workout. On top of that, the Charge HR is capable of receiving missed-call alerts but no others, and its band is stiff and less comfortable than the Garmin's stretchy strap.
Jawbone UP3
This model lacks a screen and active-heart-rate data, but it's attractive and discreet, and it uses your data to give advice on healthier living.
If you want not only to collect stats on your activity levels but also to receive advice on what to do, look to the Jawbone UP3. It measures the same stats as our other picks (except active heart rate), and the slim band looks more like jewelry than a high-tech fitness device. Based on your data, the app's Smart Coach feature provides advice to make improvements to your health, which other trackers can't match. However, the merely splash-proof UP3 lacks a display screen, monitors only resting heart rate (not intensity during workouts), and often retails for about $30 more than our other picks.
Fitbit One
Choose the Fitbit One for no-frills activity tracking that you wear on your clothing, not your wrist.
For stealthy activity tracking, clip the Fitbit One on a pocket or waistband, or elsewhere on your clothing. For about half the price of our top wrist picks, you'll get the basics, including step and stair tracking, plus a record of your sleep if you wear the One at night with the included soft-fabric band. You can also take advantage of the great Fitbit community. What you won't get is heart-rate tracking, or step counting that's any more accurate than what wrist-worn options offer (see How we picked and tested for more).
Table of contents
Why you should trust us
I'm a certified personal trainer (NASM-CPT), a running coach (USATF Level 1), and a regionally competitive runner. I also served as the staff writer for the Good Housekeeping Institute for nearly five years, working closely with the engineers and other scientists to interpret product test results.
In researching for this guide, we started with a survey of more than 800 Wirecutter readers, who told us that when they shop for a fitness tracker, they prioritize a slim design with a display, accurate step counting, waterproofing, and an integrated heart-rate monitor. I also reviewed innumerable articles from sources such as CNET, Gizmodo, and WIRED, interviewed industry experts Jill Duffy of PCMag and Ray Maker of DC Rainmaker, and discussed heart-rate monitoring with Clinton Brawner, PhD, a clinical exercise physiologist at Henry Ford Medical Center in Detroit.
Who should get this
The lines that separate a dedicated fitness tracker from a GPS running watch, a smartwatch, or even a smartphone have never been blurrier. Now you can find fitness trackers with GPS and push notifications, running watches with fitness tracking, and smartwatches with both. But as our testing revealed, a device that's designed to do all of those tasks isn't necessarily good at all of them.
Generally speaking, if getting information or advice on your overall fitness level is your primary goal, a fitness tracker is your best bet because it offers comprehensive data while remaining relatively affordable. If you're a runner, a GPS watch provides a better interface for tracking your pacing and other stats, and it's better for capturing and comparing your data across outings. Finally, a smartwatch, which often costs at least twice as much as a fitness tracker, is a good pick only if you're willing to pay extra for the smartphone connectivity it provides. Smartwatches also last only a day or two between charges, which limits the amount of data they can collect.
If you're looking for a way to monitor your activity, sleep, and workouts, or if you need encouragement to improve your current fitness level, choose a dedicated activity tracker with heart-rate monitoring. These devices provide at-a-glance feedback regarding steps taken (as well as reminders to get up and move), measure the intensity of your exercise, and report on the quality of your sleep. And because they typically last about four to seven days between charges as opposed to the couple of days you get from a smartwatch, they give you a more complete picture of your fitness level. Taken together, these measures can help you make positive changes to your health. Such devices also let you set up friendly competitions among your relatives and friends who have trackers of the same brand, and their ability to create conduits to pass or interchange data with other health-focused apps enhances the value.
All the best trackers these days include continuous heart-rate monitoring, a feature that many GPS watches and smartwatches, and almost all smartphones, lack. Your pulse is one of the best indicators of overall health—depending on the context—so capturing it to develop a complete picture is important.
Having an idea of your resting heart rate—the lowest bpm (beats per minute) at which your heart pumps blood, a figure best taken when you first wake up—helps you gauge improvements in your overall fitness. A resting heart rate that lowers over time is one indication that your heart muscle is getting stronger and more efficient at pumping blood.1 The other benefit to heart-rate tracking is the ability to quantify your training intensity.2 The people who benefit most from this data are heart patients under doctor's orders and competitive athletes honing their fitness. As exercise physiologist Clinton Brawner explained to us in an interview, "Monitoring heart rate can provide biofeedback about an individual's response to an exercise program. Following several weeks of regular aerobic exercise, heart rate will be lower at rest and at a given exercise pace (e.g., 3 mph). Some people appreciate this feedback."
If you're an avid runner, you're better off with a GPS running watch. A few trackers offer integrated GPS, but a running watch gives better real-time feedback on your pacing while you're running. It also tracks your actual route in addition to your distance traveled. Furthermore, the latest running watches pull double duty as regular fitness trackers, so you have no need to get a tracker on top of one of those watches. Some GPS watches even have optical heart-rate monitors built in. If heart-rate monitoring is your primary concern, whether you opt for a fitness tracker or a GPS watch, a dedicated strap monitor still provides greater accuracy and faster readings.
If you're more cursorily curious about your daily movements, or if you want a quick way to track a run, you may be satisfied with the tracking capabilities of a smartphone and apps. Unless you turn it off, your iPhone (5s or newer) tracks your step count automatically in the Health app anyway, and Google Fit on Android can track your steps, too. However, a smartphone is less practical for providing the whole picture of your wellness efforts unless you carry it on your body constantly. And it can't track your heart rate or sleep quality without additional hardware or software.
Finally, if you're more interested in having smartphone functions on your wrist, a smartwatch with activity-tracking abilities might work best for you. But a smartwatch tends to cost a lot more than a fitness tracker, has a one-to-two-day battery life as opposed to four to five days for a tracker, and can be distracting if you don't like to be attached to your phone at all times. Though some fitness trackers support phone notifications, their interactive capabilities and onboard apps are currently limited or nonexistent.
No matter which of these options you choose, Brawner told us, "the most important thing is for people to be more active. If technology helps to motivate someone, then I am all for it. One trick doesn't work for all."
How we picked and tested
In our reader survey, a whopping 71 percent of respondents said they want heart-rate monitoring in a fitness tracker, and more than half (54 percent) told us they plan to use it for monitoring the intensity of their workouts. As for the design, 43 percent said they prefer a simple, unobtrusive band to a sports or analog watch or jewelry look, and 57 percent indicated that they want a display for reviewing stats at a glance. Water resistance is important to 43 percent, and nearly half (47 percent) listed accurate step count as a must-have. Finally, respondents pinpointed a price of $150 as the sweet spot.
Fortunately, the offerings are coming around to match what consumers want. Using the above criteria, plus the insights of industry journalists Jill Duffy of PCMag and Ray Maker of DC Rainmaker, as well as reviews from CNET, Engadget, WIRED, and other websites, we examined the market and winnowed 26 initial contenders down to seven trackers that seemed to fill the bill: the Basis Peak, Fitbit Charge HR, Fitbit Surge, Garmin vívosmart HR, Jawbone UP3, Microsoft Band 2, and Polar A360.
I then set out to test these products both as a group and individually. To gauge step-count accuracy, I wore all seven bands simultaneously for two full days, paying attention to which devices' instructions recommended wearing on the dominant hand versus the nondominant hand, if they specified that. (Fitbit lets you pick your preference, so I wore one on each wrist.) I compared their readings with those of two hip-worn trackers, a Fitbit One and an older-model Omron pedometer, both of which I expected to capture fewer errant steps.3 Surprisingly, the nine devices' results were all over the map, ranging from 8,104 to 11,427 steps on the first day and from 8,508 to 10,595 steps on the second day. This included variation between the two hip trackers, both of which I watched as they counted a series of steps incorrectly—too high for the Fitbit One, and too low for the Omron. That said, step counts were generally consistent for each device (the Microsoft Band 2 was the low number on both test days, for example), so for relative comparison with a single device you purchase, you should be fine.
To home in on what might be affecting the accuracy, I clapped along to Queen's "We Will Rock You" (resisting the urge to also slap my thighs) to determine if arm movement minus leg movement registered as steps, and I also took the trackers for a stroll pushing a grocery cart around my local supermarket to see if they could capture my strides when my arms weren't moving. Finally, I did three sets of 30 kettlebell swings to determine whether that arm-plus-hip movement logged any steps.
Indeed, the claps foiled all seven wrist trackers, and only the hip trackers counted the 500 or so steps I actually took at the store. Curiously, only the Omron pedometer registered zero "steps" during my kettlebell exercise; even the Fitbit One registered nearly every one of the 180 forward-and-backward movements my hips took during those 90 swings.
For a look at how the trackers fared in a more standardized step-movement pattern, I ran for one mile on a treadmill to see how well each device captured distance traveled. My movements were even and consistent in this test, and I took steps with a matched arm swing. Three trackers nailed the distance down to the tenth (Polar) or hundredth (Garmin and Jawbone) of a mile.
All of the trackers contain technology that determines stride length based on factors such as your height and movement intensity. On a few of them, you can set your particular stride length manually to improve accuracy. Instead of calculating and entering mine, however, I used the defaults in this treadmill test, assuming that most people won't want to fuss with something that many trackers automatically figure out. All three Fitbit models, which do permit customized stride length, came up short, with the wrist trackers consistent with one another at 0.72 and 0.73 mile, and the One clip registering 0.78 mile.
All of the manufacturers concede that accuracy can vary—after all, wrist movements are consistent with leg movements only when someone is striding forward in a more-or-less straight line, which is not always how people move. But given that these devices' ultimate intention is to capture the user's activity and encourage more of it, they all deliver in spades. To determine your personal baseline, I recommend wearing your new device for a few days without making any concerted effort to change your usual habits, and then using those numbers to build on.
In general, the trackers were slow to notice an increase in heart rate when compared with the strap monitor.
For heart-rate accuracy, I performed two tests pitting each band against a Garmin chest-strap monitor: a sequence of 30-second intervals of jumping jacks and recovery, and a five-minute steady-state treadmill run. For each, I recorded heart-rate readings every 30 seconds during the exercise and for two minutes of recovery following. (I excluded the Jawbone from these tests because it doesn't track heart rate during workouts.)
These test results also gave me pause: In general, the trackers were slow to notice an increase in heart rate when compared with the strap monitor, and in far too many cases they overshot or undershot the control heart rate by more than 5 bpm, which was on the very outside of the tolerance that exercise physiologist Clinton Brawner told us was acceptable for training use. With too-high readings, you may erroneously slow your workout pace and get less of a benefit; with too-low readings, you might wonder if you're not working hard enough and push past your target zone.
If heart-rate training is your primary aim, you're better served with a strap monitor.
Curiously, the trackers often seemed to "catch up" during recovery periods, but that isn't so helpful if your aim is to monitor exertion. Our data was a bit better for the steady-state exercise versus the intervals, but the bottom line is, if heart-rate training is your primary aim, you're better served with a strap monitor. Otherwise, relying on the talk test (checking that you can say a few sentences without excessive breathiness) or gauging effort based on how you feel on a scale of 0 to 10 may be a better intensity indicator for when your fitness tracker seems to be giving you inaccurate data.
Finally, I spent some quality time with each band individually, assessing the comfort, the user friendliness of both product and app, the sleep tracking, and overall impressions. (Sorry, no comparison test on sleep tracking: I doubt I'd have slept well wearing all seven trackers at once, plus some of them wouldn't have been in an optimal position for reading my heart rate.)
One of the problems I've seen as a trainer is that people get excited about their new activity toy, use it for a bit, and then either tire of it or outgrow it. For these reasons, I paid particular attention to the features that encourage next-level fitness, including integration with other apps, opportunities for friendly competition, and tracking for workouts while the user is running, cycling, training, and more.
Our pick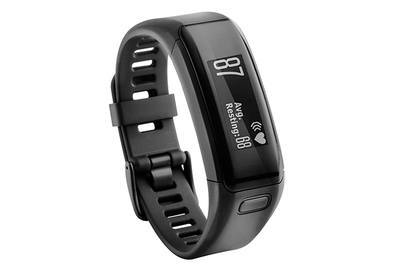 Garmin vívosmart HR
Feature-packed and equipped with an easy-to-read display and exceptional distance measuring, this model topped our test.
*At the time of publishing, the price was $150.
The Garmin vívosmart HR narrowly edged out the also-good Fitbit Charge HR because it tracks everything the Charge HR does but offers more features for around the same price. Its larger, always-on, customizable touchscreen display is easier to read and interact with; it's completely waterproof to 50 meters (as opposed to just "splash-proof") for worry-free use in the shower or pool; and it's impressively accurate in measuring distance traveled, despite a lack of GPS.
And while the Fitbit offers only missed-call alerts, the Garmin gives you smartphone notifications for calls, texts, email, and social media, plus music controls, at-a-glance weather forecasts, and a handy "find my phone" feature that lets you play Marco Polo with your misplaced phone if it's in Bluetooth range. Finally, its integration with the Apple Health app gives you more flexibility in how you use your data and partially compensates for the Garmin Connect app's lack of polish. Overall, we believe the benefits of the vívosmart HR's hardware make it a more complete fitness-tracking device than anything else currently available.
A handy "find my phone" feature lets you play Marco Polo with your misplaced phone if it's in Bluetooth range.
The Garmin's touch-sensitive passive OLED display is its biggest advantage over competing trackers. The display is always readable in ambient light, and a screen light comes on at the graze of a fingertip for legibility in the dark. (In contrast, the Fitbit model's screen has no always-on mode and requires prompting to light up.) You can orient every screen except smartphone notifications in portrait mode, which I immensely preferred to landscape orientation for more comfortable viewing on my wrist. Some other trackers with long screens, such as the Microsoft Band 2, offer only landscape orientation, which forces you to tilt your wrist in an awkward position to read the screen.
And because the vívosmart HR has a touchscreen, you can easily start an activity with a couple of taps instead of sorting through a maze of button presses just to tell the device that you're beginning a run, swim, or yoga session. Finally, via the app you can select exactly which data screens and smartphone notifications you want your Garmin tracker to show for a personalized experience.
Active people aren't active only when and where it's dry, so we appreciate the fact that the Garmin tracker is fully waterproof down to 5 atm or 50 meters, a major pro in PCMag's opinion as well. That means you can safely wear it in the shower, tub, or pool. (The same goes for the Basis Peak; the Polar A360 is water resistant to 30 meters or 3 atm.) The Fitbit Charge HR—as well as the Fitbit Surge, Jawbone UP3, and Microsoft Band 2—are merely splash-proof.
Active people aren't active only when and where it's dry, so we appreciate the fact that the Garmin tracker is fully waterproof.
While the vívosmart HR's step-count accuracy is serviceable, it's far from perfect. Wrist movements can register as steps, and steps without wrist movements may not register, but I saw similar problems with every tracker I tested, including the clip-based Fitbit One and the Omron pedometer I wore as a control.
The Garmin vívosmart HR measured distance impressively in our 1-mile treadmill test, where it was spot-on to a hundredth of a mile.
Nonetheless, the Garmin vívosmart HR measured distance impressively in our 1-mile treadmill test, where it was spot-on to a hundredth of a mile. The Polar A360 and the Jawbone UP3 also did well in this controlled test, but the Garmin vívosmart HR set itself apart when I took it on an outdoor interval run (the workout I was doing on the day I tested it solo). I ran eight quarter-mile repeats with quarter-mile recovery for a distance of 4 miles, as measured by the Garmin vívoactive GPS watch. The vívosmart HR measured just one-tenth of a mile longer than the GPS watch—especially impressive considering that my stride length (which the vívosmart HR was capable of estimating) most certainly varied for the fast quarter-miles versus the recovery ones. If tracking distance for runs is your priority and you don't care about knowing your actual route, you could feasibly get away with using this tracker instead of a dedicated running watch. This isn't a huge surprise given that the original vívosmart (our former pick for runners) and the Garmin vívofit have always been good at estimating distance, but it does set the vívosmart HR apart from other trackers.
Garmin's supple stretchy band is both easier to fasten and more comfortable than Fitbit's stiffer one.
The other area in which the vívosmart HR shines is ergonomics. I found it easy to put on and reasonably comfortable to wear as long as I didn't strap it on too tightly—the optical sensor sticks out slightly in back and can leave a dent in your skin. It's downright petite in comparison with the mammoth Basis Peak and Fitbit Surge, both of which were uncomfortably large on my small wrist. I appreciate that both the Garmin vívosmart HR and the Fitbit Charge HR come in different band sizes, though I wish the hardware portion of each were more contoured for a snug fit. The vívosmart HR sticks up just a bit higher than the Charge HR—CNET reviewer Dan Graziano dings the Garmin tracker on its "bulky" design—but I didn't find it any more obtrusive, and Garmin's supple stretchy band is both easier to fasten and more comfortable than Fitbit's stiffer one.
Its resting-heart-rate measurement was accurate when compared with my own finger-on-pulse calculations, but its evaluation of my active heart rate was not as accurate. (I talk more about this problem in Flaws but not dealbreakers below.) However, I could say the same for all of the heart-rate monitoring devices.
The battery lasts about four to five days between charges, which is about in line with the longevity of other heart-rate monitoring fitness trackers, including the Fitbit Charge HR.
Beyond the fitness features, the vívosmart HR also offers impressive integration and other functions. The smartphone alerts are robust for a fitness tracker, an observation that CNET's review also makes. With the vívosmart HR, nearly every notification you can get on your phone you can also view on your wrist. The Charge HR shows only missed-call alerts.
In addition to letting you select exactly which data and smart notifications it should show, the Garmin model has an activity mode for tracking workouts (the most important thing to set if you care about recording a run's distance), an altimeter for measuring flights of stairs climbed, internal memory for up to 14 days' worth of data, remote-control options for music on your smartphone, and a handy "find my phone" feature. It also plays nice with Apple HealthKit for integration of all your health data in one place, while Fitbit products do not. If you happen to own a Garmin VIRB camera, you can use the vívosmart HR as a remote control for that as well, but we didn't test this function. Only the Microsoft Band 2 could beat the vívosmart HR's level of notification support and interactivity, but it costs $100 more and really competes as a smartwatch.
Flaws but not dealbreakers
The app that Garmin offers with the vívosmart HR can't quite compete with Fitbit's, and that's the vívosmart HR's biggest flaw. Garmin Connect has steadily improved from its early days, but it still feels overly complicated next to Fitbit's streamlined simplicity: The info that Fitbit's app shows in one scrollable screen takes Garmin Connect multiple screens to show. However, Garmin continually pushes app updates, so we have reasonable hopes that Garmin Connect will improve.
The other area in which Garmin lags behind Fitbit is in social integration. When it comes to fitness, friendly competition is a great way to inspire improvement, and although Garmin isn't hurting for users, the company simply doesn't have the audience of step-count-focused casual users that Fitbit has. Garmin is making strides to change that by installing activity tracking in a number of its newer GPS watches, but its core audience still skews much more heavily toward runners and cyclists.
As with all of the other models, the Garmin vívosmart HR's heart-rate tracking didn't impress me. In my interval workout, it lagged behind the control strap and didn't capture my peak heart rate until about 15 seconds after exertion. In my steady-state run, it measured my heart rate to be much higher than the control—as much as 20 bpm higher. However, its last three readings were just 1, 1, and 3 bpm off, respectively, and after a 30-second delay in registering my recovery, it caught up to within 3 bpm once more. These results aren't too shabby overall, but they indicate that the Garmin tracker isn't reliable enough to replace a dedicated strap if you're serious about measuring active heart rate. The Fitbit Charge HR struggled even more than the Garmin vívosmart HR in keeping up with my intervals but fared slightly better in the steady-state run, giving me consistently low readings that were up to 16 bpm off from the control.
The heart-rate data readings you get from any of these devices are better viewed as ballpark estimates.
In his in-depth review of the vívosmart HR, Ray Maker of DC Rainmaker reports similarly unreliable results for interval training and notes that in his tests the stated resting heart rate tended to err on the high side—he attributes this to a lower sampling rate that excludes motionless periods. But he also found that it tracked pretty close to accurate in regular, medium-intensity running. If you get readings that are blatantly off, he suggests trying the following:
A) Moving it away from the wrist bone. It should be at least 1-2cm away (and never on-top).

B) Try putting it on the inside of your wrist (the soft fleshy part, generally sensors do better there).

C) Try the other wrist, you'd be surprised how often that makes a difference
The DC Rainmaker review also notes that you can rebroadcast the heart-rate data to other ANT+ devices (such as a running watch or a cycling computer) if you so desire. But we wouldn't bother due to the general unpredictability of the heart-rate monitoring.
Overall, in our tests none of the other fitness trackers that have heart-rate monitoring (including the vívosmart HR) were very accurate when compared with a chest strap. The heart-rate data readings you get from any of these devices are better viewed as ballpark estimates—which is why we're not surprised by the recently filed Fitbit class-action lawsuit. If you're planning on doing heart-rate training, you should invest in a separate strap.
The vívosmart HR's sleep tracking provides interesting data on light versus heavy sleep based on your heart rate and movements. But I know that I was wide awake for at least a few minutes at 3 a.m. one night when I was testing the vívosmart HR and the Charge HR head-to-head, yet neither of them picked that up. Conceding that I have no practical way to test the sleep tracking, I was most impressed with the presentation of the sleep data on the Jawbone UP3.
As for the silent vibrating alarm feature, the vívosmart HR's worked fine and went off at the scheduled time. But I liked the UP3's wake alarm best: Not only does it have a gentle-yet-effective vibration that doesn't quit until you hit the band, but it also purports to wake you at the optimal moment up to 30 minutes before your alarm based on your depth of sleep, so you'll be less groggy. The Garmin and Fitbit alarms wake you at the scheduled time only, and the Garmin alarm buzzes rather audibly, which could disturb a sleeping companion.
Note that the vívosmart HR drops the ANT+ support found on the original vívosmart model. This means no more support for older external heart-rate monitoring strap or cycling sensors. The fact that the vívosmart HR measures heart rate on its own makes up for this oversight in most cases, though.
Runner-up (with a better app)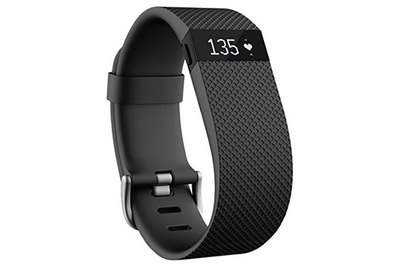 *At the time of publishing, the price was $127.
Fitbit Charge HR
The Charge HR has an excellent app and great social integration, but its screen is tiny, and its construction is only splash-resistant.
The admirable Fitbit Charge HR, our pick in the March 2015 version of this guide, remains a great tracker. It performs comparably to the Garmin vívosmart HR in almost every fitness-tracking category except for estimating running distance, where it undercounted by about a quarter mile in my tests. And the Fitbit app offers more user friendliness and has more social-interaction features than Garmin Connect. Overall, however, the Charge HR comes in a close second to the vívosmart HR for one big reason: its tiny screen.
In contrast to the Garmin device's large touchscreen display, the Fitbit tracker's non-touchscreen OLED display remains black to conserve battery life unless you tilt your wrist or double-tap the band; I found both responses inconsistent. To my mind, if you're going to wear something that replaces a watch, you should be able to simply look down to see the time. A bigger usability complaint is that the Charge HR's screen doesn't have an always-on mode for viewing heart rate during a workout—I found myself tapping and button-pushing a whole lot during my heart-rate tests. (This is also a nuisance with the Polar A360.)
If you're going to wear something that replaces a watch, you should be able to simply look down to see the time.
The Charge HR is also merely "splash-proof," not waterproof, which seems like an oversight for a product that in theory you should wear 24/7. This could be a dealbreaker if you're a swimmer, and it made me nervous when I got caught running in a pretty heavy downpour (though the Charge HR survived).
The thick, stiff rubber band of the Charge HR is another disappointment: It's tricky to clasp, and it traps in heat and moisture, particularly during a workout (a problem for the Fitbit Surge and the Microsoft Band 2 as well). And while the Charge HR differs in design from the earlier Fitbit Force, which suffered a recall because it caused wrist rashes, our reviewer Jim McDannald had an unpleasant experience: "My skin that contacted the clasp became red and irritated after two weeks of wear. This is the first time ever I've had a skin reaction to the metal on a fitness tracker or watch. If you have a history of similar skin sensitivity, I would suggest a different wrist or clip tracker."
If, like 12 percent of our survey respondents, you consider social interaction a priority for your fitness tracker, you may prefer the Fitbit Charge HR. In addition to giving you access to a notably active internal community, its software allows you to link to Facebook to find friends who've done the same. "If you have friends or family members that own a Fitbit, however, I recommend you buy the Fitbit Charge HR," writes CNET's Dan Graziano in his review. "Friends don't let friends track fitness alone."
Ray Maker of DC Rainmaker writes in his review of the vívosmart HR that the Charge HR is overall "a more 'basic' version of what Garmin is delivering," and we agree with that assessment. If you prefer to interact with an app instead of with the tracker itself, the Fitbit Charge HR will give you a better experience. But we think the Garmin vívosmart HR's bigger screen and greater functionality make it a better pick for most people because it's a more complete device.
A stylish pick that gives you advice
The Jawbone UP3 is a bit of an outlier in this category, but you might consider it if you want a discreet device that doesn't scream "fitness tracker" and also provides more guidance and insight on what to do with the data it gathers. (And for what it's worth, the UP3 is one of Oprah's Favorite Things.)
Jawbone UP3
This model lacks a screen and active-heart-rate data, but it's attractive and discreet, and it uses your data to give advice on healthier living.
The slim UP3 looks a lot different from the other trackers: Slim and screenless, it comes in a variety of finishes that make it look more like a bracelet than a watch. To log and see your data, you need to have your smartphone nearby, but as long as the phone's Bluetooth is on, the UP3 syncs regularly and updates you on your activity progress throughout the day.
Where the Jawbone UP3 gets really good is in the Smart Coach feature. The app analyzes your data and provides feedback: where you went right, and tips on how to improve where you went wrong. For example, one morning it told me that my resting heart rate was higher than usual and that I might be dehydrated—this suggestion made sense, because I'd been at a cocktail party the previous evening. The graphics and charts for the data it collects on activity and sleep are also well designed, easy to understand, and interactive. On top of that, the band has a smart alarm that you can program to wake you with a gentle vibration up to 30 minutes before your scheduled time, based on when your sleep is lightest during that period.
The app analyzes your data and provides feedback: where you went right, and tips on how to improve where you went wrong.
On the negative side, the UP3 doesn't offer heart-rate tracking during workouts—it records only resting and passive heart rate when you're inactive. But it will notice when your activity increases, and the app will ask you later if you worked out and if you want to log that block of time as such. Its lack of a screen might also be a drawback, particularly if you think that a fitness tracker should double as a watch. And it's usually about $30 more expensive than our other picks.
Oh, and you can safely ignore the Jawbone UP4 (unless it happens to be on sale for less than the UP3), since it's exactly the same as the UP3 but with built-in American Express NFC payments—think Apple Pay or Android Pay, but only for AmEx cards. If you think that feature is worth an extra $20 on top of the cost of the already pricey UP3, go for it. But the UP4 is really a niche product.
A clip-on pick for discreet tracking or team sports
Fitbit One
Choose the Fitbit One for no-frills activity tracking that you wear on your clothing, not your wrist.
For some people, simplicity is king. The tiny Fitbit One, which clips to a waistband, a pocket, or some other portion of your clothing, counts steps taken, floors climbed, calories burned, and distance traveled without occupying your wrist real estate. It's great for team sports and other activities where, for practical or safety reasons, you can't wear a wrist tracker. (If you also want to take advantage of its sleep tracking, though, you'll have to wear it with the included soft-fabric band.) You still get the superior Fitbit app, with access to its active community. The battery life is superior, too, at 10 to 14 days versus the four to five days you can expect from most of the wrist-mounted options.
Typically we expect clip trackers to be more accurate than wrist ones at step counting because they should detect leg movement; however, judging from my testing and anecdotal evidence, I'm not sure the One is any better (or worse) than wrist trackers. It was the only one of the tested trackers to capture an accurate picture of my steps during my grocery-cart test, and naturally it ignored the hand claps I performed along with "We Will Rock You." On the other hand, it logged nearly every one of the ups and downs of my 90 kettlebell swings (apparently, my hips don't lie), and I watched it count too many paces during an unofficial stride test. Its distance measure on my 1-mile treadmill run was also short, at 0.78 mile. And it lacks heart-rate monitoring.
The competition
The Microsoft Band 2 is packed with features and does all the requisite tracking: steps, stairs, and passive and active heart rate. It even has GPS for running and cycling. You can customize its crisp color AMOLED display to show pretty much whatever data you want plus smartphone notifications, and it even allows you to reply to texts. Among our test group, the Band 2's buckle was by far the easiest to fasten. This model's curved shape makes it more comfortable than the previous Band, though it can feel still heavy and constricting, particularly when you're engaged in activity where you want your wrist to flex, such as yoga (a drawback that PCMag's review also notes).
I like what the Microsoft Band 2 is trying to accomplish. It's a sleek smartwatch-like band for fitness buffs—or is it an activity tracker with some nicely polished extras? A number of other reviewers, including CNET's Scott Stein, have expressed similar confusion. Ultimately, for me, the Band 2 was a pain in the shoulder, the body part that took the brunt of the weird contorting I had to do in order to read the horizontal display screen. As the PCMag review suggests, a software update to allow landscape orientation would be a huge improvement.
My testing results also call its accuracy into question: The Band 2 registered the fewest steps of all the trackers I tested, and its heart-rate monitoring consistently delayed in registering exertion. Once it finally registered, it overshot my actual heart rate by as much as 25 bpm—which is higher than my actual max heart rate (I've had it tested in a lab). I also took the Band 2 for an outdoor run, and the screen helpfully told me that I could start, and the GPS would catch up. Then it registered my first mile at a 6-minute pace (something I'm physically capable of, but definitely not what I was doing as I weaved my way through the streets of Queens). And while the Band 2 is rated at 48 hours of battery life, in my informal testing it lasted little more than 24 hours, a disappointing result considering that the other models offer multiple days of use before needing a charge.
The Fitbit Surge is the Fitbit model designed for the more running- or workout-focused person. It adds a larger screen and GPS tracking, both of which work well. But at more than $200, it's a hard sell. This tracker is worth considering if you love the Fitbit ecosystem and want sports-watch capabilities plus smartphone notifications. The Surge's display is similar to the Garmin vívosmart HR's, consisting of a passive OLED screen with backlighting when you touch it. This tracker also shows the time and can receive notifications for calls and texts (though not for email, calendar, or social media items), and it can control music on a smartphone.
The GPS functionality allows more precision in tracking runs and bike rides, and multiple workout settings allow you to better categorize your fitness activities. The built-in timer is a nice addition, as well. But the Surge is quite large—not my ideal for all-day wear and definitely not for sleeping. A number of GPS running watches in its price range include activity tracking, too, so if you're more serious about your running and uninterested in Fitbit's ecosystem, one of those watches will be a better buy for your money.
The Fitbit Blaze represents the company's first attempt at a smartwatch. But we advise waiting for the second attempt—or at least until the Blaze gets some more apps. Preliminary hands-on reports from PCMag and The Next Web both conclude that the Blaze doesn't do enough to justify its premium over other fitness trackers yet. A smartwatch is only as good as its ecosystem support, after all, and a dedicated Android Wear or Apple Watch will be much better in that regard because you can respond to notifications as opposed to just receiving them. With the Blaze, for $200 you get what's essentially a GPS-less Surge. It does look a bit better than its sibling, but judging from what we saw at this year's CES trade show, it's still a bit too large to look good on smaller wrists. The one distinct feature it adds is the ability to guide and track structured workout routines designed by Fitstar (think 7 Minute Workout). You can also buy straps to match your style, but they're expensive, ranging up to $150 for the steel-link band!
Neither Fitbit's new Alta band nor Garmin's vívofit 3 has heart-rate monitoring, so we won't be considering either model for this guide. If you're interested in trackers without heart-rate monitoring, let us know in the comments, and we'll look into them in our next round of tests.
The Basis Peak received an honorable mention in the previous version of this guide for its sleep tracking and data export. But in the time since we last visited this category, heart-rate monitors and the adoption of HealthKit for data export have both become nearly universal, which limits its appeal. The Peak's ability to register an increase in activity and switch modes is cool, but I found the effect of watching the heart-rate screen and having it suddenly change to the activity screen jarring.
In my tests, the Peak's step counting was on the lower end of the spectrum overall. It registered the most errant "steps" from my hand clapping and among the most from my kettlebell swings, and the least actual steps when I was pushing a grocery cart (zero). Other gripes: It was absolutely enormous on my wrist, the stock band was tough to fasten through the two rubber loops, and the screen didn't always register my taps and swipes the first time. To make matters worse, I wasn't able to look at the detailed sleep-tracking data or test the data-exporting abilities this time because I couldn't get the device and the app on my Android device (running Marshmallow) to play with each other, despite the attempts of the very helpful support staff at Basis (both anonymously and through the public-relations team).4
The A360, Polar's first fitness watch with on-board heart-rate monitoring, feels like a work in progress (a conclusion echoed in DC Rainmaker's review). Its color AMOLED screen is nice to look at, but it takes the same mostly-off approach as the Fitbit Charge HR's display does. It tracks heart rate only during exercise and provides no record of resting heart rate, though a software update allows you to take your heart rate on the spot if you desire. Unfortunately, its heart-rate readings in general were disappointing—slow to catch up to exertion and registering up to 35 bpm too low during my steady-state run.
The Polar app is mediocre at best, though the little chart showing how much time you spend reclined, sitting, standing, walking, and running is nice. The device doesn't automatically sync, requiring more button pushing. I found the band tricky to fasten, and the tracker unit pops out of the band when you're charging it, requiring some fussing to pop it back in securely.
During the research stage for this guide, when we were homing in on the models to test, we learned from our reader-survey responses that fitness-tracker manufacturers are moving in the right direction in one particular regard: To be competitive in this latest generation of fitness trackers, the inclusion of onboard heart-rate sensing is essential. For this reason, we excluded the Fitbit Charge, Jawbone UP2, Razer Nabu (which subsequently received some pretty poor reviews on Amazon), Misfit Shine 2 (ditto), Health o meter nuyu (ditto again), and Mira Bracelet, as well as the analog-style Withings Activité and Activité Pop, Timex Metropolitan+, and Runtastic Moment watches. We also left out the Garmin vívofit 2 and the Polar Loop 2, which record heart rate with an optional strap—likely more accurate, but definitely not as convenient. The Misfit Ray and the Withings Go made a small splash at CES, but they also lack heart-rate monitoring, so we won't be testing them.
We dropped a few additional heart-rate-monitoring watches—the InBody BAND, Striiv Fusion Bio, and Zensorium Being—due to lack of availability. And we nixed the pricey Wellograph due to middling reviews from PCMag and Engadget.
Finally, we should note the fitness trackers that are guilty (of not being great) until proven innocent. These include trackers made by electronics companies that don't have a fitness pedigree (like Huawei, Razer, and Xiaomi) as well as fitness companies that don't have a tech pedigree (like Under Armour). That isn't to say that these trackers can't be good, but tracking fitness is hard, and making good tech is hard. If companies that are good at both can still produce mediocre trackers, we have less confidence that newcomers can contend for the title of "best for most people" on their first attempt. We'll wait for reviews before spending our time on these—and you should, too.
A couple of GPS running watches with heart-rate monitoring, such as the TomTom Spark Cardio and Garmin Forerunner 235, also offer step counting, but these devices are really designed more as athlete watches with a bonus than true fitness trackers. We expect that integrated GPS will be the next frontier in fitness-tracking devices, and Ray Maker of DC Rainmaker concurs: "GPS will become more mainstream," he told us, "but the challenge is to miniaturize that technology to be competitive."
What to look forward to
The new Garmin vívosmart HR+ is an upgrade to our current pick. Its biggest new function is GPS tracking, but it also adds a virtual pacer and some workout-guidance features. It's also only slightly bigger than the vívosmart HR. We're looking forward to getting a unit in for testing, after which we'll update this guide.
Smartwatch maker Pebble announced a new lineup of devices in late May 2016, including the Pebble 2 watch, which the company seems eager to position as a fitness tracker. The new Pebble watch has the face, strap, and buckle of a traditional watch but adds a wrist-based heart-rate monitor connected to the fast-improving Pebble Health system. The always-on, e-paper screen promises to be a useful exercise display, as it is visible in both indoor and outdoor light, and the multiday battery life allows the watch to track your steps and sleep, too. We expect to test the Pebble 2, with a focus on fitness, in fall 2016.
(Photos by Amy Roberts.)
Footnotes:
1. The greatest change in heart rate occurs when a person first increases his or her cardio activity, going from sedentary to not, or adopting a more intense cardio program. The American Heart Association pegs normal resting heart rate between 60 and 100 beats per minute, with athletes, as well as people on certain medications (like beta blockers), having much lower resting heart rates. Note, however, that having a lower resting heart rate than your friend doesn't necessarily mean you're in better shape; comparisons are useful only against your own data. Jump back.
2. Using a maximum heart-rate value, monitors calculate zones to categorize intensity, from light to moderate to hard. One challenge is that the heart-rate zone calculations are usually based on averages by age (typically determining the max by finding 220 minus your age) and may not be reflective of your heart. People on beta blockers or under a cardiologist's care will have their maximum rate set lower. Also, monitors often label zones as "fat-burning" and "cardio," which is really a disservice: While it's true that your body will burn proportionately more calories from fat than from carbs in the 60-to-75-percent zone, your overall calorie burn will be higher in the 75-to-85-percent "cardio" zone, and your heart will reap more benefits. Jump back.
3. I didn't wear the Fitbit One on the first day of testing because I'd already tested it and realized that it was counting high. I expected that the Omron would be more accurate, so I chose to wear just that one and then realized too late that it was counting short. Jump back.
4. The app said it was syncing, but no data appeared. Apparently, my data was on the servers somewhere, and the tech expert who tried to help me could see that nothing was loading on my app; I seemed to have encountered a bug that the support team had yet to replicate. After several weeks the issue remained unresolved. Jump back.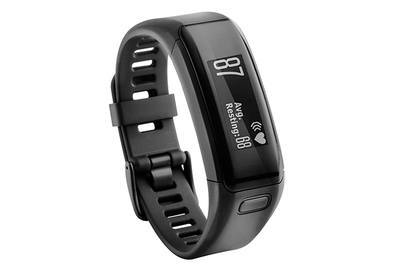 *At the time of publishing, the price was $150
To share this page via email, fill out the fields below:
Message Sent!
Oops! Please try again
Send
Originally published: June 6, 2016