The Best Sous Vide Gear
To share this page via email, fill out the fields below:
Message Sent!
Oops! Please try again
Send
If you're looking to get into sous vide, the way to go is the Anova Precision Cooker WI-FI. It's made by a lab equipment manufacturer with a reputation for making accurate water baths, and though it costs only $200 at the time of writing, it provides temperature precision on par with much more expensive machines. Unlike other clip-on sous vide circulators we've tested, the slim Precision Cooker WI-FI's unique attaching mechanism allows it to work with almost any size or shape container, making it the most versatile machine we've seen yet.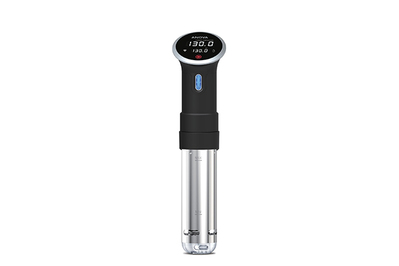 Anova Precision Cooker WI-FI
This immersion circulator is accurate, incredibly easy to use, and compatible with more vessels than other sous vide cookers. The addition of WI-FI makes it possible to set the unit remotely.
For four years now we've been testing sous vide cooking tools, and the Anova Precision Cooker WI-FI makes the most sense for a home chef due to its low price, ease of use, and ability to adjust to pots and containers of almost any size. While the heating element is underpowered compared to some of the competition, its flexibility and stowability make it more useful for most people. And, like just about every sous vide circulator we've tested, it's stable and accurate enough to use for even the most exacting of cooking techniques. The addition of Wi-Fi provides a stable wireless connection and the ability to set and control the cooker remotely, whereas the Bluetooth version only connects to an app within limited Bluetooth range.
*At the time of publishing, the price was $180.
Anova Precision Cooker
Virtually identical to the Precision Cooker WI-FI, this pick leaves out Wi-Fi but costs a little bit less.
We think the Anova Precision Cooker WI-FI is the best choice. But if you want to save a few dollars, or if our pick goes out of stock, the slightly cheaper Anova Precision Cooker is still excellent. It's almost identical; it just lacks Wi-Fi.
Over the last few years, the sous vide market has exploded with a number of excellent and precise devices that will cook your food for long periods at fixed temperatures without costing a huge amount of money. This is the first time we've seen so many sous vide cookers that are simple enough for everyday home use. Our picks have all the features that we think are important and the performance to back it up at a price that's reasonable.
Table of contents
Why you should trust us
Nick Guy has been interested in the intersection of food and tech since middle school when Emeril Live was appointment viewing for him. He's been cooking sous vide since November 2014, when he first got his hands on the Anova Precision Cooker (if you don't count his pretty successful attempts with hot water and a cooler!).
Tim Barribeau has written for The Sweethome and The Wirecutter since 2012, covering both gadgetry and cooking tools. In that time he's interviewed James Beard Award-winning authors and chefs, performed blind taste tests with Japanese chefs, and convinced ice cream parlors to spend hours slinging ice cream with different sizes and shapes of scoops. He also makes a mean sous vide salmon.

Who is this for?
Steak that's a perfect medium rare…chicken so tender that you don't even need a knife, and eggs the consistency of custard.
A home sous vide cooker is mostly for food lovers and experimental cookers. It's for people who love cooking and playing around with new recipes and techniques, those that are willing to wait for hours for food to finish cooking. Over the last few years, sous vide cooking has blossomed into the public consciousness. Thanks to the technique's prevalence in the kitchens of high-end restaurants as well as a glut of demystifying literature, demand for home-use sous vide circulators soared, and many inventors have been using Kickstarter to fund the creation of affordable machines. Now a mainstay of cooking shows and internet discussions, sous vide involves sealing your food—ideally within a vacuum—and then immersing it in warm water for hours at a time until the entire thing reaches a uniform temperature. The result? Steak that's a perfect medium rare throughout (no cold, raw centers or overcooked outsides), chicken so tender that you don't even need a knife, and eggs the consistency of custard. That's what sous vide can do. And for the most part, making that happen is quite easy.
The best of these devices are very simple to use and allow you to expand the margin of error in creating the perfect piece of food. They're like a more controllable version of slow cookers, and they can give you some pretty interesting food outcomes thanks to their accuracy.
Over the past few years, sous vide technology has really come into its own, filtering down from labware that cost thousands down to devices that you can reliably get for less than $200. If you've been curious about the technology, now is the perfect time to give it a try. Recent interest and competition now means that sous vide devices are affordable and easy to use.
Plus, since sous vide cooking in the home has been so heavily driven by innovative people putting things together piecemeal and experimenting in their kitchens, there are a lot of fantastic recipes available online. But if you want the best technical breakdown of sous vide cooking that's available at no cost online, Douglas Baldwin's excellent site Sous Vide for the Home Cook is your best bet. It's a fantastic look at the science of sous vide, offering a breakdown of proper handling, cooking times, and various other techniques. If you're interested further in the science of cooking and other advanced techniques, Modernist Cuisine and Modernist Cuisine at Home are both bibles for more information. They're expensive but immaculately researched (and gorgeously photographed).
It's also worth checking out Serious Eats' Sous-Vide 101 series (and further recipes), the recipe series from the people behind SousVide Supreme (which are just as applicable to other machines), EatTender, or—if you're into the no-carbs thing—the Nom Nom Paleo sous vide recipe sets.
How we picked and tested
There are primarily three different types of sous vide cooker: the immersion circulator that can simultaneously heat and circulate water; the all-in-one but less precise water bath; and the bring-your-own-heat controller. For most people in most situations, the immersion circulator is the perfect sous vide cooker. These are gadgets that latch onto the side of a vessel—be it a pot, a plastic tub, or even a cooler—and not only heat the water but also use an impeller to circulate it around the container. Since they actively push the water around, the temperature is more even throughout the entire vessel. Immersion circulators also tend to be smaller than some of the alternatives, priced generally decently and easy to use.
There are three traits to look for in a sous vide cooker:
Accuracy – With some food, eggs in particular, a temperature variance of just one degree Fahrenheit can mean a radically different final product. So you need a sous vide cooker that is accurate enough to do what you want—and all of the water has to be at that same temperature. No hot or cold spots.
Speed – You don't want to be waiting for hours for it to bring a container of water up to temperature. You need a powerful heating element that can rapidly warm a large volume of water and keep it warm as you cook.
Price – Since these are enthusiast gadgets right now, we're a bit less exacting on the price front, but there are $200 options that are just as good as $500 ones, and we know you want to save money where you can.
Stability also matters but is less important than some think. Generally, low and slow foods can handle a little more variation than things that need to be cooked quickly, but you still want it to stay on target.
Not every sous vide circulator has a timer built in, but for us, it's a useful feature. Both count-up (just showing cooking time) and count-down (with an alarm when done) types are very handy to keep track of how a cook is going, but the ones that shut down after a specific time are less so, as they can let food drop to a temperature where bacterial growth becomes a problem.
People also worry about what happens if your power supply is interrupted in a long cook, because if your sous vide machine starts again after a stop of unknown length, you could also breed bacteria. The Nomiku changes color on its display to let you know this has happened, but we don't think it's an important feature, as an interruption of power is not a common occurrence for most people.
Calibration is useful, assuming you have a trustworthy thermometer like our step-up pick the Thermapen. But if you don't know how accurate your thermometer is, then there's a chance you'll make things worse. So it's a pretty good feature for the more experimentally-minded home chef who has some accurate measuring tools for calibration.
A more powerful heater will warm up water faster and rebound from putting in cold food more quickly, but it isn't any more efficient in the long run, and it is more likely to blow a fuse in your kitchen. There's a balancing act of power vs utility—but keep in mind you can always give a lower wattage circulator a boost with some hot water from a kettle. Right now, most of the circulators are powered at around 1,000-1,100 W (about the same as a full-sized microwave), or 750-800 W (about the same as a mini microwave). Neither is a dealbreaker, but is something to take into account if you know your switches get tripped easily in the kitchen.
There are a bunch of other factors we took into account. How does it attach? How precise does the water level have to be? How big is it? How big of a container does it need? How loud is it? Is it easy to use? Does it have audible alarms so you can know when it's at temperature? These things can separate the great sous vide machines from the good.
This 2016 round is our fourth iteration of reviewing and recommending sous vide devices for the home. Our longterm testing gives us an unparalleled look at how the technologies have changed over this period—and it also has helped us figure out what's actually important and what isn't.
This year, we compared the Wi-Fi Nomiku, the VacMaster SV1, the Gourmia GSV130 Digital Sous Vide Pod, the Anova Precision Cooker WI-FI, and the Anova Precision Cooker, the reigning champ. As with previous years, we evaluated speed (to reach specific temperatures), accuracy, and noise levels. We also looked at power draw after people raised questions about how much energy it uses to keep one of these things going for a long cook.
With each, we heated seven liters of water from 69°F to 135°F, measuring the temperature at both points with the Thermapen and recording the time to get to temp. We continued to let the circulators run for 12 hours and did add hot water as necessary to account for evaporation and keep the water above the minimum level.
| | | | | | |
| --- | --- | --- | --- | --- | --- |
| | Anova (Bluetooth) | Anova (Wi-Fi) | Gourmia | Nomiku | Vacmaster |
| Thermometer Starting Temp (°F) | 69 | 69 | 69 | 69.2 | 69 |
| Circulator Display Temp | 69.6 | 69.6 | 69 | 69 | 69 |
| Time to Reach 135F | 35 | 30 | 18 | 20 | 15 |
| Thermometer Read Temp | 135 | 135 | 137 | 135.3 | 133.2 |
| Circulator Display of Temp | 135 | 135 | 136 | 135 | 135 |
| kWh at Temp | 0.34 | 0.33 | 0.34 | 0.33 | 0.31 |
| kWh after one hour | 0.41 | 0.42 | 0.45 | 0.41 | 0.41 |
| kWh after 12 hours | 2.17 | 2.24 | 2.21 | 1.77 | 1.75 |
| Ambient Sound | 36.1 | 36.1 | 36.1 | 36.1 | 36.1 |
| Sound at Unit | 54.3 | 57.4 | 74.3 | 60.4 | 67.4 |
| Sound at 12″ | 45.5 | 45.6 | 60 | 43.8 | 48.8 |
Our pick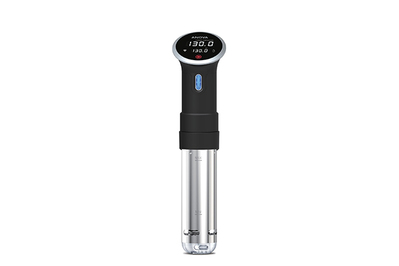 Anova Precision Cooker WI-FI
This immersion circulator is accurate, incredibly easy to use, and compatible with more vessels than other sous vide cookers. The addition of WI-FI makes it possible to set the unit remotely.
The Anova Precision Cooker WI-FI is the best bet for most home cooks due to its low price, small size, and flexibility. It's one of the cheapest ways to get into sous vide cooking, and thanks to an innovative adjustable attachment system, the Anova works with a much smaller volume of water than the earliest iteration did—so there's now no need to heat up a gallon of water just to cook a couple of chicken breasts. The Precision Cooker Wi-Fi is almost identical to our previous favorite Precision Cooker (the Bluetooth-only version), which improved on the old design with a simpler, scroll wheel-based interface that is preferable to the slow-to-adjust touchscreen on the original Anova. It also has a beep alert when water has come to temp, circuit-saving lower wattage, and more quiet performance. The Precision Cooker Wi-Fi is made by a lab equipment manufacturer with a reputation for accurate and long-lasting gear, which is important for precise cooking.
About the size of a rolled-up newspaper, the Anova Precision Cooker WI-FI is smaller than pretty much anything else on the market, including the older Anova models. The clamp that attaches to the container of your choice is a connected to a ring that has the unique ability to slide up or down the length of the shaft in order to accommodate vessels of varying height. Anova has even told us that the Precision Cooker Wi-Fi can sit flush on the bottom of a container without blocking the water flow at all. All the other sous vide circulators we've analyzed have attachment mechanisms that are fixed in place, which give you far less flexibility when it comes to cooking vessel.
This has some interesting side benefits. Not only does it allow you to work with a larger array of containers (so you're not just limited to large stockpots and the like), but when you use more squat containers, the smaller volumes of water are also much faster to heat up (which this machine needs, due to its weaker heating unit). The flip side of that, though, is that having a smaller volume of water means the water will have less thermal mass and be more disrupted when you put in cold items or top up the water levels. One other advantage of using less water, is that, well, you use less water. There's a drought over in California, and it seems pretty damn wasteful to use a gallon or two of water just to cook a steak.
The adjustable mount also means that you can swivel the main column, which is great if you want to look at the dial from a different position.
The Precision Cooker Wi-Fi has a simple interface that's identical to that of its predecessor, based around a scroll-wheel and a small readout. You use this to set the temperature, simply by scrolling up and down. Then there's a start button and buttons for starting a timer or pairing over Wi-Fi.
We'll get more into the heating element of the Anova Precision Cooker WI-FI in a bit, but the company deliberately kept it at 800 W, which will apparently make it less likely to trip the circuitry in your kitchen. The original Anova circulator ran at 1,100 W. Most modern kitchens should have a 20-amp circuit, which should allow for to 2,400 W at 120 volts without tripping—more than enough for the full power heater and whatever else you're running in the kitchen. But older buildings will sometimes run as low as 10 amps, which means an 1,100 W heating element is already pushing close to the maximum of 1,200 W, and adding anything to that same circuit will cause trouble. Even more modern kitchens will sometimes have outlets set for 15 amps, even if the circuitry can handle more. Depending on how and when your kitchen was wired, 1,100 W may have been pretty close to the maximum load it was designed for on a single circuit, and turning on anything else may trip it. Reducing the wattage means you're less likely to accidentally lose power while cooking, which means fewer failed cooks and less food waste.
The Anova Precision Cooker is very quiet. We tested in a quiet room (ambient level of 36.1 dB) and used a vaguely accurate iPhone app to test volume. The Precision Cooker Wi-Fi produced about 20 additional dB right against the circulator itself, which dropped to just 10 dB when measured 12 inches away.
The Precision Cooker Wi-Fi alerts you when it comes to temperature, which the original didn't, so you don't have to hang around the kitchen waiting for it. It beeps when it's just under the desired heat level, so it should be just right by the time you get yourself over to the kitchen.
Unlike some of the other models you can currently buy, the Precision Cooker Wi-Fi also allows you to adjust the direction of water flow so that you don't get spots of still water where heat isn't circulating properly, and you can easily take off the metal skirt and throw it in the dishwasher should it get gross.
The biggest update from the original Precision Cooker to the Precision Cooker Wi-Fi is, well, Wi-Fi. It isn't required—like the first Anova Precision Cooker, the circulator can be used out of the box without an internet connection and you don't lose any functionality. The main benefit of Wi-Fi is range. Bluetooth's range is generally limited to about 33 feet. With the original Precision Cooker, you can't necessarily set the timer or temperature if you are out of the kitchen, or at least too far from it. The Precision Cooker Wi-Fi can be controlled from anywhere—another room in your home or beyond.
Connecting to a wireless network is painless thanks to the cooker's Bluetooth bridge; it allows for an ad hoc connection directly to your phone using an app (iOS/Android), where you can then put in your Wi-Fi password to share with the circulator. Once paired, the temperature and timer can be set remotely. Whereas you might not have wanted to attempt remote cooking with the flaky Bluetooth connectivity on the previous model, the Wi-Fi provides a more consistent connection, which helps maintain safe food temperatures.
While the app is currently barebones, Anova tells us they're working on giving the app smart controls—enter the food you're cooking, how much of it there is, and when you'd like it to be ready, and the app will handle the rest. Start with an ice bath and a frozen steak before you head to work (to keep the food at a safe temperature) and come back to a perfectly cooked cut of meat. (Of course, you can do that right now if you calculate it all yourself.)
Flaws but not dealbreakers
The low price of the Precision Cooker WI-FI comes at the cost of some functionality. Most obviously, the 800-W heater takes longer to warm water than the original 1,100-W model. To bring a seven-liter vessel from 69°F to 135°F took 30 minutes on the new version, versus 24 minutes, 36 seconds on the first model. According to Anova, the Precision Cooker is around 20 percent slower than the original unit, and they say it'll take an extra 4-8 minutes to heat up a 5.5-L volume of water. That's a bummer, but you can always give the heater a bit of a boost by using hot water from your kettle to preheat the bath.
The Anova Precision Cooker is not UL-certified or ETL-certified. These are independently-tested safety certification standards, which require meeting stringent safety and use guidelines, as well as regular followups to make sure the products are still up to standard.
A less expensive pick
If you want the benefits of the Precision Cooker WI-FI but are willing to give up some functionality to save a few bucks, the original Precision Cooker is still a great buy. It does everything the newer version does (except for connect to a network) and it usually sells for about $20 less. We found the two to be equally accurate, equally loud, and equally as power efficient. Oddly, though they seem to be identical, the Bluetooth model we tested did take about five minutes longer to heat up the water bath in our tests, but again, that issue can be mitigated by starting with hot water.

The competition
The VacMaster SV1 was both the largest immersion circulator we tested and the most expensive. While it was the fastest to get to temp (after only 15 minutes, thanks to a 1,500-W heater that could potentially trip circuits) and used the least power over 12 hours (1.75 kWh), there were a few serious drawbacks. The most important was temperature; throughout the 12-hour run, the water bath was consistently between 1° and 2°F below the temperature on the display. We also found the +/- buttons to adjust the time and temperature to be annoying, especially compared to the more convenient scroll wheel of the Anova circulator. Finally, the SV1 sounds a shrill alarm when it gets to temp, which wouldn't be so bad if it happened just once. But the alarm keeps going off every few seconds until you set the timer on the unit. This means those who prefer to use their phone or another device as a timer will still have to set one on the immersion circulator to silence the alarm.
We tested the Gourmia GSV130 Digital Sous Vide Pod based heavily on its low price and strong Amazon ranking. The design is very similar to that of the Anova Precision Cooker, from its stick shape to the scroll wheel for setting the time and temperature. Oddly, despite promises of "precision temperature settings within +/- 0.01°," it only allowed 2° increments in Fahrenheit (when set to Celsius, it can be adjusted by a single degree). We confirmed this is expected operation with the company. Additionally, there's no alarm on the unit to let you know when it reaches the desired temperature, and it's nowhere near as container-agnostic as the Anova. There are also enough reports on Amazon of units dying that the low price isn't enough to save it.
We previously had the Classic Nomiku as our "safety" pick because it was UL-certified and ECL-certified, would alert you if there was ever a power interruption while you were cooking, and was unable to overheat because it used a PTC heating element, which physically can't pass a certain temperature. That 120 V US/Canada model is being retired in favor of the new Wi-Fi Nomiku, currently available for preorder as the company fulfills its Kickstarter backers' orders. Much like the Anova Precision Cooker WI-FI, it allows you to control the timer and temperature from anywhere using an app (iOS/Android/Windows/Chrome). This one uses the same PTC heating element, which is a good thing. It's not as easy to use as other circulators, though. To begin, the Wi-Fi login process is a pain. To enter your password, you must turn the jog-wheel around the perimeter of the device's face, going through each character of lowercase, uppercase, and numeric keyboards and hitting "select" once you hit the desired character. If you make a mistake, you have to scroll all the way back to the beginning to hit delete; that's also where the submit option is. This process should only have to happen once, but it's still a pain. Overall, we found the navigation more complex than necessary and less intuitive than we'd like. Small bugs, such as the app not adjusting from Celsius to Fahrenheit when we made the change on the circulator, keep this one out of the top spot. The easy-to-use and strong clip is a nice touch though.
In 2014, we were finally able to test the Sansaire because it wasn't available when we did the previous iterations of the guide. While it's a capable and affordable device, it's also much larger than the competition and its clip system doesn't attach as easily or as solidly as any of the other models we played with. There's also no timer functionality whatsoever. You can get more features from the Anova v1 for the same price. To Sansaire's credit, the large LED display is easy to read and it uses slightly less power than either Anova circulator. It was also the quietest model we tested, putting out just 5 dB of sound even when right up close to the circulator. Overall however, the Anovas offered more bang for your buck.
PolyScience is a company that spearheaded much of the first generation of sous vide circulators, but haven't managed to keep up with the current low prices of other units. The Creative is built like a tank and extremely accurate. However, it's unintuitive to use—huge and heavy. It can't calibrate the temperature and doesn't really do anything that you can't get from a unit that's half its price. On the more affordable end is the Sous Vide Discovery, but it is even less powerful than the Anova Precision Cooker, and there's nothing here that seems worth the $120 difference.
There's a more recent all-in-one unit that's been making some waves due to its extremely low price. You can pick up the AquaChef for just $160. However, you should avoid it as it's barely cheaper than the main pick, which has far more consistent temperature regulation and ease of use. The controls are not intuitive at all, and the instructions were unclear about how to use it (two of the three face buttons don't really seem to do anything). The food is loaded into a tiny metal cage that doesn't hold much.
However, the biggest issue is the AquaChef's inability to maintain a consistent temperature. Even with my relatively basic thermometer setup, I noticed some extreme temperature changes between areas of the AquaChef, which at times reached unacceptably high 5˚F variations. Similarly, this guy noticed a 2.5°F variance, which can make a major difference in how some foods turn out. The whole point about sous vide is temperature reliability, and this cheap, modified deep fryer doesn't have that.
There's a recently announced water bath called the Caso, which fixes a number of problems with the likes of the Sous Vide Supreme Demi. It has a circulator as well as drainage for easy emptying. There's even a vacuum sealer, though it looks that works like a handheld electric model, so it will require special bags to use. The Caso's timer will run up to 99 hours, and you can delay the start time by up to 12. But with a steep list price of $500 and a size over a cubic foot, we just don't see the point in getting this over the Anova.
The SousVant seems to be a step in the right direction for an all-in-one unit. It looks far easier to empty, fill, and clean than other models like the SousVide Supreme, and actually comes with a circulator. But it's still extremely expensive compared to the Anova and will take up way more space in your kitchen.
The advantage to the SousVant is that since it's an entirely enclosed unit with a lid, you don't have to worry about evaporation, which can be a problem with immersion circulators. And since you're always working with a specific container, you know the circulation and heat dispersion will always be identical, so there's less of a chance of variability between uses. But for most people, those are minor advantages for twice the price.
The DorkFood DSV is the most basic type of sous vide cooker, with a probe thermometer that keeps water at a very specific temperature by simply switching on and off the power to a simple kitchen device. You plug a simple appliance like a super-cheap rice cooker into one of these guys, which then plugs into the wall.
The way these switches work is pretty straightforward. You hook them up to the appliance, which must be very basic; it essentially has to be just on/off, with no digital settings or timers. Low-end rice cookers, crock-pots or coffee urns all work really well. Based on the water temperature, the switch simply turns the power on-and-off to keep it at the optimal temperature. If you pick up a direct heating element, you can even just put that directly into a cooler and fill it with water for larger projects. The manufacturers tell me they've even used it with a 150-quart ice chest, which is pretty damned impressive. And DorkFood will offer lifetime replacements for the unit itself.
While $100 is pretty cheap, you still need to have an appliance to plug into (so you're looking at at least $30 if you don't have one already), and then some manner of water circulator if you want to push the heat around by anything other than convection. It also won't have any of the neat tools like timers, alarms, or wireless controls, and it will have cables and cords running in all directions. The extra $80 for the Precision Cooker gets you a lot more accuracy and an impressively easy to use and flexible device that will probably suit more home cooks better.
The Codlo is much like the DorkFood's temperature controller, but in a much nicer looking package. It works in a similar way to the DSV, functioning as a barrier between a simple appliance and the wall. It costs almost as much as the Anova Precision Cooker and offers fewer features.
Of all-in-one water bath devices, by far the most popular is the SousVide Supreme, which arguably was the first vaguely affordable home sous-vide unit. However, at over $300 a pop, it's still pretty expensive—but the same company makes the smaller and more affordable SousVide Demi. Both of these devices rely on convection currents to distribute heat, rather than a circulator.
Another new entry in the field is the Oliso Smarthub, which bills itself as a combination of a sous vide water oven and induction cooker. While it sounds appealing in concept, there are some immediately apparent flaws. The heat for the sous vide oven most likely comes directly from the induction surface, so would have to circulate via a convection current, rather than being forcibly circulated like our pick. This can lead to pockets of hot and cold water. While combining both a sous vide bath for cooking and an induction heater for searing may sound efficient, since you already own a stove, the induction element is of dubious usefulness, and doesn't really offer anything more than searing on your stovetop would. You're still going to end up with just as many dirty dishes, and an immersion circulator is far less bulky than the Oliso Smarthub.
Some people prefer the all-in-one form factor of a water bath, and they do have the advantage of a known size, shape, and insulation, so they can theoretically have more repeatable and reliable performance. One expert we interviewed also liked that you can use liquids other than water, because the lack of a circulator means they're easy to clean—but that's beyond what most folk will probably require. It also dramatically improves the lifespan of the device: the Demi has been tested for 6,000 cycles (or more than 16 years of daily use). Fewer moving parts means fewer things to break.
In our testing, these tend to be less accurate than the circulators; since they don't push the water around at all, you get pockets of varying temperatures. And since they're large appliances, filling and emptying them can be heavy and cumbersome. Frankly, you're better off getting an Anova and a stockpot and just going from there.
On the opposite side of things, if you really want to give this type of cooking a try but don't feel like dropping any cash, there are a multitude of homebrew ways to get something similar (but not quite as exact) at home. All you need is an accurate thermometer, a stove with fairly precise controls, and then ice and hot water on hand to fluctuate if needed. Just nose around the web a bit, and you'll find dozens of DIY ways to play with sous vide. (Here are a few good ones from Serious Eats and Instructables.)
The vacuum sealer
As mentioned above, in order to cook with a sous vide machine, you need to put your food in a bag and get out all the air from around it. Some people swear that you need a vacuum sealer to do this (and on occasion it is useful for quick marinades and such) but there's a free way of doing it with a simple ziplock bag that'll work just as well in most situations.
Here's how it works: put the food in the pouch and almost completely seal it with just a small section remaining open. Immerse the pouch in a bucket of water, leaving the opening just above the water line. Allow the air to escape, slowly pushing the entire thing under, and then seal it just before you submerge the opening. You can see some more discussion of how to do this here and here. In some cases, it's even preferable to vacuum sealing. For example, the vacuum sealer can compress the meat in your burger, leaving you with less of a burger and more of a meat brick. However, you might take on a little water while cooking with this method. We ran a test by cooking something with no water in it (a couple of small containers filled with rocks for weight) in a Hefty freezer bag over the course of 12 hours. It took on 38 mL of water—not a huge amount, but if you're worried, you can double-bag. In reality, if you seem to take on a lot of liquid while cooking, it's most likely coming from inside the food.
If you're dead-set on buying a sealer, the only major editorial review we found was from Cook's Illustrated (subscription required). They updated their picks of vacuum sealers in 2014, and this year picked more affordable alternatives to their previous $400 recommendation. They suggest the Weston Professional Advantage Vacuum Sealer as a powerful, heat-sealing model—though it doesn't seem that widely available. Alternatively, for a valve-sealed model that requires special bags, they suggest the Waring Pro Pistol Vac Professional Vacuum Sealer System, which doesn't do quite as good a job of sealing as the Weston in their tests, but is far smaller and more affordable. Amazon reviewers seem to love it, giving it 4.6 stars from over 100 reviews. Just be sure to stock up on bags.
A note for international readers
This year's crop of sous vide circulators included 220-volt and 240-volt models alongside 120 V models. Anova has 220 V models of the Precision Cooker with UK, EU, and AU plugs and will be coming out with higher voltage versions of the Precision Cooker WI-FI in April 2016.
What to look forward to
Sansaire launched a Kickstarter campaign for its new sous vide cooker, the Sansaire Delta. Unlike most of the cookers we've tested in the recent past, this one isn't tubular; instead, to our eyes, it looks like a giant Fitbit One. Standing 9 inches tall, it straddles both sides of the cooking vessel. A digital display is on the face, and you can set the time and temperature on the unit itself or via a companion app. The Sansaire Delta isn't expected to ship until April 2017 (with a 220 V international version following in June), and we generally don't recommend backing crowdfunding projects for hardware. We will be testing the Delta when it becomes available.
The Mellow looks like an attempt to combine smart appliances with sous vide and has a few other neat features. Controlled by your smartphone (and smartphone only), it'll actually chill the water to keep food safely refrigerated until the ideal time to bring it to a cooking temperature so that it's perfectly done at exactly the time you want it. The problem with this is that it means the food will spend longer in the potentially dangerous temperature where bacteria can rapidly grow. When you take something from fridge to hot water, that period is minimized—but by having the product in the water as it slowly comes to temp, you'll spend a long time in that danger zone. And the Mellow isn't set to ship until spring 2016 (after missing its original summer 2015 launch date) according to the last update, but is available for $400 as a preorder; it will be $600 when it finally ships. That's a pretty steep price.
In November 2015, the people behind culinary education website Chefsteps announced they are making their own sous vide immersion circulator, the Joule. Available for $200 on preorder (and listing for $300 regularly), it will ship in May 2016. The Joule skips physical controls completely, relying on a smartphone app and a Wi-Fi or Bluetooth connection. It'll attach to pots through a magnetic bottom for ferromagnetic containers, and interchangeable clips for different vessel size and shapes. We'll be taking a closer look at the Joule when it ships.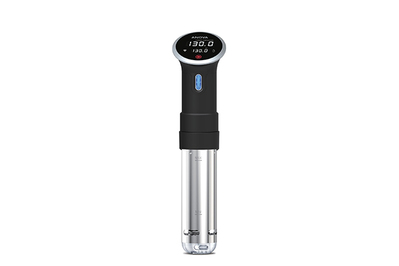 We do our best to stay on top of prices.
If something's changed, let us know.
To share this page via email, fill out the fields below:
Message Sent!
Oops! Please try again
Send
Originally published: March 1, 2016