The Best Snow Shovel
To share this page via email, fill out the fields below:
Message Sent!
Oops! Please try again
Send
For the third straight winter, we're convinced that the True Temper 18-inch Ergonomic Mountain Mover is the best snow shovel for most people looking to clear walkways, steps, and small driveways. This year our research turned up three new shovels, but none of them came close to matching the True Temper's unique blend of size, ergonomics, and durability.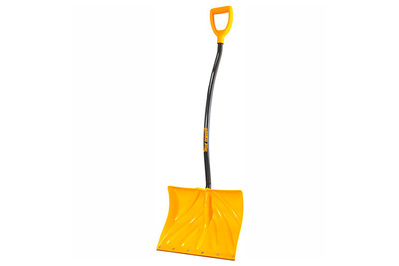 True Temper 18-inch Ergonomic Mountain Mover
An ideal combination of size, weight, ergonomics, and materials makes this the right shovel to use on steps, sidewalks, patios, decks, or any other outdoor areas you need to keep clear.
The Mountain Mover has a sturdy, lightweight aluminum shaft that gloved hands can grip anywhere. Its 18-inch-wide poly scoop is neither overly large and awkward nor too small and inefficient. The shovel has a curved shaft, an unusual design that makes moving snow easier, as it requires you to put less work into each swing. The nylon leading edge of the scoop won't gouge your deck or catch on your brick patio. Plus, the shovel is built to last—I've had mine for seven years of New England winters, and it still works fine.
The Mountain Mover is good on its own, but it's even better with the addition of a Trentco ProHandle. This secondary handle, which attaches to the shaft, improves ergonomics and lessens the risk of injury. By adding this handle, you change the mechanics of your body's shoveling motion, greatly reducing the strain on your back and lowering overall exertion. Simply put, it makes shoveling easier, whether you're scraping snow off steps or scooping it from the ground.
Trentco ProHandle
Attach this second handle to any shovel's shaft for a vastly improved ergonomic experience.
The ProHandle is a new pick for 2016. Our previous secondary-handle pick, the Stout Backsaver, cracked after two years of shoveling. The build quality of the ProHandle is much better, and we believe it's worth the added cost.
We came to these conclusions after more than 60 hours of research (much of which we spent reading studies on shoveling ergonomics) as well as 26 total person-hours of snow shoveling. When it was all over, our team had tested 18 shovels, many of them with and without a supplemental aftermarket handle, for a total of more than 30 different shovel configurations tested.
Suncast SCP3500 Powerblade Combo
The Powerblade doesn't have the ergonomic benefits of our main pick, but it does have a slightly wider (and apparently indestructible) scoop.
If the Mountain Mover is unavailable, we recommend the Suncast SCP3500 Powerblade Combo. This model is a new runner-up for 2016, replacing the Bigfoot Power Lift, which has had too many durability issues for us to recommend it any longer. The Suncast Powerblade Combo has a straight-handled shaft, so it doesn't offer the same ergonomic benefits as our main pick, but if you add an auxiliary handle, it comes close. Suncast advertises the shovel as having a shatter-resistant scoop; during testing, we did everything we could to break it, but it survived.
True Temper 20-inch Aluminum Combo Snow Shovel
This tough metal shovel can knife through ice and scrape sidewalks and driveways down to the bare pavement. But its metal scoop can scratch delicate surfaces, and its stiff leading edge catches on uneven ground.
If you're going to be shoveling snow and ice only on flat, scratch-proof surfaces like city sidewalks and paved driveways, consider the True Temper 20-inch Aluminum Combo Snow Shovel. This shovel has the same curved handle as our main pick but pairs that handle with a metal scoop instead of a poly one. With this design, the shovel can easily knife under compacted snow and scrape flat surfaces clear. It's also better at busting up ice. The drawbacks? Its metal blade scratches wood decks, bluestone patios, and other materials, and the leading edge is so stiff and sharp that it catches and abruptly stops on uneven ground areas such as gravel drives, brick walkways, or even blobs of asphalt patch. This model is also heavier than the poly version, which adds up over the course of a shoveling session.
Voilé Telepro Avalanche Shovel
After you use this compact shovel to slice through frozen snow, you can disassemble it for storage in a car trunk. It isn't cheap, but it is the tool we'd want to have in a roadside emergency.
If you're looking for a shovel to keep in your car for emergencies, we recommend the Voilé Telepro Avalanche Shovel. Made for backpacking and mountaineering, this model has a nice strong scoop and a design that you can easily disassemble for stowing underneath a car seat or in the corner of the trunk. It's built to slice into frozen snow, so it's unlikely to break in an emergency. The Voilé isn't cheap, but it was clearly the best in our tests against four other car shovels, all of which were either too flimsy or too small to be trustworthy. It's also a good option if you live in a city apartment and have minimal shoveling needs and little storage space.
We also have recommendations for a few supplementary tools that you may want to consider in addition to your shovel. Snow pushers and snow sleighs are designed to clear driveways, while a roof rake is good for knocking snow off a roof, which goes a long way toward preventing ice damming. We also have a separate guide to snow blowers, which offer yet another way to remove snow from a driveway.
Table of contents
Why you should trust us
I grew up at the end of a 2-mile dirt road in Vermont and have spent 38 winters in New England.
This is my third winter of researching and testing snow shovels for The Sweethome. In that time, I've used 18 different snow shovels (with over 30 different handle configurations), three snow pushers, two snow sleighs, five car shovels, two roof rakes, and one Wovel. Beyond that I've spent hours upon hours deciphering the ergonomics of shoveling. Before being assigned this guide, I was no stranger to snow removal. I grew up at the end of a 2-mile dirt road in Vermont and have spent 38 winters in New England. I've also spent 10 years doing construction work, and on many winter days I've shoveled out my own house and then gone to clear the jobsite. Lastly, I was "fortunate" enough to be living in the Boston area during the
record-breaking winter
of 2014.
That decade of construction work, combined with my odd height (6 foot 5), has done no favors to my back, so it doesn't take much snow shoveling for the aches and pains to get going. So I have personal reasons to seek out the best snow shovel.
To gain insights into the specifics of snow shovel design and ergonomics, I spoke with a number of experts. Dr. Asef Degani shared his thoughts on an article he wrote for Applied Ergonomics called "A comparative study of two shovel designs." I also spoke with Joe Saffron, director of marketing and product development at True Temper, a leading snow shovel manufacturer. Finally, I spent some time on the phone with representatives of Horgan Enterprises, a landscape and snow-removal company in the Boston area.
While we found a lot of articles about the dangers and ergonomics of shoveling, we saw few actual comparisons of shovels, so we had to rely heavily on our own testing. For this purpose, I ran a focus group in which four people (three men and one woman), all in their 30s and 40s, tested our 30-plus shovel configurations.

Why you should invest in a good snow shovel
Anyone who spends any time at all on removing snow needs a good shovel.
The raw weight of snow adds up quickly, so shoveling puts tremendous strain on your body. Add to this the fact that most people aren't accustomed to aggressive shoveling, and the results can be catastrophic.
FEMA's Snow Load Safety Guide says: "The weight of 1 foot of fresh snow ranges from 3 pounds per square foot for light, dry snow to 21 pounds per square foot for wet, heavy snow." Just taking a number in the middle (9 pounds) and shoveling a small path 3 feet wide by 15 feet long means that you're lifting and tossing more than 400 pounds of snow. And that's just for a small walkway with 1 foot of snow on it. According to the Occupational Health Clinics for Ontario Workers, "if an individual were to clear a 16ft by 30ft driveway covered in one foot of wet snow, they would be moving approximately four tons of snow." Yikes.
When we spoke to Joe Saffron, director of marketing and product development at True Temper, he pointed out that shoveling snow is not only an aggressive workout but also a repetitive motion that you don't do at any other time during the year. In other words, your back and arms likely aren't prepared for the sudden and significant exertion.
A 2011 study, published in The American Journal of Emergency Medicine and covering 17 years of research, found that Americans suffer an average of 11,500 injuries and emergencies each year due to snow shoveling. More than half of them (54 percent) fall under the category of acute musculoskeletal exertion, namely pulling muscles and throwing out their back.

How we picked and tested
Understanding the havoc a poorly designed snow shovel can wreak on an unsuspecting body, we dove headlong into the ergonomics of shoveling and in the end realized that the best multipurpose shovel is a model with a plastic combo scoop (with a poly wear strip) and a curved shaft. The combo design means that the shovel can both push and scoop snow.
You'll encounter three main snow shovel styles: combos, shovels, and pushers.
Combos are the most versatile because they offer the benefits of the two other styles without any limitations. Because you can use them to scoop, toss, and push snow, they are, as Saffron told me, the standard snow tool in the US. Our pick, the True Temper Ergonomic Mountain Mover, is a combo model. Its blade is 18 inches wide—a size we found to be in the sweet spot (roughly 18 to 20 inches) for shovels to be effective but not unwieldy.
Shovels, in a technical sense, are the basic flat blade on a stick, the kind that you might remember a parent or grandparent using (Charlie Brown used one, too). The flat scoop sits in line with the shaft, so such a design isn't good at pushing snow (or anything else, really, as our testing discovered).
Pushers, designed with blades often more than 2 feet wide, are not designed for scooping or tossing. Tending to look like a snow plow on the end of a stick, they're popular in colder temperatures, where snow is drier and lighter. According to Saffron, Canada is a massive market for pushers. Such models are also good for clearing smaller snowfalls from driveways. We tested three leading models and have our recommendation below.
Beyond using combos, shovels, and pushers, many people repurpose other shovel styles for their snow removal. The most common tools in this category are grain shovels, which have large scoops and short handles. Proponents of this style list durability and a massive scoop size among the advantages. We included two grain shovels in our testing, and of all the shovels we handled, they transferred the most strain to the back.
As for materials, the repetitive nature of shoveling means you should go with the lightest scoop. In most cases, that's plastic—polyethene, or "poly" for short. These shovels have a light weight plus the built-in flexibility to withstand sharp impacts on uneven pavement.
A wear strip protects the leading edge of a shovel scoop, and we've found that nylon ones are the best option. They're slightly rounded at the edge, so the shovel can easily slide over uneven surfaces without jamming up. While they add durability, they are also soft enough to work on decks and stone walkways without damaging the surface.
Representatives of Horgan Enterprises, a landscaping and snow-removal company located in Boston, told us in an interview that the company steers clear of metal wear strips that can easily scratch wood decks, brick walkways, and bluestone patios. Metal strips are also sharp, so they end up hitching on uneven surfaces, which jars the shovel user's shoulders and arms. Poly shovels that have no wear strip are sharp but easily dented and damaged.
It's also important to choose a shovel with a curved shaft, as such a design offers the ergonomic benefits of a bent shaft but retains the stability of a straight shaft. Because of the curve, the spot where your leading hand grips the shaft is higher off the ground than it is with a straight shovel, which allows you to keep your back straighter. As True Temper's Joe Saffron pointed out, by removing the drastic angle of the shaft, a curved design gives the shoveler far more flexibility with hand placement and allows the user to "choke up" at the base of the scoop for a heavy load.
The scoop of a bent-shaft shovel, in contrast, can swing like a pendulum at the bend, requiring the user to put in more effort to stabilize the shovel while tossing. The effect is especially pronounced when the scoop is loaded with heavy snow. On top of that, a bent shaft doesn't offer the freedom of hand placement that a curved shaft does.
If you're seeking even better ergonomics, we discovered multiple academic studies that conclude that a secondary handle placed about two-thirds of the way down the shaft greatly reduces back strain by shifting the workload from the back to the arms.1 Our own testing confirmed this result.
As for the shovels themselves, we checked out Amazon, Grainger, Home Depot, Lowe's, Northern Tool + Equipment, Sears, Walmart, and the websites of the most prominent snow shovel manufacturers: Dart, EraPro, Suncast, True Temper, and Garant (the last two are the same company; Garant is based in Canada). All told, we investigated upwards of 75 shovels.
Understanding that a secondary handle would be a key addition to our chosen shovel, we first located all of the available tools that come with one attached: the Bigfoot Power Lift, the SnowBow (which appears to be discontinued), the Suncast SC3590 Double Grip, and the True Temper SnoBoss, which has a double shaft and a perpendicular handle.
At the same time we also discovered two add-on secondary handles, the Stout Backsaver and the Motus D-grip, which are designed to be attached to any shafted tool. In late 2015, we tested another secondary handle, the Trentco ProHandle.
To fully explore the ergonomic possibilities, we tested a wide assortment of regular shovels representing the different styles with and without the add-on secondary handles and in a variety of shaft and scoop shapes. Three of those shovels—the Dart BHS18, Rugg 26PBSLW, and Suncast SC3250—had bent shafts. Two, the True Temper Ergonomic Mountain Mover and the True Temper Aluminum Combo Snow Shovel, had a curved shaft. The Suncast SCP3500 Powerblade and the True Temper Mountain Mover with VersaGrip each had a standard straight shaft. In addition, we looked at two grain shovels, the Suncast SG1600 and the True Temper Arctic Blast Poly Snow Scoop (which the company has since rebranded as the Union Tools Snow Scoop), and we included the Voilé Telepro Avalanche Shovel to see where it fit in with the rest. For a control unit, we added the Suncast SN1000 to represent the old-fashioned shovel.
In 2014, we expanded our search to include car shovels, pushers, and sleighs. That round, we tested five new shovels (mostly car shovels), three pushers, two sleighs, and a cult favorite, the Wovel.
For our testing, a total of four people in Massachusetts used the shovels to clear a driveway, four long walkways, three front stoops, three decks, a long set of deck stairs (14 steps and one landing), a set of fieldstone steps, a stone patio, and a brick patio. The shovelers varied in height and gender, consisting of a 6-foot-tall male, a 5-foot-8 male, a 6-foot-5 male, and a 5-foot-10 female. Testing occurred over the course of six days and after three snowstorms that totaled about 18 inches of snow. During this time, a wide range of temperatures caused snow density to vary from light and fluffy to frozen and crunchy to melty and slushy.

Our pick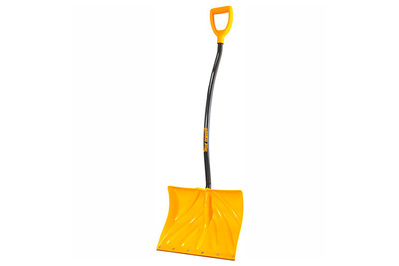 True Temper 18-inch Ergonomic Mountain Mover
An ideal combination of size, weight, ergonomics, and materials makes this the right shovel to use on steps, sidewalks, patios, decks, or any other outdoor areas you need to keep clear.
We investigated nearly 75 shovels and had a four-person crew test 14 of them in the winter of 2014. After a fresh round of research and testing for the past two years, we're still convinced that the True Temper Ergonomic Mountain Mover (by Ames True Temper), with an add-on Trentco ProHandle, is the best snow shovel for most people. Even without the extra handle, the Ergonomic Mountain Mover was above average in our tests—but with an auxiliary handle attached to it, our crew of shovel testers went bananas over it.
"Yeah, this is it, this is what we've been looking for," one of them said, picking up this tool after about two hours of moving snow with the other shovels.
The True Temper Ergonomic Mountain Mover combines several features we found essential to a good snow shovel. It was the only model we tested with a curved shaft made of light and durable aluminum, which allows you to stand straighter while shoveling and also gives you full flexibility in hand positioning up and down the shaft. The design makes your scooping motion stable, eliminating the pendulum effect you feel when using a shovel with a bent shaft. The D-grip at the back end of the Ergonomic Mountain Mover is nice and large, and no one in our testing panel had any problems fitting a hand wearing a chunky winter glove into the opening.
The business end of the Ergonomic Mountain Mover is an 18-inch-wide flexible poly scoop with a nylon wear strip, which makes for a durable and protected leading edge that won't gouge or scratch your deck or walkway. I had no problem busting up ice and compacted snow on wooden deck steps with the shovel, and the steps came through the process unmarred. The wear strip is rounded, so it easily finds its way over uneven surfaces like brick walkways or fieldstone steps.
As for long-term durability, I can personally vouch for this True Temper model. It's the shovel that I've used for the past seven New England winters, and it is only now showing some signs of wear. (We tested with a new model.) The corners of the scoop are beginning to crack a little, but I'm not particularly alarmed about that.
Trentco ProHandle
Attach this second handle to any shovel's shaft for a vastly improved ergonomic experience.
While the True Temper Ergonomic Mountain Mover is a good shovel in its own right, adding a
Trentco ProHandle
 attachment made a big difference in our tests. This secondary handle attaches to the shovel shaft and allows you to stand straighter while shoveling. And it isn't compatible exclusively with the True Temper shovel: For about $20, you can add one of these handles to just about any shovel you already have kicking around, instantly and significantly improving your shoveling experience. As one tester put it while using our original handle pick, the Stout Backsaver, "This thing can turn any old piece-of-shit shovel into a decent tool." After testing ended, everyone in the focus group asked where they could purchase an add-on handle.
The ProHandle clamps to the shovel shaft with four bolts and wing nuts. It's easy to take on and off, so you can move the handle over to your garden shovel or your rake in the spring. According to the documentation, the ProHandle is designed for straight-handled tools with a diameter of ⅝ inch to 1¾ inch. Even though the True Temper Ergonomic Mountain Mover has a curved design, we had no problems securing the handle to its shaft.
The ProHandle easily adjusts and locks into five positions. When you aren't using the shovel, you can quickly set the ProHandle flat against the shovel shaft so that the tool takes up less storage room.
In addition to reducing back strain, the ProHandle also makes shoveling a long flight of deck stairs much easier. When you're standing on a step and pulling snow toward you (think of paddling a canoe), the extra handle adds a nice grip and lets you stand farther back from the shovel to clear off the steps. On level ground, the ProHandle really pays for itself: While moving snow, everyone on our testing panel, regardless of height, could feel the change in body mechanics and the reduced strain on their back.
Shoveling snow is just plain easier with the added handle. I set up my father with the ergonomic shovel and a handle attachment, and he told me, "Without that shovel and handle, your 83-year-old father simply would not be able to shovel snow anymore."
Our handle pick for the past two years, the Stout Backsaver, works fine and costs about half as much as the ProHandle, but we found that this item has a distinct life span. At some point during year two of our testing, a crack developed, and since then it has slowly grown to the point that the handle is now almost unusable. The ProHandle is made of a much more durable plastic, and the handle-to-shaft connection is sturdier. Because no one wants to get caught with a busted handle halfway through a shoveling session, we believe the added cost of the ProHandle is a worthwhile investment.
We also tested the Motus D-grip, another readily available add-on handle, but found it more difficult to keep tight on the shovel shaft. Plus, the grip area was smaller, giving larger gloved hands some problems.
What happens when you combine two already great products? Snow-shoveling nirvana. A total of about $45 or so (about $25 for the shovel and $20 for the handle) may seem like a lot to pay for a shovel, but the reduction of back strain is worth the cost. Tired arms are one thing; a herniated disc is another.

Our pick: Flaws but not dealbreakers
A slight drawback to the Ergonomic Mountain Mover's nylon-wear-strip design—but one that's worth the trade-off—is that it's a bit thick compared with its metal-strip (or strip-free) competitors. This thickness makes knifing the shovel under compacted snow or into a semifrozen snowbank more difficult. But overall, having this kind of strip is better. Shovels with metal wear strips can catch on any uneven surface, jarring your shoulders. Such models also damage non-concrete surfaces easily, and in our tests, some of the models without a strip looked roughed up after just a few hours of our shoveling.
In the seven years I've owned the Ergonomic Mountain Mover shovel, I've never had any issue with the wear strip's thickness. Only after I saw this True Temper model tested alongside the metal-edged shovels did I realize that such a difference existed.
If you strongly prefer a thinner leading edge, we have a pick for a metal-bladed shovel that works well on concrete and pavement. It's similar to the Ergonomic Mountain Mover; it just has the advantages (and disadvantages) you get with an aluminum scoop.

Long-term test notes
This past year, we logged our third winter using the True Temper Ergonomic Mountain Mover, and we still have no complaints. It's getting a little dinged up, but nothing major.
This winter was our first using the Trentco ProHandle, our new pick for an add-on ergonomic handle. It's simply much better than our old pick, the Stout Backsaver. It's more durable, it fits the shovel shaft better, and the handle can shift and lock into different positions. Our Backsaver had developed a crack after two winters, but the build quality of the ProHandle looks like it should last quite a bit longer.
Our other recommendations have also held up: The roof rake worked fine all winter, and we think the Voilé Telepro Avalanche Shovel remains a great choice for a car or truck.
Runner-up
Suncast SCP3500 Powerblade Combo
The Powerblade doesn't have the ergonomic benefits of our main pick, but it does have a slightly wider (and apparently indestructible) scoop.
If our pick is sold out—which can happen in the middle of a snowy winter—we recommend the Suncast SCP3500 Powerblade Combo. This is a straight-handled shovel, so it has none of the ergonomic benefits of our main pick, but during testing it proved to be an extremely durable tool. In fact, we tried everything we could to break the scoop, but nothing did the trick. This is a new runner-up for 2016; our previous runner-up, the Bigfoot Power Lift, offered good ergonomics through a built-in secondary handle, but we've seen too many reports of durability issues to continue recommending it.
This Suncast model has a 1¼-inch shaft, so it's fully compatible with the ProHandle, which adds a considerable amount of ergonomic benefit. If you go with the Powerblade, we strongly recommend also investing in the secondary handle to take some of the load off your back.
The Powerblade comes with a 20-inch-wide scoop, making it slightly larger than our 18-inch main pick. We didn't think this made any real difference, good or bad, during shoveling.
Even so, the scoop of the Powerblade is definitely the high point of the shovel. Suncast refers to it as "shatter-resistant" and writes that it is "12.6 times stronger than a conventional polypropylene shovel." We took the company up on this boast and had all of the testers spend time trying to crack the scoop by whaling it against a paved driveway. No one achieved as much as a scratch.

Best for concrete and pavement
True Temper 20-inch Aluminum Combo Snow Shovel
This tough metal shovel can knife through ice and scrape sidewalks and driveways down to the bare pavement. But its metal scoop can scratch delicate surfaces, and its stiff leading edge catches on uneven ground.
If you need to shovel only smooth, tough paved surfaces, we recommend the True Temper 20-inch Aluminum Combo Shovel. Because it has a curved shaft, it comes with all of the ergonomic benefits of our main pick (and can work with the ProHandle), plus it offers the added durability and sharp edge of a metal shovel. This means it's a better tool for knifing under packed snow and scraping along a flat surface.
During our testing, this shovel earned high marks for its ability to chop into frozen and compacted snow. The scoop is metal, so the edge is much thinner and stronger than that of poly shovels. Thanks to this design, the Aluminum Combo Shovel is also good for breaking up ice. We did notice that when we banged the shovel straight down into ice, the rivets that held the scoop to the handle took on a lot of strain. We found that the shovel held up fine for occasional ice busting, but we wouldn't recommend using it in that capacity all the time.

Pavement pick: Flaws but not dealbreakers
This shovel is not without its drawbacks. For one thing, it's about 2 pounds heavier than the poly version. That may not sound like much, but with repetitive shoveling, such added weight quickly tires out your arms. Also, the weight is concentrated at the scoop end, so this tool feels unbalanced in comparison with the poly combo.
Like the other metal-edged shovels we tested, this model will catch on any uneven ground—forget about using it on gravel driveways, stone patios, or brick walkways. Even on an uneven paved driveway, we saw problems with the blade hitching on bits of asphalt or snagging on the slightly raised blobs of blacktop patch. This effect is not only annoying but also prone to giving the shoulders, neck, and back a good jolt. We're not the only ones to notice this problem with metal shovels in general; the second edition of Snow Removal Ergonomics, published by the Occupational Health Clinics for Ontario Workers, notes it as a common cause of injury.
On top of that, the metal blade can leave scratches on more-delicate materials such as wood decks or bluestone patios. During our testing, we used another shovel with a metal wear strip to clear off a mahogany deck, and despite being extremely careful, we still managed to scratch the decking. We also noticed that as the metal edge saw some use, it became even more abrasive as it developed dents and burrs.

Best car shovel
Voilé Telepro Avalanche Shovel
After you use this compact shovel to slice through frozen snow, you can disassemble it for storage in a car trunk. It isn't cheap, but it is the tool we'd want to have in a roadside emergency.
After spending two years researching car shovels and testing five contenders, we found that the best one to keep in the trunk for an emergency is the
Voilé Telepro Avalanche Shovel
.
The tool, which is popular with snowboarders and people clearing backcountry trails, has a solid metal scoop and a two-piece handle that clicks together to form a sturdy shovel. When you disassemble it, you can tuck the three pieces nicely under a car seat or in the back with the groceries.
I've spent two winters with the Voilé in my truck, and it has come in handy more times than I can count. Because I keep my truck in a second, unplowed driveway, I often have to clear a quick path for the tires in order to get in and out. While the Voilé is too short to be a primary shovel, it's perfect for this kind of fast shoveling. It's also ideal for slicing into the thick snowbanks and icy plow slush blocking your path when you need to parallel-park on a city street; the shovel's ability to hack into that kind of frozen mess is impressive. In our tests around town, shovels with poly scoops had much more trouble with this kind of rugged, dense snow.
Additionally, if you are a city dweller and need to clear off just a couple of front steps, the Voilé is a good choice for you. The short shaft won't do your back any favors, but the fact that you can quickly disassemble the tool and tuck it in the back of a closet makes it ideal if you have zero storage.

Car shovel: Flaws but not dealbreakers
There's no doubt that at about $40 (around $10 to $15 more than our main pick), the Voilé Telepro Avalanche Shovel is an expensive shovel to just have in your car. But a car shovel is an emergency tool, and we believe that the added durability is worth the additional cost. If your car slides off the road on your way home at night, you'll want to dig yourself out with a shovel you can rely on, not one that might crack or break. Also, with a car shovel, you'll often be coming up against compacted plow snow or semifrozen slush, and a metal shovel will be ideal for such a situation.
We did look at other car shovels, all less than $20, and we were stunned to see how flimsy most of them were (more details below). Even though the Voilé costs more than twice as much as those other car shovels, it's 10 times the tool. We should also mention poor ergonomics as a flaw on any shovel designed for a car—such models have to be small enough to fit in a trunk, so none of them are as comfortable to use as a big shovel like the True Temper Ergonomic Mountain Mover.

Best snow pusher and snow sleigh
Shovels are ideal for use on walkways and front steps, but if you regularly clear your entire driveway (and you don't like the idea of a snow blower), you'd be better off with a pusher or a sleigh. Pushers are best for lower accumulations and lighter snows, while sleighs can handle heavier snowfall or greater amounts.
When you use a pusher, the point is not to scoop the snow but to shove it along until you get to the side of the driveway. These tools look like push brooms, but with a curved snow-plow blade instead of a broom end. In our tests, the pushers maxed out their effectiveness at around 4 inches of depth or so. As True Temper's Joe Saffron told us, they're popular in Canada, where it's colder and the snows tend to be lighter and fluffier.
Because the edge of the pusher is in constant contact with the ground, most of these tools are difficult to use on uneven surfaces such as brick walkways and gravel driveways, but very effective on paved surfaces.
Among pushers, we recommend the 30-inch SnowPlow. It sports a thick (¼-inch) polyethylene blade that has no flex at all, so it's also good at scraping up or chopping into compacted snow. The blade is so durable that it doesn't have a wear strip, which is nice because even paved driveways have the occasional uneven crack or blob of asphalt patch, and the SnowPlow won't catch on them. It also won't scratch or gouge a deck. Even though this tool is a pusher and not a shovel, we still recommend using it in conjunction with a ProHandle in case you need to lift the pushed pile up and onto a snow bank.
The SnowPlow comes in assorted sizes from 24 to 48 inches. We tested the 24-inch model, but were we to start over, we'd step up to the 30-inch size just to push that much more snow. Larger sizes would start to impede your ability to lift the snow, something you may occasionally have to do depending on the height of your snowbanks. Regardless of the size, however, the SnowPlows get excellent customer feedback: Amazon sells four sizes, and currently they have overall ratings of 4.5, 4.8, 4.7, and five stars (out of five) over a total of 164 reviews.
Sleighs are much larger than pushers and look like wheelbarrows without the wheels. With the handle tilted slightly back, a full sleigh can easily slide around and even up a snowbank. This design not only gives you total flexibility on where you can dump the snow but also puts little strain on your back. We tested two leading models and recommend the True Temper Sleigh Shovel (which you might also find sold under the Garant name). The handle has a bend that raises the gripping area, so moving the sleigh around is easy.
We used the True Temper sleigh to successfully clear a portion of a driveway that had about 20 inches of snow on it. The first few scoopfuls were tricky, but once we created a path to the spot where we were dumping the snow, the task got much easier. Had we used a shovel for the job, we would have spent an exhausting day walking back and forth across the driveway carrying heavy scoops of snow. The sleigh also works as a pusher, but if you get only small accumulations of the white stuff, the lighter, easier-to-handle SnowPlow pusher is a better option.

Best roof rake
A roof rake allows you to knock snow off a roof, particularly at the eaves. By doing this you greatly reduce the chances of getting an ice dam, which can be catastrophic to the well-being of a house. Ice dams form when heat coming through the roof melts snow, which then runs down to the eave and freezes. The frozen mass gets bigger and bigger until it creates a dam for any other water coming down the roof. Once trapped in the dam, the water has nowhere to go but under the shingles and into the walls of the house. There, it will wreak havoc on your insulation, Sheetrock, and framing, possibly causing rot and mold. A good roofer will properly waterproof the eaves of a house to prevent such infiltration, but it can be a real problem in older homes.
For this type of snow clearing, we recommend the 17-foot True Temper Telescoping Roof Rake. Unlike most other roof rakes, the True Temper model is a single unit with a three-part telescoping handle. The pieces slide freely once you push a release button, and they can click into place at a variety of lengths. Traditionally, roof rakes consist of three full-size (nontelescoping) handles that can click together only end to end, making the tool awkward to use.
We tested the True Temper roof rake and found that the push-button system made for quick and easy length adjustments to the handle. This feature was a big help as we were coaxing a pile of snow down a roofline. We also like that the rake has a hole at the base of the handle, so it can hang in the garage when not in use.

The competition
In late 2015, we looked at a number of new items but dismissed them all without testing. Among shovels, the Snow Joe SJEG24 is the most interesting model with its detachable ice chopper, but it has a straight shaft, and the scoop is a wide 24 inches, an unwieldy size for some people. We also noticed the Suncast SC2700, but that model has a straight shaft as well as a metal wear strip.
As for roof rakes, we discovered the Snow Joe RJ205M Twist N Lock Telescoping Aluminum Roof Rake. To expand and lock the lengths, you use a twisting mechanism at each connection. These mechanisms are more difficult to use than the push-button locks of our pick, the True Temper Telescoping Roof Rake.
We also saw a couple of other pushers, notably the Manplow and the Nordic Plow. Both of these models resemble our recommended SnowPlow pusher. For the 30-inch width, however, the Manplow comes in only a double-handled design, which is difficult to lift if necessary (the company also sells a 24-inch version with a single handle). The Nordic Plow appears to come in only double-handled designs. If you plan on using a wider-width pusher (30-plus inches) and you don't anticipate needing to lift snow, both of these options look to be on a par with the SnowPlow.
Last year, we delved into car shovels. In addition to our pick, the Voilé Telepro, we also looked at the True Temper AutoBoss, the Suncast SCS300 Automotive Shovel, the Bigfoot Collapsible Car Shovel, and the AAA 4004 Sport Utility Shovel. After testing them, however, we honestly wouldn't recommend putting any of these models in your car.
The True Temper AutoBoss has an interesting folding design, but it's so small that merely loading the scoop requires you to bend over as if you're touching your toes. Although it tucks away nicely for storage, it's difficult to use, even for short periods of time. The scoop is plastic with a thick leading edge, too, and in our tests we had a lot of trouble knifing into and under semifrozen snow.
The Suncast and Bigfoot models both have telescoping handles similar to that of the Voilé Telepro, but the overall quality of these shovels is so low that they reminded us more of beach toys than functional snow shovels. The connection at the midpoint of each handle is loose and wobbly, which is really annoying, but what's worse is that the plastic scoops are so flimsy that they bend and flex while shoveling even slightly frozen snow. These are not tools that you want to rely on in an emergency.
The AAA 4004 has the same all-metal construction as the Voilé, but it is an inferior shovel in all respects. It's very short (only 32 inches), so as with the AutoBoss, you basically have to touch your toes to fill the scoop. The overall build quality is not as good as that of the Voilé, as the connection points have more of a wobble to them, and the T-handle is uncomfortable. The scoop is made out of a thinner metal, and during our testing, it began to take on decently sized gouges. Although the scoop of the AAA 4004 has a slight point, sort of like a spade shovel, we didn't find that it sliced into frozen slush any better than the Voilé. In fact, this design made scraping compacted snow off pavement tougher.
Last year was when we first got into sleigh shovels, pushers, and roof rakes. Following are the items that we dismissed during that first round of research and testing.
The True Temper Poly Pusher has a comfortable handle and a nice arc on the blade; in a pinch, it's easy to use as a shovel. The main drawback is that the blade is nowhere near as durable as the one on the SnowPlow. While we were trying to scrape up compacted snow, the Poly Pusher blade flexed so much that we thought it might break. This flexing also produced so-so scraping results.
The EZ Plow has blade that sits at an angle to the handle, so it's oriented like the plow on the front of a dump truck. In theory, this design is a great idea; in reality, though, keeping the pusher moving in a straight line is difficult. We tested this model on different depths of snow, and it would always veer off to the side no matter what we did. The odd angle also makes scooping snow up onto a snow bank impossible.
For sleighs, we looked at the Suncast SF1850 Big Scoop. It has a regular straight handle, so it was much more difficult to use than the True Temper/Garant model. We liked that the handle could telescope in for easier storage, but that wasn't enough to offset all of the bending over that this tool requires.
The Snow Wolf, previously known as The Wovel, is basically a sleigh shovel with a smaller scoop and a fulcrum wheel. Once you scoop up (or push) snow, you can make the Snow Wolf toss the load with a quick downward thrust on the handles. This action puts little strain on the back, transferring all of it to the arms and shoulders. With lesser amounts of snow (under 5 or 6 inches), the Snow Wolf cleared quickly and efficiently in our tests, but with deeper snows we ultimately preferred the True Temper Sleigh Shovel due to its larger scoop, considerably lower price tag, and versatility.
First, we found that the Snow Wolf puts the user through a serious upper-body workout. You really have to give the handles a good pop to get the snow to launch. Part of the motion includes leaning your body into the thrust, but the emphasis still lands on the arms and shoulders. While the True Temper sleigh certainly takes some muscle to use, the repetitive quick snap of the Snow Wolf was particularly tiring for our testers.
The design is also limited in that it doesn't make tossing snow to the side easy. It can't throw snow especially high or notably far—maybe only about 5 feet in front of the scoop. This limitation makes it tricky to use on a walkway (much like the sleigh), but we also had trouble with it in deeper accumulation when it would take a good amount of effort just to toss the snow up on top of the snowbank. The larger scoop of the True Temper/Garant sleigh can hold more snow, and we successfully "drove" that tool up a snowbank to deposit the snow wherever we wanted.
The Snow Wolf costs about three and a half times more than the True Temper sleigh. And honestly, we found that we could do a quicker job with the True Temper because it can carry so much more snow without restricting where we put it.
Our first round of testing back in 2013 included eight other shovels:
The SnowBow (apparently now discontinued) was an interesting design. It had a secondary handle that ran parallel to the main shaft, coming off of the shaft like the handle of a coffee cup. All of the testers liked the tool at a glance, but once they used it, they had difficulty finding a comfortable hand position. The secondary handle was a Day-Glo orange, which everyone liked and thought would be helpful in clearing around the mailbox by the road, but it wasn't enough for anyone to choose this model as a standout.
The True Temper SnoBoss is just too massive to be a primary shovel. Our testers concluded that this tool—which lands somewhere between a combo design and one of the larger sled-style models—was too big for a shovel and too small for a pusher. "It's unrealistic to lift that thing," one tester said. Its size, with a 27-inch leading edge, also made it hard to use on stoops and deck steps.
The Suncast SC3950 Double-Grip has a bent shaft and an attached secondary handle similar to the Stout Backsaver. Going into testing, I thought that this model would be a contender, but the build quality was so poor that we quickly disregarded it. The D-grip had a seismic squeak and creak to it. Every time the shovel moved, it made a noise. Every. Single. Time. Sometimes it clicked too. Dealing with 10 inches of wet snow is bad enough without having to listen to your shovel. I saw that many Amazon reviewers had commented on the squeaks as well, so our experience wasn't an isolated incident. Beyond making such aggravating noises, the D-grip sits in a fixed position on the shaft, offering you no way to make adjustments if you're particularly tall or short. Most of our testers said that it was positioned too close to the rear of the shaft, which made the tool uncomfortable compared with the True Temper/ProHandle combo.
The bent-handled shovels we looked at, the Rugg 26PBSLW, Suncast SC3250, and Dart BHS18, ended up in the "liked but not loved" pile. Our shovelers appreciated how these models allowed for a straighter back, but the bent shaft limited hand positioning. The Rugg and Suncast have metal wear strips, and the Dart has an unusual and uncomfortable D-handle.
Without a secondary handle, straight-shaft shovels are tough on the back. With the shorter models, the tallest tester (me) had to bend over to at least 90 degrees at the waist just to load a scoop. With an auxiliary handle attached, they became much better.
The straight True Temper Mountain Mover with VersaGrip has a cool rear handle designed to allow you a two-handed grip while you're pushing snow, but that nice touch doesn't offset the back-breaking exertion necessary to scoop and toss.
Among the straight-shaft shovels, the grain shovels (the Suncast SG1600 and the True Temper Arctic Blast Poly Snow Scoop, now branded under the UnionTools name) received particular scorn from our testers. The large scoops and short handles quickly added up to brutal back strain. One tester called them "old-fashioned backaches."
But the true runt of the litter was the Suncast SN1000, an old-school flat-blade shovel that we tested as a control model. Compared with the others, it was just useless. After using the other shovels, the testers literally laughed at this one, as it had a short shaft, felt flimsy, and couldn't hold much snow.
Over the years, we've also dismissed the following shovels without testing them.
The Poly Pro Titan has a straight shaft, which our research and testing proved creates more back strain than a curved shaft. The shovel also has a secondary handle built into the back end of the scoop; the design puts your hand closer to the weight you want to lift, which is good, but it also means that you need to bend over to the point that you're touching your toes before you can lift it, which is not so good. The Poly Pro Titan also has a relatively narrow scoop that measures only 14 inches wide, so clearing snow will take longer with this tool than with the 18-inch True Temper.
Bosse Tools, recipient of almost $65,000 in Kickstarter funding, has released its Snow Scoop Shovel. What the Bosse designers have done is add a rotating secondary handle partway down the shovel shaft of a grain scoop. You can set that handle to varying degrees of rotation, which could possibly aid in your consistently tossing snow in one direction (say that you're shoveling a path, and you're tossing all the snow to your right). But because the secondary handle is in line with the shovel shaft and not raised like the ProHandle attachment is, it requires more bending over and thus puts more strain on the back. Plus, the price is simply more than we think most people are willing to pay for a snow shovel.
(Photos by Doug Mahoney.)
Footnotes:
1. The second handle serves two purposes. Because the extra handle allows you to grip the tool from above the shaft and not below it or beside it, you bend down less. But more important, the added handle changes your shoveling body from a third-class lever to a first-class lever, which requires less effort to lift a load.
Traditionally, a shovel is a third-class lever, which means that the lifting force (the hand on the middle of the shaft) stays between the fulcrum (the hand at the end of the shaft) and the weight (the heavy, wet snow). Reorienting and raising the secondary handle changes this arrangement, making the rear hand the lifting force and making the middle hand the fulcrum, located between the lift and the weight. See this diagram for a visual representation of the different levers. Jump back.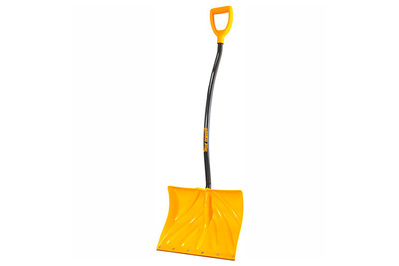 We do our best to stay on top of prices.
If something's changed, let us know.
To share this page via email, fill out the fields below:
Message Sent!
Oops! Please try again
Send
Originally published: February 8, 2016