The Best GPS Running Watch
To share this page via email, fill out the fields below:
Message Sent!
Oops! Please try again
Send
We've run with more than 20 GPS running watches over the past three years, and we've found that the Garmin Forerunner 230 is the best for both beginners and experienced runners. It carries on the accuracy, long battery life, and light profile of our previous Garmin pick (the Forerunner 220) but has a larger screen with more readable information, enabling quick-glance updates while running. The Forerunner 230 (FR 230) feels good enough to wear as a day-to-day, non-running timepiece, and it can track steps and other metrics if that's what you choose to do. It is easy enough to use as a first GPS watch, but it contains deep features and optional apps that expand its powers. It tracks runs better than most watches at its price and can work with cycling sensors. It's also waterproof down to 50 meters.
Last Updated: May 24, 2016
Expand Most Recent Updates
May 18, 2016:
The
Garmin Forerunner 230
, a newer version of our former pick, is our new top pick for most runners. The
Polar M400
remains our runner-up, as it costs less but fits less comfortably. A newer auto-syncing Garmin, the
Forerunner 630
, is an upgrade for serious near-daily runners, and the
TomTom Spark Music
is an option for those who want music without a phone.
April 21, 2016:
The
Garmin Forerunner 230
, a newer version of our former pick, is our new top pick for most runners. The
Polar M400
remains our runner-up, costing less but not fitting as comfortably. A newer auto-syncing Garmin, the
Forerunner 630
, is an upgrade for serious near-daily runners, while the
TomTom Spark Music
 is an option if you want music without a phone. And the
TomTom Runner
 is a super-budget option if you really need only distance and pace monitoring, and if you don't mind connecting to third-party services for better tracking.
February 19, 2016:
Garmin's new vívoactive HR
is a fitness-tracking smartwatch that features both GPS and an optical heart-rate sensor. While Garmin's FR
230
,
235
, and
630
GPS watches focus primarily on running, the vívoactive HR collects data during running as well as during other active pursuits, such as skiing, snowboarding, rowing, golfing, and swimming. The vívoactive HR and FR 230 both cost $250, but the FR 230 lacks an optical heart-rate sensor. We're in the midst of testing for an update to this guide, and we'll let you know what we think of the vívoactive HR.
January 25, 2016:
In October, Garmin introduced a trio of new running specific GPS watches, the Forerunner
230
,
235
, and
630
that replace our current picks. DC Rainmaker had the
first hands-on preview
of the devices and he reported that the core functionality of measuring runs is similar to older devices so if you just want to track your runs, there's no compelling reason to upgrade based on first impressions. But the new watches add support for cycling sensors/workouts, smartphone notifications, daily activity tracking, a larger screen and better battery life. For more information, check out the What to look forward to section at the bottom of this guide. We're still waiting for some review units to arrive, and will update this guide once they do. If you can't wait until then, know that Garmin has a proven track record for making great GPS watches so they will likely be among the best again. The older FR 220 and 225 are also still good options if you can find them on sale (especially if you don't care about fitness tracking and smartphone notifications).
October 21, 2015:
Garmin introduced a trio of new running specific GPS watches, the Forerunner 230, 235, and 630 that replace our current picks. DC Rainmaker has the
first hands-on preview
of the devices and he reports that the core functionality of measuring runs is similar to older devices so if you just want to track your runs, there's no compelling reason to upgrade based on first impressions. But the new watches add support for cycling sensors/workouts, smartphone notifications, daily activity tracking, a larger screen and better battery life. For more information, check out the
What to look forward to
section at the bottom of this guide. We will be testing them as soon as they're available in the beginning of November and hope to have this guide fully updated by December. If you can't wait until then, know that Garmin has a proven track record for making great GPS watches so they will likely be among the best again. The older FR 220 and 225 are also still good options if you can find them on sale (especially if you don't care about fitness tracking and smartphone notifications).
July 22, 2015:
Polar has begun offering a version of our
runner-up
pick (
the M400
) with a 2 cm shorter, pink wristband exclusively through its website.
June 30, 2015:
Moved the Epson Runsense SF-810 to the
Competition
section.
May 22, 2015:
Updated pricing throughout and moved several models to the
Competition
section.
May 12, 2015:
Garmin has announced its first GPS running watch with a built-in optical heart rate sensor, the Forerunner 225. The watch will be available in late June for $300. Along with using GPS and the optical heart rate sensor to record activities, the FR 225 will count steps and calories burned and do automatic sleep tracking. We'll receive a review unit in the next few weeks and test it against the competition.
Polar M400
does most things well, though it requires more effort from you. It connects to satellites just a few seconds behind the FR 230, it's less waterproof (to 30 meters), and its software, though improving, is not as fluid as Garmin's. It falters because of its less informative screen and its design, which will feel bulky on smaller wrists.
Forerunner 235
is a sibling to our top pick that's far more comfortable than other watches with wrist-based monitors. For those who want the best run-tracking and activity-syncing experiences, the
Forerunner 630
costs $150 more than our top pick, adding a touchscreen, more advanced metrics during runs and after, and automatic Wi-Fi uploading of run data. And those who want to stream music to their Bluetooth exercise headphones without bringing along a phone should look at the
TomTom Spark Music
, a good-enough GPS running watch with unique music powers.
Table of contents
Why should you trust me?
For this update, I've spent weeks studying multiple editorial sources and discussing GPS running watches with industry experts, and I've run for hours on tracks, trails, and roads to test them firsthand. My experience as a runner, university distance running coach, and podiatrist gives me a rich, multi-faceted perspective on these devices. In the three years I've been covering this category, watches have changed a great deal. Running with these devices daily and keeping up with the changes helps determine which features are useful and which aren't.

Do I need a GPS running watch?
If you are interested in tracking and improving your outdoor running or walking, whatever level or distance, you may benefit from a GPS running watch. While fitness trackers (also known as activity trackers) estimate your steps and activity, GPS watches keep you informed by giving you specific information about the volume and intensity during and after your workout. The software or web services tied to a GPS running watch can make it easier to see progress and plan workouts and routes; some even include free training plans to help beginners prepare and train for events.
Serious runners/marathoners/cyclists
Along with a training log, most software that accompanies GPS watches also includes tools to analyze workout sessions and performance data. Some devices can export that data to even more precise and complex analytic tools. A GPS device can also be compatible with a variety of sensors (heart rate, cadence, cycling, power) that will provide even more data about how you're doing.
People with a large early-generation device
The new sleek and slim GPS watch designs are slightly larger than most regular "sports" watches. If you are sporting a bulky first-generation GPS running watch, it's time to consider upgrading to a watch you might even feel comfortable wearing outside of exercise. Along with size, most modern watches offer more training data and analysis than older watches and their software.

How we picked
There aren't a lot of sources on or offline that provide unbiased reviews and information about GPS running watches. The most insightful and detailed reviews can be found at DCRainmaker.com. RunnersWorld.com also has a GPS section that publishes brief reviews and news about the category. From my own years of working with runners, and testing and wearing these devices myself, I have learned what the best GPS watches can and can't do for the people wearing them.
First, devices and the companies behind them need to have a solid reputation for accuracy. Nothing on the market is 100% accurate, as mapping errors and signal drops under heavy tree cover still occur. But the major players in this category (Garmin, Magellan, Timex, TomTom, Polar) each have a strong background in GPS and watch technology from their products in other fields. It's taken time even for these experienced and well-recognized companies to work out bugs and bring a viable product to market. So if you're intrigued by a new brand or crowdfunded device in this category, know that a sleek, first-generation product may be a little raw or unpolished.
GPS watches can now be made small enough to pass as a regular "sports" watch, so watches that still resemble hockey pucks have to earn their heft. The same goes for watch displays; a GPS watch's ability to display and arrange information in an organized and readable fashion on the watchface cannot be overemphasized. It's a huge hassle to squint in order to figure out which number is which.
The GPS running watch you choose should have a navigable, intuitive menu, starting with satellite connection and starting your run. Some feature the ability to pre-cache satellite locations to avoid a long wait when you want to get running. Once you push stop, it should be easy to save data and review your data right on the watch screen. (You'd be surprised how many watches fail at this.) Likewise, the desktop or web software that offloads and arranges your data should let you glimpse all your running data or dive deep when needed.
Pricing varies among GPS watches, from about $100-$500. For about $100, you can get a GPS watch like the Garmin Forerunner 10 that records time, distance, and your route on a map, which may be just fine for some. Go up to $250, and watches can be waterproof, adaptable to other sports, and capable of working on longer runs. Go a little higher ($300 and up), and watches get even more durable, can have built-in heart-rate sensors, and work with a wide variety of sensor accessories providing more detailed statistics. We sought to find watches that include as much useful stuff as they can in their price categories while ignoring features they could not perform well.

Is my smartphone enough?
In terms of pure function, yes. A smartphone will do anything that one of these watches does, sometimes doing it better. You get a bigger screen, louder speaker, the ability to play music, and more. But it's also a big, expensive, and heavy device that requires you to take precautions against drops and water damage. You don't have to worry about any of that with a GPS watch. We've picked arm bands and a waist band for those who'd prefer to run with their phones, but GPS watches, in their current sleek and unobtrusive iterations, are worth the convenience if you run on a regular schedule.
If you're not sure you want a standalone GPS running watch, a smartphone and GPS running app can be a good way of testing out features before spending the cash. We'll be covering GPS and fitness tracking apps in our next standalone GPS guide this spring.
After taking into consideration their picks and our criteria of what makes a good GPS watch, we narrowed the group down to the Garmin Forerunner 230 (FR 230), Polar M400, TomTom Spark Audio, and Fitbit Surge. Over the course of the past couple months, I ran with these watches to collect comparative data, saw how each performed on some cold runs around Montreal, and used their included training-log and data-analysis software.

Our pick
The Garmin Forerunner 230 (FR 230) has everything we were looking for in a great GPS running watch. It takes the accuracy and long battery life of our previous pick, the Forerunner 220 (FR 220), and makes the screen larger and more readable during activities, while retaining a light and small profile that won't feel weird wearing as an everyday watch. The FR 230 can pass along smartphone notifications and track your steps and other casual activities. The interface and data syncing are easy enough to use if you are new to GPS watches, but the FR 230 also contains deep features and optional app downloads that experienced runners and statistics wonks can dig into. It can track some advanced running metrics we've only seen in higher-priced models and can also work with separate cycling monitors for speed and cadence. All of these features rest on top of Garmin's unparalleled reputation for making reliable GPS watches; adding up to a watch that, while right in the middle of the pricing curve at about $250, feels many product cycles ahead of its competitors.
The FR 230 is accurate and quick to lock onto your location to start tracking. Using pre-cached satellite locations, the FR 230 can connect to satellites in as little as 5-6 seconds, compared to the typical 30-60 seconds you'd find with older devices. Each time you sync your device to your computer or smartphone, the FR 230 downloads seven days' worth of GPS satellite locations so you connect faster when you're outside. A quick and secure satellite connection is an essential feature of a GPS running watch, and the FR 230 connects as fast as we've seen. The FR 230 can even pick up a signal while you're running; less expensive competitors struggle with this essential task.
If you're like me, you get stopped at intersections during a run. With most GPS watches, that means your running data, and your overall pace, is thrown off by your standing. To solve this problem, the FR 230's Auto Pause halts tracking below a certain pace, either default or set by you. While the watch is paused you can look at data from your current run. This isn't a big deal for those who spend most of their time running on the trails or country roads, but it goes a long way to providing more accurate data for city dwellers.
The FR 230 delivers all that accurate tracking while still lasting for 16 hours of operation with GPS, a marked improvement on the 10 hours of our prior pick, the FR 220.
While you're running, the FR 230 can display four metrics during activity. Our prior pick, the FR 220, maxed out at three, as do most other watches. The FR 230 also gives you the ability to set up the watch to display the custom metrics and information that are most important to you, like total time, split time, pace, or heart rate (using an additional sensor). For example, when programmed with custom pace zones, the FR 230 can provide actionable pacing feedback at a glance with green (on-pace or better) or red (too slow) text without missing a beat.
While its accuracy and display are a cut above most GPS watches, the FR 230 is also notable for its small size and lighter construction (41 grams). It has no problem passing as a sports watch. GPS watches have existed at a similar scaled-down size for a while, but they also cost more than the FR 230's original $250 tag. Jeff Dengate of Runner's World detailed the comfort of the FR 220, which has the same weight and form factor: "The comfort and form factor of the FR 220 is a lot better for most wrists. Instead of having a watch band attached to a molded case, the design and hinge points of the FR 220 allows it to fit more wrist sizes." Anyone that has a bulky first-generation GPS device will shed some serious wrist weight by upgrading to the FR 230.
Garmin also built in daily activity tracking and the ability to get new apps for the FR 230. Along with steps, the FR 230 can track sleep or prompt you to move if you've been sedentary for too long. Though not a must-have feature for a GPS watch, it could help you avoid owning both a fitness tracker and watch just for running. Garmin's Connect IQ is a growing app store that brings more useful features and abilities to your watch. While the app store is still a work in progress, being able to add a stopwatch app adds value to the FR 230.
For those just getting started with running, Garmin's support software, Garmin Connect, makes it simple to see results and track improvement. It has a user-friendly design and does a good job of displaying maps and graphs of data for each run. The data from the FR 230 can be uploaded via USB dongle to a computer or can be synced wirelessly via Bluetooth. The app itself, once cluttered and confusing, now offers a quicker path to fitness and workout data and more reliable syncing. Those who would like to track their workouts with a different app are not locked into Garmin's system; Garmin syncs through API partnerships with well-known fitness applications like Training Peaks, Strava, MapMyFitness, and Endomondo.
For those already serious in their training, or getting there, the FR 230 has additional features to meet those needs. Garmin Connect offers free pre-built training plans that cover from 5Ks up to marathons; you can create custom plans through Garmin Connect's webapp. A built-in cadence sensor counts foot contacts during each run, and the FR 230 can estimate your VO2 max, recovery time, and training effect (improving, maintaining, over-reaching, etc.). Add-on sensors such as an ANT+ heart rate monitor and Garmin foot pod can provide more detailed workout data and help the watch function in places with no GPS signal. If you mix cycling into your workouts, the FR 230 also supports ANT+ Speed/Cadence sensors to capture detailed workouts on a bike.
The FR 230 also features real-time audio and vibration alerts for getting outside your pace or heart-rate limits. Most lower-priced GPS watches will offer audible alerts, but incessant beeping can be annoying. Vibration alerts are usable and don't get on the nerves of you or your running partners.
If you bring along a paired smartphone, the FR 230 can broadcast a live-tracked map of your run to family and friends. Live run-tracking can be useful for the occasional relay race or helping your supporters find the best cheering spots for a long race. But one of the main reasons to buy a dedicated GPS watch is to avoid running with a phone, so this is only a minor consideration.
Others find the FR 230 to have the best combination of features, design, and accuracy for its price. Ray Maker, triathlete, runner, meticulous tester of sports equipment, and editor of the obsessive DCRainmaker.com, has seen every GPS running watch on the market. He thinks the FR 230 has what it takes to be his daily running watch: "The FR 230 would most definitely fit my bill". In his Winter 2015-2016 Sports Gadget Recommendations, Maker recommends both the Garmin FR 230 and its sibling FR 235 as "Road Running – Best All Arounder" (The 235 adds an optical heart-rate sensor and $150 in cost). "I think Garmin really nailed it with the FR 230/235 series. …with the FR 230, Garmin added in a slew of features once previously only seen on the $400 watches, now at $250," writes Maker.

Flaws but not dealbreakers
The FR 230 is waterproof to a depth of 50 meters, but don't get your hopes up, triathletes. Ray Maker writes, "As with most GPS units you won't get accurate (swimming) distance outside while worn on your wrist. This is because the FR 220 (and FR 230) isn't designed to understand how to deal with the dropouts that occur when the watch goes under the water each time during the stroke." If you hope to measure your open-water swim with our pick, you'll want to use Maker's swimcap technique. While we can't rule out the possibility that Garmin could make the FR 230 swim-capable in a future firmware update, it's improbable. Folks looking for a serious triathlon watch should take a look at a triathlon-specific model like the Garmin Forerunner 910XT.
The Garmin FR 230 also features an internal accelerometer, which allows it to measure both pace and cadence on indoor tracks or treadmills with no external foot pod. But it appears this feature still has a ways to go. Maker is "not convinced the treadmill (internal accelerometer) paces are accurate at all pace ranges."
Although it's now the size of a normal watch, the FR 230's aggressive styling and color choices keep it from being something that some people can or would want to wear in professional/formal offices or gatherings.
The FR 230 is about $90-100 more than most of its midrange competitors. Its Bluetooth syncing, activity tracking, app store and lightweight design are worth it. Add its quick paring to satellites and easy syncing of workout data to third-party training logs like Strava, and it clearly is the best run-tracking tool for the widest range of runners.

Also great
Polar M400
, a hybrid GPS running watch/fitness tracker, has an impressive feature set, a price about $100 less than our top pick, and an improving online training log. It's a worthy alternative to our top pick if you don't mind the larger size and relative lack of detail in your running stats and display.
The M400's features and low price stand out in a field of look-alikes. DCRainmaker.com has high praise for the M400 and calls it "a near perfect blend of activity tracker with GPS running watch, as well as daily wrist watch." It has all the features you'd expect from a decent running watch: auto-pause, waterproofing to 30 m, Bluetooth accessory support, and quick connection to satellites (if not as quick as our pick). It adds capable fitness-tracking capabilities (including daily step count, time spent sitting and sleeping), making it more than just a less-advanced running watch. All of this is handled through Polar's capable Flow software (iOS, Android), which plays well with Apple HealthKit on iPhones, Google Fit on Android, and Strava, the popular running log software, on both.
While we appreciate details like the M400 charging with a standard Micro-USB connector instead of a proprietary cable, we were less impressed with the watch's physical design. It's thinner than the FR 230 (11.5 mm versus 12.5 mm), but heavier (56.6 grams versus 41.0 grams). That's no small difference, as 15.6 grams is more than one-third of the FR 230's weight. Also, the inability of the watch band to pivot at the hubs makes the M400 feel bulkier. As a result, it felt less secure on my smaller wrist than the FR 230 and its pivoting band.
As far as battery life goes, the M400 lasts longer than most trackers (an estimated 20-24 days) and is on par with midrange GPS watches (8-12 hours of battery with the GPS enabled).
While testing a pre-production unit of the M400, some reviewers (myself included) experienced the device dropping satellite connections. A firmware update seems to have fixed the M400's GPS reliability issues for buyers, according to Dan Graziano of CNET. Along with fixes, Polar continues to add new features through firmware updates as well, including speed and pace zones for cycling, rowing, and canoe sports and Bluetooth smartphone notifications.
While its non-running features are thoughtful, the M400 doesn't do the little things as well as the FR 230. A black-and-white screen and no vibration do not hurt the watch's core functionality, but these are details that make the FR 230 feel like a more thoughtfully designed product. The M400 has good fitness tracking abilities if that's important to you, but the FR 230 is a better buy for those valuing running data above all other features.

The auto-syncing upgrade for experienced runners
Forerunner 630
(FR 630), costs $150 more than our top pick. For that, you get a touchscreen (useful in warmer climates or while wearing our
favorite touchscreen gloves
), more advanced running metrics, and one big convenience: automatic Wi-Fi uploading of your run data to Garmin Connect. How automatic is it? Consider
Jeff Dengate of Runner's World's example
: "I went out for a run this morning, took a quick shower and it was already uploaded to Garmin Connect." If you run every day or often forget to upload, that's no small thing.
Compare that to Bluetooth uploading on the FR 230, which requires you to grab your smartphone, open the Garmin Connect app, then wait for the watch and phone to connect. There's a USB-to-computer option for the FR 230, but the FR 630's wireless syncing is what we hope the future of all exercise-gear-syncing looks like.
At this price, the FR 630 is not the best device for beginning runners or first-time GPS watch buyers; the FR 230 gets the core time/distance/pace tracking done just fine. But for a more experienced and frequent runner who wants metrics like running dynamics, lactate threshold, or stress score, the FR 630 is worth a look.

The built-in heart-rate pick
The Garmin Forerunner 235 (FR 235) features an optical heart rate sensor and is thinner, lighter, and less bulky than the previous generation of heart-rate-sensing watches. It's not as accurate as a heart strap, but if you'd rather not run with that extra equipment, the FR 235 covers that need without too much extra bulk or weight.
Gone are the thick bands and bulky designs of the FR 225 and the TomTom Cardio Runner. The FR 235 weighs 42 grams, while the FR 225 and TomTom Cardio Runner tip the scales at 54 and 63 grams. Aside from a bump for the sensor, the FR 235 has the identical body shape as our main pick, the FR 230, and along with its band, it feels far less bulky than other heart-tracking watches in everyday wear or on long runs. The FR 235 also offers all the tracking, statistics, and notification alerts found in the FR 230. Along with these features, the FR 235 will check your heart rate throughout the day and determine your resting heart rate.
While being free of the FR 230's chest strap is convenient, the FR 235 comes with a slight accuracy trade-off and a more substantial price bump. Optical heart-rate sensor technology is still improving. Garmin and TomTom had previously licensed heart-rate sensors from other companies; their sensors are the first ones they've built in-house. In testing the FR 235 against an FR 230 with a chest strap—both worn on the same run—the average heart rates were close, but the numbers for the FR 235 were a little more erratic.
The FR 235 is about $100 more expensive than the heart-rate-tracking competition, the TomTom Spark Cardio. Both watches feature a first-generation sensor. After testing both watches, we think the overall design and details of the FR 235 are superior. With auto pause, the ability to create and follow custom workouts, and an expandable app store, we feel the FR 235 is worth the extra money over Spark Cardio.

For music on the run
TomTom Spark Music
could be worth the trade-off in accuracy, fit, and features. Along with gathering GPS data about your run, the Spark Music transmits your music wirelessly to Bluetooth headphones for playback. TomTom's Bluetooth earbuds are included for another $50 at the time of writing,
though you can use your own
.
Along with 3 GB of storage for music, the Spark Music has the basic features you'd find in other GPS running watches, included daily activity tracking. We found uploading music to the device, pairing with Bluetooth headphones, and playing music straightforward with the provided directions.
For those who want to measure heart rate, TomTom offers the Spark Cardio + Music for about $50 more ($75 more with included headphones).
The competition
GPS navigation company Magellan's Switch series are waterproof and have long-lasting, switch-out battery packs. The Switch Up might appeal to triathlon or ultramarathon competitors, but the Switch's subpar software, poor mapping features, and sheer bulk make it a pass for most.
Garmin's FR 210 and FR 220 were our previous top picks for their affordability, accuracy, and strong Garmin Connect software. But the FR 210's data and watchface menu are far less intuitive than its successors, and the FR 220 lacks the larger screen, activity tracking, and app expansion that make the 230 a more useful device.
Magellan's Echo Fit displays run data when tethered to your phone, and your daily steps, calories burned, and sleep activity when not. But the phone requirement, and the small amount of workout data that comes from the software, make our picks better choices.
The Apple Watch combines fitness-tracker features and run-tracking sensors in a single stylish watch. But it lacks a true GPS chip, provides less than 24 hours battery life, and isn't accurate enough for running enthusiasts when untethered. For more, see our full Apple Watch guide.
The Nike+ SportWatch GPS has been withering on the vine, years after its 2011 introduction. Its focus is on beginners, and your activity information can't be downloaded or transported outside of the Nike ecosystem.
Fitbit's first GPS sports watch, the Surge, continuously monitors heart rate with an optical sensor, measures ambient light exposure, and can relay Caller ID and text messages from a smartphone, and carries seven days of battery life. After testing, and reading Ray Maker's review, we agree that its GPS and heart-rate accuracy rate about a "B."
Garmin's Vívoactive, a combination fitness tracker/GPS sports watch/smartwatch, gets mixed reviews from CNET and PCMag. While it can handle swim workouts and record length and pace metrics, those who have used Garmin's other swim devices will be disappointed. It's competitively priced at less than $200 but hobbled by buggy and sluggish software.
Garmin has a hybrid device too, the Forerunner 15, which is not a full-featured tracker but has the ability to count steps, estimate calories, and send idle alerts. At roughly $100, the FR 15 is a more economical attempt to combine a GPS running watch and fitness tracker. CNET likes it for its waterproof design and long battery life (five weeks in activity tracker mode, eight hours with the GPS turned on), but calls syncing without Bluetooth "a real nightmare." The FR 15 could be a nice middle ground for certain users, but the lack of Bluetooth will not work for most.
When released in 2014, the Polar V800, then about $350, was the first GPS running watch that features daily activity data. Now the majority of GPS running watches come with those features. Aside from a longer battery life and the ability to connect to bike sensors, the V800 doesn't offer a lot more value than the M400. With such a huge price difference, most runners would be better off with the Garmin FR 230 or Polar M400.
Garmin's 920XT is targeted at ultra-runners and serious triathletes. While the Garmin FR 230/235/630 each can handle running and cycling, they fall flat when it comes swimming. Whether open water or in the pool, 920XT can capture and log swim data. Along with swim data, the big news here is battery life: A new UltraTrac mode could extend battery life for up to 40 hours of GPS tracking. The 920XT will also be the first Garmin device to accept third-party apps submitted through Connect IQ.
Timex's One GPS+ is the only running watch with built-in GPS and 3G, so it can handle all the tracking and mapping locally, and even lets you communicate with other folks via instant messaging or email (but it's cumbersome). The safety-conscious can nominate certain people as "angels" who can take a look at your GPS location when you're out (to check in on you), and to whom you can send an SOS message if something goes wrong. AT&T will cover data charges for the first year of use, but after that, you pay $40 a year, which gets you the Live Tracking, the emergency-help features, and the capability to receive messages. For now, with only a few in-depth reviews available, and many polarized one-star and five-star reviews on Amazon, we'd suggest the One GPS+ only for someone who wants a fully wireless device and doesn't mind the bulk.
Epson released the Runsense line of GPS running watches in the spring of 2015 to go along with the Pulsense watch and band introduced last year. The company released three models in spring: SF-510, SF-710, and SF-810. Each model is waterproof to 50 m, syncs data via Bluetooth and features a "Smart Stride Sensor," which uses an accelerometer to calculate distance if you lose GPS coverage.
The most expensive model, the SF-810, features Epson's in-house optical heart rate sensor and the ability to give feedback during a run with vibration alerts. But GPS running watches from Garmin and TomTom feature cheaper prices for similar functionality and more mature platforms. It's difficult for Epson to compete with these established companies at this higher price point right now.
Adidas has also jumped into the mix with a fitness tracker/smartwatch. Reviewers like its Mio-built heart rate wrist sensor and seem to think that it's a decent workout watch. But the terrible one-day battery life of the Adidas miCoach SMART RUN is a dealbreaker. You can safely pass on a first-generation device that comes from a company with limited experience in making consumer gadgets.
Well-known for expensive, quality GPS hiking watches, Suunto has released their first midrange GPS running device. The Ambit2 R GPS features track-back technology to help find the way to the start location of your run and features a cycling mode. While the Suunto has some interesting features, it lacks a Bluetooth chipset and the ability to create and follow custom workouts via your watch, smartphone, or computer.
The Ambit3, released in 2014, includes some incremental improvements over the Ambit2, including Bluetooth-powered wireless workout uploads, smartphone notifications, and notable cycling readouts (with a synced phone). It displays daily activity with bar graphs, but not exact step count or distance. The additional $50 heart-rate sensor is smaller than previous versions, and Ray Maker noted the chest strap fell off repeatedly during his swim tests. The Ambit3 is a capable and feature-rich device, but it costs much more money than runners need to pay for a good GPS running watch.
An upstart company who has raised money via crowdfunding to get their first generation devices to market is Leikr. The Danish company's watch supports direct upload to the popular third-party training log software, Strava. The Leikr features a two-inch color display showing a map of your location and route during a run. Though it's cool to have all that information on your wrist, most runners will find it hard to justify the price tag when considering what's missing. As Runner's World notes, the watch lacks support for other training-log services and requires Wi-Fi to upload your workouts.

What to look forward to
Garmin's new Vívoactive HR is a fitness-tracking smartwatch that features both GPS and an optical heart-rate sensor. While Garmin's FR 230, 235, and 630 GPS watches focus on running, the Vívoactive HR also collects data during other active pursuits, such as skiing, snowboarding, rowing, golfing, and swimming. The Vívoactive HR and FR 230 both cost around the same, but the FR 230 lacks an optical heart-rate sensor. We're in the midst of testing for an update to this guide, and we'll let you know what we think of the Vívoactive HR.
After updating their running specific line of GPS watches, Garmin has a new option that will appeal to triathletes. Released in May 2016, Garmin's Forerunner 735XT provides feedback and captures GPS and heart rate data during swim, bike and run sessions. While the $450 (at the time of writing) watch's optical heart rate sensor can't provide heart-rate data underwater, the watch pairs with the Garmin HRM-Swim to provide that information. The FR 735XT's design is slightly smaller than the FR 235 and much less bulky than its multisport predecessor, the FR920XT. The smaller size does come at the expense of a barometric altimeter and battery life (14 hours versus 24 hours). We've just received a review unit and will share more thoughts about the FR 735XT in the future.
In May 2016, Pebble announced the Core, a new clip-on device with GPS. Pebble's first non-smartwatch product is a smaller alternative to GPS running watches and smartphones. It lacks a display, so you won't be able to glance at your wrist for a quick check of your pace or distance. Instead, your wired or Bluetooth-paired headphones will provide audio cues with exercise feedback and information.
With the additional purchase of a micro-SIM card and a cellular plan, the Core can work over 3G to stream music from Spotify and send an emergency SMS with your location to a preprogrammed number. Without 3G connectivity, you can complete the syncing of workouts to well-known running apps (Strava, Runkeeper, Google Health) and the addition of music to the device when you next connect to Wi-Fi. The 4 GB of internal storage can store and play music, as well as capture voice notes. Pebble claims battery life of up to five days with 45-minute daily workouts while listening to streaming music and using GPS. A USB charging cable is included, and you can purchase a wireless charging pad for $20.
The Core looks like an iPod Shuffle upgraded with GPS, 3G, and Bluetooth, but its failure to offer daily activity tracking, heart monitoring, or a display (even an LED one) makes it a niche running device. Currently it's available on Kickstarter; we'll have to wait until January 2017 to get a closer look at the $100 Pebble Core.
(Photos by Jim McDannald.)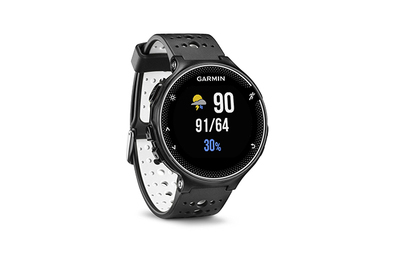 *At the time of publishing, the price was $200
To share this page via email, fill out the fields below:
Message Sent!
Oops! Please try again
Send
Originally published: June 1, 2016