The Best Gas Grill
To share this page via email, fill out the fields below:
Message Sent!
Oops! Please try again
Send
If you want to skip the hassle of charcoal and grill your dinner with instant, steady, easily controlled heat, we can recommend the best gas grill for most people: the Weber Spirit E-210. This compact, reliable grill comes from a company with a well-earned reputation for quality, and we've made it our pick for two years in a row for several reasons. It's better than cheaper grills, which can succumb to heat damage or rust after a few years, and it offers premium materials and features that you usually find on significantly more expensive hardware. We've reached our conclusion after speaking to experts and reading a ton of reviews—we haven't actually tested dozens of gas grills (which would be delicious, but very difficult). For this 2015 update, however, we have had a test model of our pick in action, and we have been making some observations about its performance.
Last Updated: May 6, 2016
Expand Most Recent Updates
February 29, 2016:
For 2016, our pick for gas grills remains the Weber Spirit E-210; Weber made no changes to last year's model, so all of our likes (and dislikes) still apply. Our upgrade pick, the three-burner Weber Spirit E-310, gives you more space, more heat, and more versatility. For a portable grill, the compact, 31-pound Weber Q 1200 is our choice. If you'd rather purchase a charcoal grill, we suggest the Weber 22ʺ Original Kettle Premium.
April 8, 2014:
Updated with Consumer Reports' 2014 gas grill ratings.
March 26, 2014:
Updated the competition section with some 2014 models that we took a look at, but can't recommend. We're sticking with the Weber E-210 as our favorite gas grill.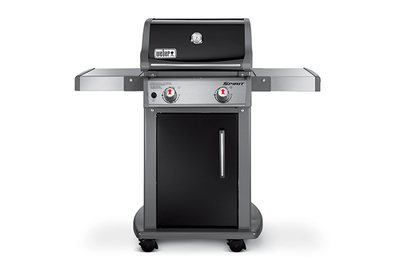 Weber Spirit E-210
Better built than cheap grills and filled with features found on more expensive models, the tough, two-burner Weber Spirit E-210 is compact and capacious, and it's a deal at its current price.
At a price that's relatively low for the category, the Spirit E-210 leaves little to be desired. The grill comes with fold-down metal side tables plus two top-ported linear burners that put out a total of 26,500 British thermal units, and its 360 square inches of cooking surface are enough to cook burgers and veggies for a family of four. The porcelain-enameled, cast-iron cooking grates are easy to clean, and the burner shields (which Weber calls Flavorizer Bars) prevent flare-ups and vaporize food drippings to produce a charcoal-like smoky flavor. Other nice touches include an electronic ignition system and a fuel gauge for your propane tank, and the compact 45½-by-50-32-inch (height by width by length) design fits on a modestly sized patio or balcony. Setup is labor-intensive but straightforward, although the 100-pound packaging is heavy enough and awkward enough to require the help of another person to carry to your deck or patio. Once the setup job is done, you'll have a well-built piece of cooking hardware that's designed to last decades, protected by what we'd argue is the best warranty available on any grill priced less than $500.
Weber Spirit E-310
For $100 more, the three-burner variant of our main pick gives you more space, more heat, and more versatility with your grilling options.
If you need to feed more people or if you want more control over the grill temperature, consider the three-burner iteration of the Spirit E-210: the $500 Weber Spirit E-310. The Spirit E-310, which comes from the same line, offers the same materials, the same features, and the same warranty as our main pick. Plus, the additional third burner (which is also linear) helps you cook a little hotter and control the grill's overall heat with more nuance; it also provides a primary cooking surface that's 64 square inches larger (that's four or five more burgers' worth of space) than our two-burner pick.
Weber Q 1200
This compact, 31-pound grill has the tough materials of our main pick, in a smaller size that's perfect for two people.
If your space is too cramped for a full-size gas grill, or if you want something compact enough to take tailgating or car camping, get the $200 Weber Q 1200. Like the full-size Spirit E-210 and E-310 grills, the Q 1200 is a tough gas grill made of heavy materials that will last years. It's large enough to cook a complete meal for two, or it can handle about five or six burgers at a time. Included in the package are cast-iron grill grates, a porcelain-coated firebox and dome for quick maintenance, two fold-out side tables, and a well-placed propane coupling to make attaching and removing tanks simple. The beefy nylon handles make it easy to carry (as long as you can heave 31 pounds, with no tank attached). Like all Weber hardware, it comes with an excellent warranty.
Note: We've got picks for the best grill tools, as well.
Table of contents
Grilling with gas: the good and the bad
When most people think about grills, the first thing that comes to mind is the smoky, charbroiled taste of food cooked to perfection over charcoal. But charcoal—and I say this as a charcoal-grill owner—is a pain. You need a place to keep the charcoal dry. Cleaning out and filling your grill every time you cook is a mess. Waiting for charcoal to catch fire and turn into white-hot cooking perfection is a chore. And then you have to make sure you have enough charcoal to finish cooking everybody's food.
Gas grills heat up and cool down quickly, making them convenient for weekday meals. Even Craig "Meathead" Goldwyn, the Amazing Ribs website's grilling guru, says gas grills are the way to go for most folks.
"In the States," Goldwyn told me, "gas grills significantly outsell charcoal grills and they do have some advantages. They're easy and convenient. You just walk out there, turn the switch and turn it on."
All of that comes with one big caveat: Gas grills generally won't get as hot as charcoal. With an average top temperature between 400 and 600 degrees Fahrenheit—versus upwards of 700 degrees with charcoal—a gas grill makes giving a steak that crisp texture and seared crust somewhat harder.
To understand why this was the case, I spoke with Jeff Potter, author of Cooking for Geeks.
"The thing to look at is how heat is transmitted," Potter explained to me. "You have convection: hot air. You've got infrared: radiant heat. If you look at a gas grill, a lot more of it is really about heating up the air. The hot air flows over the food and that convection heats the food. With charcoal, the fuel gets really hot—so hot it's glowing red and that radiant heat is heating the food."
Convection heating isn't as good at searing food as radiant heat is. But gas-grill manufacturers have figured out a few ways to get around this issue. For example, you'll find that a lot of midrange to high-end gas grills come equipped with cooking grates made from cast iron or porcelain-covered steel. These grates retain and radiate a significant amount of the heat required to get a good Maillard reaction going.
Over the past few years, high-energy infrared burners called "sear burners" have come onto the scene. Gas grills equipped with these burners can crank out similar results to food cooked on a charcoal grill, which is nice! But after talking to experts and doing some research on sear burners, I wouldn't recommend investing in a grill that has a sear burner just yet: They're high maintenance, and from all reports, they're fussy and prone to failure if you don't thoroughly clean them on a regular basis. With that much additional cleaning work to do, you may as well go with charcoal.
If you'd rather have charcoal
22" Weber Original Kettle Premium
If you need more heat, want to pay less, and don't mind the inconvenience of charcoal, our pick for the best charcoal grill is the Weber 22" Original Kettle Premium.
Note that if you need more heat, want to pay less, and don't mind the inconvenience of charcoal, our pick for the best charcoal grill is the
22ʺ Weber Original Kettle Premium
 ($150).
If you'd prefer to have convenience and can live with a few compromises, you should choose a gas grill. You'll have several things to look for when you're selecting one of these models.

How we picked
You can't go wrong relying on the knowledge of an expert. Since I'm not such a person—and since testing dozens of grills wasn't possible—I reached out to our friends Craig "Meathead" Goldwyn of Amazing Ribs and Jeff Potter from Cooking for Geeks. I also spoke with retailers and manufacturers, and I consulted reviews and other online resources to decide on what features and capabilities a great grill should have.
A minimum of two linear burners: This feature allows you to create different heating zones—say, one burner on high searing a steak, and the other at a lower temperature to roast peppers. The burner arrangement varies wildly from grill to grill, but we find that linear (not round) burners running from front to back (not horizontally from one side to the other) best accommodate arranging your food and controlling the grill's heat. Adding even more burners increases the grill's versatility but also raises the grill's size and price tag.
Almost 100 square inches of grill space per person eating: To cook for a family of four with side dishes, you'll need almost 400 square inches. That much space can also handle about 15 hamburger patties at a time.
Steel burners: These parts endure intense heat, along with corrosion from the elements and food oils. A lot of grill manufacturers use aluminum burners, but the smart money's on steel.
Porcelain-covered iron grates: These grates hold heat well, as cast-iron grates do, but they're as easy to clean and maintain as steel. (Plain iron grates are tough to maintain, while steel grates don't hold much heat.)
A good warranty: Read the fine print. Sometimes burners and internal parts get coverage for just two years, while fireboxes and domes enjoy coverage for five years or more. One sketchy warranty, after five years, will sell you parts at a 50 percent discount, but only if you bought the grill in a brick-and-mortar store.
While we're at it, here are two things you don't need in a grill.
Built-in thermometers: According to Meathead, they're a joke. "The thermometer that grill manufacturers build into their hardware is typically garbage, the lowest-quality, cheapest thing they can get," Meathead told me. "Readers often send me pictures of their digital thermometers next to the dial thermometer built into their grill, and the dial is often off by 50 to 100 degrees. Worse, the thermometers are often up in the dome. The temperature in the dome is different than the temperature down where the meat is on the cooking surface. You really need a digital thermometer with a probe that you can put a couple of inches from the meat and know what the meat is experiencing."
A stainless-steel exterior: It looks nice, but it isn't the best material—stainless steel tends to be thinner than other dome and firebox materials, so it isn't as tough or well insulated, and some types can even discolor in the presence of high heat (you know, like the heat you get from a grill). It also shows fingerprints and stains, so it's hard to maintain. Meathead again: "A grill is not meant to be shiny. It's going to get dirty. You don't want to stand there and polish it."
Using these points as a guideline, I looked to trusted editorial sources such as Consumer Reports to get a feel for the field. CR's grill reviews are a great entry point, because they're all numerically scored and largely dispassionate. With grills, and grilling, two topics that typically evoke strong opinions and fanboyism, that's a good thing. I also checked in with Good Housekeeping and America's Test Kitchen, as both are household names when it comes to home cooking. Unfortunately, neither was much help. Good Housekeeping hasn't updated its gas grill guide since 2013. The same goes for America's Test Kitchen, which last took stock of gas grills in 2010.
Next I looked into recent hardware review roundups from lesser-known sites like About.com, Amazing Ribs, Consumer Search, and Top Ten Reviews. As all of these sites are updated relatively frequently thanks to some knowledgeable individuals, I believed that they would be able to steer me toward a number of new grills worth considering. I also turned to online stores like Amazon, Home Depot, Target, and Walmart to see what models enjoyed wide popularity, had positive (or negative) feedback, and met our selection criteria.
As I built a list of possible candidates, I set a loose price cutoff around $500, which would provide a reasonable balance of cost versus quality. This restriction eliminated a large number of well-reviewed grills, including Weber's more expensive Genesis-line grills and Broil King's Sovereign-series hardware. Pricier grills use higher-quality steel and cast aluminum in their construction, with more weld points and fewer screws. But we think most people will be happy with the performance of the midrange grills we picked.
In total, I considered 26 new gas grills as part of this year's research (by reading reviews, considering our experts' input, and comparing spec sheets, but not by conducting direct tests). Compared with the Weber (our previous pick), no obvious new challengers emerged with the same high-quality hardware, great features, and excellent warranty at a similar or lower price. I then took some time to revisit the list of hardware that I'd dismissed as part of my work on this guide over the past two years. Not much had changed. All this research led to the conclusion that our 2015 pick for the best gas grill would be the same as last year's pick—the $400 Weber Spirit E-210.

Our pick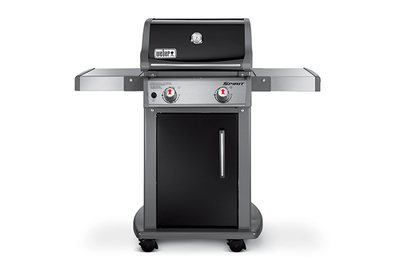 Weber Spirit E-210
Better built than cheap grills and filled with features found on more expensive models, the tough, two-burner Weber Spirit E-210 is compact and capacious, and it's a deal at its current price.
The Weber Spirit E-210, at $400, is not the cheapest gas grill out there, and it's not nearly the most expensive one. Yet at this midrange price, you get a level of quality and durability that will keep this grill going for years after cheaper models have succumbed to damage from heat and corrosion. You also get premium materials and features that you usually find on much pricier hardware.
At this midrange price, you get a level of quality and durability that will keep this grill going for years after cheaper models have succumbed to damage from heat and corrosion. You also get premium materials and features that you usually find on much pricier hardware.
The E-210's build quality and materials are pretty great, especially for the price. The body of the grill is steel, which has more resilience than cast aluminum and has the nice heat-retention properties of cast iron (without the tendency to rust). Those are two materials commonly found in less-expensive gas grills; on the best products, you'll find steel. For added protection, Weber coats the exposed metal of the dome, firebox, and frame in a black porcelain enamel, making the grill less likely to corrode when exposed to the elements. This feature alone gives the E-210 years more life than the cheapest models have.
In addition, the E-210's twin burners are made of a durable 400-series steel, which offers a high level of heat resistance to ensure that the burners will work for years. The burners on many less expensive grills use an inferior-quality steel or even aluminum, and none of them carry the long-lasting warranty coverage that Weber's parts do. Most two-burner gas grills provide between 26,000 BTU and 35,000 BTU; this model offers 26,500, so it isn't the most powerful grill on the market, but it will do the job. Sweethome editor Harry Sawyers has been testing the grill in 2015 and has found the heat to be more than adequate for blistering sausages, blackening ears of corn, and more. One detail that bumps up the burners' output is the tented sheets of steel that cover the flames and distribute the heat evenly across the grilling surface. Variants on this design exist on several grills; Weber calls them Flavorizer Bars (which we think sounds like the name of a ray gun for blasting bland food). The Flavorizer Bars also shield the burners from grease and other food drippings, which prevents flare-ups to help prolong the life of the grill, and they vaporize the drippings to create a charcoal-like flavor.
The material on the cooking grate itself takes full advantage of the burners' output. It's made of porcelain-enameled cast iron—an excellent grill material that boasts the superior heat retention of iron and the easy cleaning and maintenance of steel. You can find such a feature in grills at higher and lower price levels, too. In the case of the cheaper grills, however, thinner enamel can chip or deteriorate when exposed to heat and brushing, and more expensive grills are, well, more expensive. The E-210's thick enamel will stand up well against the abuse of cleaning and heat. And should it fail in the first five years that you own the hardware, it's protected under warranty.
The amount of space you get to cook on is about average for a two-burner grill: It has a primary cooking area of 360 square inches. That's enough space to cook roughly 15 burgers at once, or, say, a steak dinner with roasted veggies for four. In addition to its primary cooking surface, the E-210 comes with a raised warming rack with 90 square inches of space—perfect for warming buns or, if you close the grill's lid, doing a little indirect cooking.
And of course, the Spirit E-210 comes with all of the basics you'd expect from any halfway decent gas grill. You can control its burners independently via two gas-flow control knobs mounted on the front of the grill. You'll also find an electronic ignition button on the panel. Just turn on the gas, push the button, and the burners spark to life. You're ready to cook in minutes. Leave both burners on to cook a boatload of hotdogs or hamburgers, or turn one burner down (or off) to allow indirect cooking on one side of the grill while you use the hot side to char and sear. "Hooking the gas up and firing it up the first time—after dealing with the whole setup process—was problem-free," Harry Sawyers told me.  "After a lifetime using charcoal, it was very simple and easy. It quickly heats up to 400 degrees Fahrenheit or higher (like, in a minute) and stays very consistent and hot." He added that the grill loses heat quickly upon his opening the lid to flip the food or to move things on or off the fire, as you'd expect, but that it returns to its 400-degree levels within about 30 seconds of his closing the lid again.
A pair of fold-out work tables are a convenient touch, and they provide enough workspace to hold a couple of large platters (and a drink). The tables slide up on a track and lock into position; in that placement, you have six hooks for hanging your grilling tools when you aren't using them. The tables' tracks don't feel particularly smooth, but they seem durable—Sawyers told me they feel clunky, like they're "designed for some big grilling dude that wants to be rough with it." If space on your deck or balcony is an issue, you can fold one or both tables down to reduce the grill's width.
Another convenient feature is the grill's simple propane-level meter. With your propane tank hanging on a hook in the cabinet below the grill surface, a yellow bar on the meter slides up or down alongside images that show roughly how much fuel remains, based on the tank's weight—half a tank, a third, etc. In the E-210 grill manual, Weber claims a full 20-pound tank of liquid propane should last for 18 to 20 hours of grilling on high heat; Sawyers is still using the first tank, but given the fuel consumed so far, the gauge and that stat both seem fairly accurate.
If you need to move the grill only a short distance on a level, hard surface, you'll find the E-210 easy enough to roll around. The Spirit E-210 measures 45½ by 50 by 32 inches in height, width, and length, respectively (63 by 50 by 32 inches with its lid open), which is just about the right size to fit on a balcony and still leave a comfortable amount of space to move around. That said, you'll need about 14 inches of additional clearance in the rear to open the grill's lid up all the way.  The four heavy-duty casters seem robust enough for the grill's 100-pound weight, and the front pair can lock in place to hold the grill stable while you light the fire.
Between grilling sessions, the inside of the Spirit E-210 is moderately easy to clean and maintain. Stuck-on food scrubs off the porcelain-coated cooking grates, and a front-access, porcelain-enameled grease tray with catch pan collects stray drips so they don't amass on the bottom of your firebox (which keeps it clean and prevents flare-ups). The exterior can remain clean, if you want to put the work in. Sawyers has found that this grill is prone to showing dust, water stains, and other environmental schmutz, so if you care about how your grill looks, buying a cover is probably the easier option. A cover, he's found, also makes a nice deterrent to stop curious toddlers from trying to light themselves on fire.
Like all Weber products, the Spirit E-210 and its parts are easy to find in stores and online. The company has been making grills since 1951, and according to every grilling expert I interviewed, it's one of the most respected names in backyard grilling. This reputation arises from the quality of the hardware, the reliability of Weber customer support, and what could arguably be called the best warranty on any grill under $500. Many of the grill warranties I reviewed covered only one, two, or five years, and the conditions for these warranties were often confusing and byzantine at best. Weber, in contrast, tells you about its coverage in simple language: The company offers a 10-year warranty on the Spirit E-210's aluminum castings, porcelain-enameled shroud, and stainless-steel burner tubes, five years of protection against rust-through and burn-through on the grill's porcelain-enameled cast-iron cooking grates, and a two-year warranty on the grill's remaining parts. And if anything should fail outside of warranty, finding replacement parts for Weber grills is simple, both online and in stores across North America.
This grill doesn't have a ton of editorial reviews—it has existed as this specific model only since 2013—but everyone who has written about the Spirit E-210 loves it.
Consumer Reports gave the Weber Spirit E-210 a score of 77 out of 100, making it the fourth-highest-regarded grill on CR's list. (The best score for a grill on that site was 81, awarded to a three-burner Weber. We'll talk about that in a bit.) About.com barbecue expert Derrick Riches gave the E-210 a rating of four out of five stars, citing its quality construction and fold-down tables as great reasons to buy it. Meanwhile, over at Amazing Ribs, the E-210 earned the Gold Medal Best Value Award; the site says that the Weber Spirit line in general "was always a very basic, well made, serviceable grill line. The 2013 redesign offers significant upgrades and considerable value." Reviewer Max Good goes on to say, "Although Spirit is Weber's entry-level unit, it is still more expensive than many other popular grill brands. However, most Spirit owners feel the quality, durability and performance are worth the price." The Weber Spirit E-210 also gets a ton of love from customers who have bought it and rated it on the Amazon, Home Depot, and Target websites.
It costs $400 on Amazon and pops up at similar prices online and in stores such as Home Depot, Target, and Walmart. You'll also find it available at small independent hardware stores and at outdoor, deck, pool, and specialty shops across North America and beyond.

Flaws but not dealbreakers
The Spirit E-210 doesn't make the best first impression. The 100-pound box it comes in, Sawyers found, is basically impossible to maneuver alone without a hand truck (this problem is more about the bulk of the package than just the weight alone). For two people, it's manageable, although doorways and stairs still pose a challenge. Sawyers told me that he and his (very strong) wife got it out to the patio, but that he wouldn't describe the task as easy. His thoughts on assembling the grill: "Setup is fairly complicated, about on par with an IKEA dresser. It took my wife and I about an hour and a half, working at a reasonable but not breakneck pace. The instructions say you need a second person to put it together; that's helpful but not essential. You really only need the second person to help you get it from your car/truck onto the patio or deck where you'll be using it."
Once you've assembled the grill, you'll still need to acquire a full 20-pound propane tank, which is also a heavy, awkward item to get back home and out to the patio. (The tank alone, empty, actually weighs about 18 pounds; full, it weighs nearly 40.) Getting down low with that much weight and reaching in with the full tank to fit it under the cabinet and onto the hook could be described as a strain to the back for most people. After you've arranged that, Weber recommends you use a soapy water solution to check all the gas line connections for bubbles, which would indicate a leak. All in all, from the moment you get your boxed-up new grill home, Sawyers estimates, you should expect to spend at least an additional two hours setting everything up before you're finally ready to grill.
Once you're up and running, things are smooth sailing. Note that the hooks on the E-210's side table are sized to secure tools with a leather or cloth loop on the handle, so if your old spatula or pair of tongs doesn't have that, prepare to add one or you'll get grease on the metal side tables. (And those tables really show grease.)
Some reviewers mention that the E-210 takes a while to heat up—not as long as a charcoal grill, but maybe a bit longer than the average gas grill. This delay is due to the fact that it's capable of producing only 26,500 BTU. However, as Jeff Potter of Cooking for Geeks explained to me, the BTU that a gas grill can produce is insignificant when it comes to cooking: Gas grills cook mostly through convection, with the heat retention of the cooking grate and the flame from the burners providing some radiant heating. Because the Spirit E-210 is made of materials that offer a large amount of insulation, it'll perform beautifully.
Finally, keep in mind that the E-210 comes with a built-in gas overflow shutoff, which prevents you from lighting the burners if a connection between the tank and the grill is loose. Once the failsafe has activated, you'll have to close the propane tank's valve, turn off the burner knobs, hand-tighten the valve between the grill's gas line and the propane tank, and wait five minutes—and only then try to light the grill again. It's a great feature to have (you don't want gas flowing everywhere), but the grill gives you no notification that the failsafe has triggered. The first time Sawyers used the grill, he forgot to turn off the valve on the propane tank when he finished, and that tripped the overflow shutoff. This event led Sawyers to some trial and error in checking every connection before he finally realized that the valve connecting the grill's gas line to the propane tank had automatically disengaged (which the instructions don't mention you should check).
Despite all of those small issues, you'll be hard-pressed to find another grill offering the same combination of performance, durability, and warranty that the Weber Spirit E-210 provides at this price.

Upgrade pick
Weber Spirit E-310
For $100 more, the three-burner variant of our main pick gives you more space, more heat, and more versatility with your grilling options.
If you have the money and the space, consider the three-burner version of the E-210: the $500 Spirit E-310. The E-310 is from the same line as our main pick, and made from the same materials; it also has the same features and warranty as the E-210. This model, however, comes with an additional burner for more nuanced heat control, cooks a little hotter, and offers a primary cooking surface that's 64 square inches larger than the one on our two-burner pick.
Though it has an extra burner, it's only 2 inches wider than the two-burner version, as it measures 45½ by 52 by x 32 inches in height, width, and length (compared with our main pick's dimensions of 45½ by 50 by 32 inches). Having more burners allows for more temperature control on your grill—and temperature control, whether you're cooking inside or outside, is the key to great grilling. With three burners, you can have multiple zones with different levels of heat, or you can turn up all three to bang out a massive amount of burgers for a backyard party.
The E-310's trio of burners can crank out 32,000 BTU—more than the E-210's 26,500-BTU maximum—which means it will cook hotter (if you need it) and heat up faster than our main pick. It also has a considerably larger cooking area than the Spirit E-210 can claim: 529 square inches split up across the grill's 424-square-inch primary cooking surface and its secondary warming rack. What's more, with the purchase of Weber's $70 Gourmet Barbecue System Grate, you can pair the E-310 with a wide number of new grilling accoutrements, including a wok, a griddle, a pizza stone with built-in carry rack, a poultry/vegetable roaster, a Korean BBQ insert, a sear grate, or an ebelskiver.
Like its smaller sibling, the Weber Spirit E-310 is a favorite among experts and regular folks alike. Consumer Reports gave the E-310 a score of 73 out of 100 in its last gas grill round up. About.com's Derrick Riches gave the E-310 a four-star rating (out of five). He admits that the hardware's price is pretty steep, but qualifies that by stating, "I do believe it to be worth the investment provided that it is taken care of and used. When I look through my database of grills, this one does in fact stand out as a good grill." In 2014, Amazing Ribs awarded the grill its Gold Seal of approval, noting that "although Spirit is Weber's entry level price point, it is still more expensive than many other popular grill brands. However, most Spirit owners feel the quality, durability and performance are worth the price." On Amazon, it currently holds an average score of 4.5 stars (out of five), with 659 five-star reviews out of a total of 893. You'll find similar praise for the grill at Home Depot and Walmart. People love this grill.
You can find other three-burner grills out there that are available for less, but a Weber should last you through the next decade—or more.

A portable gas grill option
Weber Q 1200
This compact, 31-pound grill has the tough materials of our main pick, in a smaller size that's perfect for two people.
For a portable gas grill that will make car camping, tailgating, or cooking on a balcony a bit easier, we recommend the $200 Weber Q 1200. After considering more than 12 portable gas grills, we picked the Q 1200 partly because it has a tough, durable design and convenient fold-out work tables. It's also easy to maintain and, despite the fact that it weighs just under 30 pounds, easy to carry. And although Weber designed it to be used with liquid propane cylinders, you can also mate it to a full-size propane tank through the use of an adapter. (You can even get a stand and grill cover so it can masquerade as a full-size grill.) The Q 1200 is easily the most user-friendly and versatile portable grill we could find, and the fact that Weber protects the hardware with a five-year warranty is icing on the cake.
The Q 1200 is easily the most user-friendly and versatile portable grill we could find, and the fact that Weber protects the hardware with a five-year warranty is icing on the cake.
The Q 1200 portable gas grill offers a single stainless-steel burner that kicks out 8,500 BTU of cooking power. That might not sound like a whole lot of heat, but combined with the Q 1200's well-designed cast-aluminum dome, firebox, and porcelain-coated cast-iron grates, it's more than enough to cook and sear flat cuts of meat beautifully. The grill's 189-square-inch cooking surface provides sufficient space to cook hamburgers for six people at a time while still leaving adequate room for convection.
Equipped with a one-touch electric ignition system, the Q 1200 is designed to run on 14.1- or 16.4-ounce liquid propane cylinders (always be sure to keep a backup canister on hand), but you can also buy an adapter that will allow you to pair it with a 20-pound propane tank. The Q 1200 also comes with two fold-away side tables large enough to set a small plate on. At just over 27 pounds (roughly 30 pounds with a propane cylinder attached), the Q 1200 isn't featherlight, but the grill's chunky fiberglass-reinforced nylon frame and handles make it easy to pick up and haul around (it has no wheels). Finally, Weber protects it with a five-year limited warranty that covers just about every piece of hardware on the grill except for its nylon handles (they're covered for two years). That warranty isn't as good as what you get with a full-size Weber grill, but it is the best coverage you'll find on a portable piece of hardware for the price.
The Q 1200 has a lot of fans. On the professional side of things, Derrick Riches, whom we consider to be a highly reliable source on grilling hardware, awarded the Q 1200 five out of five stars, saying, "This portable grill is a master of design. It packs up small with the side tables folding into the grill body yet is large enough to cook up several steaks at once."
As with the rest of the hardware featured in this guide, our friends at Amazing Ribs gave the Weber Q 1200 their Gold Seal Best Value award. Reviewer Max Good says: "As with all Weber grills, intelligent design coupled with quality construction produces an attractive cooker that works great. The heavy cast-aluminum housing holds and distributes heat while the cast-iron grates can do a decent job of searing."
User reviews on sites like Amazon, Ace Hardware, and Home Depot also give the Q 1200 high marks.

The 2015 competition
The Spirit E-210 has a stainless-steel sister model, the $450 Spirit S-210, but you won't find a compelling reason to pay extra for it. The S-210 has the same specs as the E-210 does, except its firebox and dome are made of stainless steel instead of porcelain-enameled steel. All that your extra $50 will buy is a shiny exterior that you'll have to struggle to keep clean. You're better off spending that cash on a cover for your E-210 and some new grilling tools.
We weren't crazy about Weber's more expensive Genesis-series or Summit-series gas grills either, which are simply too large and too expensive to recommend to most people. All of them are three-burner models, and neither the Genesis line nor the Summit line has a two-burner option. That leaves a lot of people who live in condos, apartments, or other places where space is at a premium, unable to consider these grills as an option. And then there's the pricing: The Genesis E-310, for example, costs $700, and it's the least expensive grill in either of Weber's high-end series. While it has the same number of burners as our three-burner pick, the Spirit E-310, the Genesis grill comes with an additional 108 cubic inches of combined warming and cooking space. It offers nice features, such as a gas meter that will tell you when it's time to replace your propane tank, a more sophisticated electronic ignition system than the Spirit line has, and aluminum end caps on its side tables for added durability. It also has a slightly more rugged build quality. But it kicks out the same amount of BTU as the less expensive Spirit E-310 does and comes with an identical warranty.
We had the same issue with two very similar models from Broil King: the Broil King Sovereign 70 and the Broil King Sovereign 90, priced at $800 and $850, respectively. Editorial reviewers like these grills, and both models have a number of features that would make outdoor cooking an absolute joy. But they're too large to suit the needs of the vast majority of people, and they're far more expensive than we feel comfortable recommending to you.
As for the portable options we considered, I was seriously tempted by Napoleon's TravelQ TQ285. It costs $50 more than the Weber Q 1200 does and offers roughly the same amount of grilling surface. It comes with two burners, but the grill's 285-square-inch cooking surface is too small, in my opinion, to take advantage of a two-burner setup. The TravelQ also weighs about 7 pounds less than the Weber Q 1200 does. Less material translates into less heat retention in a grill this size, especially considering the fact that the Napoleon grill is made out of stamped steel, so you'll likely see more fuel waste with the TravelQ than you might with our Weber pick. And unlike our portable pick, the TravelQ doesn't come with side tables.
The Char-Broil TRU Infrared Grill2Go X200 Grill is a $110 portable grill with 200 square inches of cooking space. Its high-impact plastic frame has two beefy handles that make it easy to carry, as well as a pair of stainless-steel latches that keep the grill closed during transport. However, its infrared burners are, for the time being at least, still too high-maintenance a technology to widely recommend.
Priced at $165, the Cuisinart CGG-220 Everyday Portable Gas Grill has a 240-square-inch porcelain-enameled cast-iron grill grate and produces 15,000 BTU. And, man, does it need them. Despite having 51 more square inches of grilling surface than the Weber Q 1200 does, it weighs only about 6 pounds more. That means the CGG-220's construction uses lighter materials—and as a result, you'll need to burn more gas to get it up to temperature and cook. We passed on this model, especially given the fact that the price difference between the CGG-220 and the Q 1200 is merely about $35.
The Fuego Element Portable Gas Grill costs just $80. It offers 159 square inches of cooking space and weighs a little over 13 pounds with no gas canister attached. But before I looked at how well it cooked or retained heat, I found myself stuck on the fact that its lid lifts right off the grill with a single handle on top. Having to set a hot steel lid that's been baking over open flame on a table or the ground so that you can cook your meal is a safety hazard (and beyond that, it's dirty). I think folks would do well to avoid this design.
The $150 O-Grill Portable Gas Barbecue Grill Model 700, which weighs about 24 pounds, comes with stainless-steel burners and porcelain-covered cast-iron grilling grates. It offers 10,500 BTU of cooking power and 225 square inches of grilling surface. Although its heat output is better than that of our portable Weber pick, its one-year warranty can't compete with the Weber model's five-year warranty and service. I plan to call this grill in for testing and to watch its availability over the next few months.

The older competition
We looked at the $450 Broil King Signet 20, which is a three-burner gas grill available for the same price as our main two-burner pick (provided that you buy it at the right place). But you should know a few things about it before you decide whether it's the right grill for you. For starters, the Signet 20 provides 400 square inches of primary cooking space. That's 24 square inches less than our upgrade pick, the three-burner $500 Weber Spirit E-310, provides. Like the Weber Spirit series grills, the Signet 20 boasts a stainless-steel frame and burners, and it comes with built-in side tables to make cooking somewhat less of a balancing act.
However, whereas the Spirit E-310 uses porcelain-enameled steel with cast-aluminum ends in the construction of the firebox and dome, the Signet 20 relies entirely on aluminum. This means that the Broil King grill's heat retention and durability may not be as good as what the more expensive Weber model can provide.
One area where the Broil King hardware beats the Weber grills is in warranty coverage—sort of. The Signet 20 comes with a lifetime warranty on the grill's cast-aluminum parts (namely the firebox and dome), as well as a 10-year warranty on its burners and a two-year warranty on the barbecue's remaining parts and paint. At first blush, Broil King seems to provide the better warranty. But because the most wear and tear from extreme temperatures, scouring, and oxidation will occur with the cooking grates and burners, you should pay attention to the warranty for those pieces. While Broil King and Weber offer identical coverage for their respective burner hardware, the Signet 20's cast-iron cooking grates come with only two years of coverage. It seems like a small thing to pick on, but if you consider the amount of extreme heat, moisture, and abrasion that your cooking grate will suffer over time, you'll see it's kind of a big deal.
Worth mentioning as well: Since the Signet 20 has not been around for all that long, you won't find a lot of feedback on the hardware's long-term performance. And finally, although the Signet 20 is available nationwide from Lowe's, a large number of independent shops, and Amazon, Broil King hardware can't beat the wide online and in-store availability of our Weber picks. All in all, if you're in the market for a three-burner grill, paying $100 extra for a Weber Spirit E-310 is a safe bet.
Then there's the Dyna-Glo Smart Space Living 30,000 BTU 2-Burner Propane Gas Grill, which is available for between $260 and $300 from a wide variety of retailers including Amazon, Home Depot, Lowes, and Walmart. Currently the Smart Space Living grill has an average rating of 4.5 stars on Amazon (with 98 five-star reviews out of 148), as well as favorable user feedback on Home Depot. The grill reviewers at About.com and Grill Advisor have also spoken fondly of it. At 45.83 by 45.43 by 23.03 inches, the Dyna-Glo grill is larger than the Weber Spirit E-210, but it still has a small enough footprint that it won't take up a lot of space in your backyard or on a balcony. And as with the Weber E-210, the Dyna-Glo's side tables can fold down. Note too that the Dyna-Glo's two stainless-steel burners pump out 15,000 BTU for a total of 30,000 BTU, versus the Spirit E-210's 26,500-BTU output. Unfortunately, beyond that, you get what you pay for.
The Dyna-Glo's dome and firebox consist of a thin stainless-steel outer layer and an aluminized inner with cast-aluminum end caps. And though it has an enameled cast-iron grilling surface that looks similar to the one on the Weber E-210, many reviewers say that the enamel is prone to chipping. Neither of those facts bodes well for the grill's heat retention—or more important, its longevity. You might say that I'm being picky about build quality here, but my belief that this thing will last for perhaps a few seasons at best is reinforced by the fact that Dyna-Glo's parent company, GHP Group, provides only a one-year limited warranty. I should note as well that a few owners of this grill have complained of poor temperature control, shoddy build quality, and frequent flare-ups due to the design of the rolled-steel heat tents that sit over the burners. So honestly, if you can afford the Weber, spring for it. The peace of mind and coverage you'll get from its warranty alone is worth the additional $150.
You could buy the $150 Char-Broil Model 463722311, but it isn't a quality product in any sense of the term. According to the hardware specs on the grill's home page and on Amazon, it's made almost entirely of cast aluminum, and it comes with a flimsy steel grill. It also rated poorly in an About.com review that I felt was trustworthy based on the information provided. That means less durability and a whole lot less heat retention than what the Weber Spirit E-210 offers. There's no way anyone could convince me that it would last as long or serve you as well. Additionally, I couldn't find any reference to the duration of the 463722311's warranty anywhere online. That's troubling, even if it has a few things going for it. (This model offers three burners plus a side burner, which means more grilling space, better flame control, and a place to cook your side dish.)
The Char-Broil Gourmet 3-Burner TRU-Infrared Propane Gas Grill with Side Burner is available at Home Depot for $400—the same price as our main pick, the two-burner E-210. This model looks like a good deal, but I wouldn't buy it. As I mentioned earlier, infrared gas grills are great for searing cuts of meat, but they're delicate and a pain to clean and maintain. On top of that, you can't fold down the grill's side tables when you aren't using them, and the hardware is absolutely covered in stainless steel. Although I couldn't find any information on what kind of steel Char-Broil uses in its construction, you don't need to be a metallurgist to know that its shiny exterior will show every drip of sauce, drop of condensation, and speck of dirt or dust. While it pays to maintain your grill, doing so shouldn't be a full-time job.
On the less expensive side, we found a $200 grill on Char-Broil's website that comes with the same side burner as the more expensive TRU-Infrared grill does but lacks its pricier sibling's IR burners and stainless-steel exterior. That might be okay, were it not for the fact that this grill seems to be available only directly from the company's website. As a result, you might have difficulty finding parts for this model or having it serviced locally should the need arise. And arise it will: Char-Broil warrants only the grill's firebox and dome against burn-through damage for two years.
The Broil-Mate 155154 costs just $270. It sports two burners and a 400-square-inch primary cooking area. But its dome and fire bed are made entirely from cast aluminum. Its cooking grate is coated in porcelain, but it's made of steel, not iron; it won't provide nearly as much heat retention as the E-210. Additionally, Broil-Mate offers only a five-year warranty on its stainless-steel components (burners and other internal parts), and two years of coverage on the grill's remaining components and paint. Ouch.
Char-Broil's Commercial T-36D Model 463241313 comes with three burners and a side burner for the same price as the Weber. Sadly, it's junk. The entire exterior is covered with thin 430 stainless steel, which will discolor and rust over time. Additionally, it's an infrared grilling system, which as we discussed earlier isn't a technology that's quite ready for prime time. Keeping the 463241313 in working condition takes a lot of careful maintenance. It's just not built to last.
And some grills I looked at, like those built by Napoleon, for example, come with what the company markets as a lifetime warranty. That sounds great, until you get to the small print: The hardware might be covered for life against a number of different failures, but whether the warranty is actually honored depends on the interpretation of a gazillion clauses and exceptions by a local dealer of the hardware. For the sake of worry-free warranty replacement, I'd be willing to pay a little more for a Weber any day.

How to clean your gas grill
No matter how much you spend on your gas grill, the best way to protect your investment is to clean and maintain it on a regular basis. Doing so will help to protect your hardware from corrosion, uneven heat, and low temperatures. More important, cooking on a clean grill will improve the taste of your food, and who doesn't want that?
Before you cook: If you're not in the mood to clean your gas grill completely, a few minutes' worth of work can ensure that at least you're not eating leftovers from the last time you fired up your hardware. Light all of your grill's burners and leave them on high for at least 15 minutes. This long-duration, high-temperature burn will turn any food left on your grill to ash that you can easily scour from your cooking surface with a grill brush.
Clean the outside: The material that the exterior of your grill is finished with will determine what you use to clean it. If you're dealing with porcelain-covered steel or aluminum, you can wipe down the exterior of the hardware with glass cleaner and paper towels. If you purchased a grill finished with stainless steel, using stainless-steel cleaner and a microfiber cloth is your best bet. To make the exterior of your stainless-steel grill look its finest, be sure to wipe with the grain of the steel. If your grill has side tables, you'll want to give them a wipe as well, according to the same cleaner-to-material suggestions I've already made. If your grill comes with plastic side tables, give them a wipe with soapy water and dry them off with paper towel.
Clean the inside: The inside of your grill's firebox and dome need some love in order for your grill to maintain its temperature and heat evenly. When your grill is completely cooled off, remove the cooking grates as well as the metal heat tents, Flavorizer Bars, and the like from the grill. Afterward, use a stainless-steel brush (it can be the same one you clean your cooking surface with, if you're feeling cheap) to scour any debris and grease from the inside of the lid and firebox. Good news: If your grill hasn't suffered from burn-through or rusted out after years of service, all of the crap you scrape off will collect at the bottom of the firebox. Sweep this debris into your grill's bottom tray or, if it doesn't have one, scoop it out with a glove and paper towel.
Clean your burners: Burners are, at their core, nothing more than fancy pipes with holes in them to leak gas into your firebox for a controlled burn. When those holes get clogged with carbonized food and grease, uneven heating can result. You don't want that. Using a different steel brush than the one you use to clean your cooking surface or the inside of your grill (you don't want to clog your burner up with additional grease and debris), brush across the surface of the burner, not lengthwise, and remove as much debris from the burner's outlet holes as possible. If you can easily remove your burners from your grill before starting this job, do so, as it'll make things go a lot faster. As you're cleaning your burners, be sure to watch for any signs that the burners' steel is cracking or splitting. If that's the case, consider making a warranty claim to have the hardware replaced, or take a trip to your local grill dealer to buy a replacement burner.
Wrapping it up
Because of its excellent build quality, its ease of use and maintenance, its spartan but respectable feature set, and its incredible warranty, we've picked the Weber Spirit E-210 as the best gas grill. It's a barbecue that will serve you and your family well for years. Want to cook for more people on a grill that heats up faster than our main pick and offers more granular heat control? We recommend the Weber Spirit E-310, as it comes with an extra burner, more cooking space, and the same great warranty and build quality as our main pick. Finally, for grilling on the go or where space is at a premium, choose a Weber Q 1200. This model provides enough space to cook a meal for two, or burgers for yourself and a few friends, and it has fold-out side tables to keep your food out of the dirt when you're camping or tailgating. And since it's built like a tank, it'll last for years.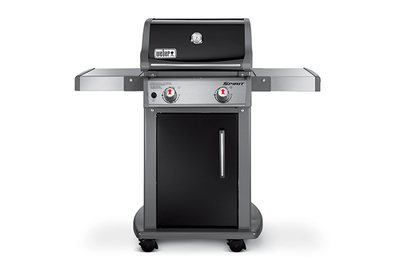 We do our best to stay on top of prices.
If something's changed, let us know.
To share this page via email, fill out the fields below:
Message Sent!
Oops! Please try again
Send
Originally published: July 20, 2015