The Best Cordless Stick Vacuum
To share this page via email, fill out the fields below:
Message Sent!
Oops! Please try again
Send
Power cords got you wound up? The Hoover Air Cordless 2-in-1 BH52120 is the handiest, most practical vacuum for most people who live in an apartment or small house with short carpets and bare floors. We came to this conclusion after looking at about 50 cordless vacs over 35 hours of research, plus nearly 20 hours testing the top few models—trying to clog them, steering them through a cramped slalom course, and sucking up baby powder, cat litter, cat hair, Cheerios, and lentils off of wood floors, tiles, and medium-length carpets. And that's on top of more than 100 hours we've spent with other vacuums in the past year alone.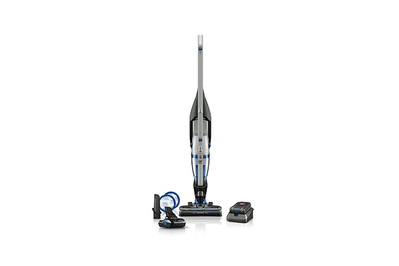 Hoover Air Cordless 2-in-1
This cordless stick vac does great work as an upright and a handheld. For people in small homes with bare floors and short carpeting, you can't find better features and performance for the price.
*At the time of publishing, the price was $180.
The bagless Air Cordless 2-in-1 cleans floors as effectively as any cordless vac at this price, thanks to a powerful 20-volt lithium-ion battery and a well-designed cleaning head. The standout feature, though, is that the Air Cordless 2-in-1 converts into a really good handheld vacuum with two attachable tools, so you'll be able to clean your windowsills, countertops, crevices, and upholstery. It's not the only cordless vac that can pull double duty as an upright and a hand-vac, but it does the job exceedingly well for the price.
The right home for the Air Cordless 2-in-1 is about 800 square feet in size. Battery life clocks in between 11 and 15 minutes—enough juice to clean an entire apartment in our tests—but that's a few minutes shorter than some of the other top cordless models. The seven-pound weight is typical for cordless (aka stick-style) vacuums, and it's easy to maneuver—it can lay almost flat to get under chairs and couches, and the steering is as light and flexible as you'll find. It's bagless, the filters are washable, and the belt for the brush roller won't stretch out over time, so the costs of ownership are close to zero. There aren't many places for clogs to form, and even if they do, you won't need tools to clear them.
Only a few other cordless vacs promise such a complete package, but some of them aren't up to snuff, and others cost much more than the Air Cordless 2-in-1. For some people, the Air Cordless 2-in-1 is versatile enough to clean their entire home and their car, and that makes it a phenomenal value.
Hoover Platinum Collection Linx Cordless
Formerly our top pick, the Linx cleans bare floors and short rugs as well as other cordless vacs at this price—but you give up the main pick's hand vac capabilities.
In case the Air Cordless 2-in-1 goes out of stock, the Hoover Platinum Collection Linx Cordless is another great cordless upright vacuum, and it was our top pick in a previous version of this guide. Unlike the 2-in-1, it doesn't convert into a hand vac and doesn't have a hose or any attachable tools—this is for floors only. But it cleans wood, tile, and short rugs just as well as the newer Hoover, the battery runs a couple minutes longer (about 16 minutes total), and it can be as much as $50 cheaper.
Dyson V6
The base model in Dyson's cordless lineup has 20 minutes of battery time and an aggressive low brush head that works well on carpets. The price is steep and it's missing a couple of key tools, but cordless vacs don't get more powerful than this.
If you need something with more oomph than the Air Cordless 2-in-1, the base model of the Dyson V6 is an excellent step-up. It's exceptionally powerful for a cordless vacuum—more powerful than most apartment-dwellers need, actually. But it'll pick up dust and pet hairs that you didn't know were hiding in your carpets. The running time is about 20 minutes, which was the best in our test. It also converts into a hand vac for above-floor cleaning. Compared to the Dyson DC44, which we used to recommend as a step-up pick, the V6 has stronger suction and a better cleaning head for improved carpet cleaning, as well as a more comfortable grip. The main downside is the price, and if you want a turbo brush for cleaning pet hair off of your upholstery, you'll need to drop another $70. Not cheap, but it's one impressive cleaner.
Table of contents
Why should you trust us?
I've covered vacuums for the Sweethome for more than two years, logging about 300 hours of vacuum research and testing in that time. I've read hundreds of expert reviews and user reviews and talked with more than a dozen experts, including repair technicians, shop owners, engineers, air-quality specialists, enthusiasts, and editors from the big testing houses. I've written our guides about high-end vacuums, cheap plug-in uprights, robot vacs, handhelds, and how to pick the right vacuum for your home. I have at least passing knowledge of hundreds of models, and have personally tested a few dozen of them, across all types and most price points. I know what to expect from different kinds of vacuums and what the best models are capable of.
When I wrote this update, I was in a particularly good position to cover cordless stick vacs because I lived in the kind of home where they thrive: a 650-square-foot, one-bedroom apartment with a bunch of furniture and a cat, without any permanent carpeting and only a handful of outlets. The interior of my car gets pretty dirty from hauling sports and camping gear, too.
This is the second version of our cordless stick vacuum guide, following up on our first edition from fall 2014. Cordless stick vacs are some of the best-selling and most-reviewed models at Amazon. More and better cordless models come out every few months, too, and it's clear that manufacturers are putting more effort into making decent battery-powered vacuums. Trustworthy publications like CNET treat the category with same kind of respect as plug-in models. Clearly, the demand for this kind of vacuum is strong, and batteries with enough power are now both affordable and widely available.
Who should get a cordless vacuum?
If you live in an apartment or small house (up to 800 square feet, about two cozy bedrooms, with a tight layout) and no permanent carpeting, a seven-pound cordless vacuum is more practical than some 17-pound behemoth with a special shag-carpet setting and a 40-foot cord. Cordless vacs don't have long cables to get tangled on tables or chairs. Steering is light and nimble so it's easier to navigate through a crowded floor plan. They work best on bare wood or tiled floors, but get the job done on short carpets and area rugs, too. And since the bodies are so slender, you can stuff them into a small closet or into a corner between cleanings.
Cordless vacuums aren't a great fit for a lot of homes (at least not as a primary cleaner). They don't deep-clean dust and dander out of carpets, and have short battery lives that make it hard to cover more than 800 or maybe 1,000 square feet per session—that is, unless you step up to one of the more expensive models. And if cleaning performance and range are important to you, there are many, many plug-in models that work out to be a better price value.
Still, in the right home, a great cordless vac can make cleaning feel like less of a chore. That's worth a lot. If you need help figuring out which kind of vacuum is the best fit for your home and your needs, we have a quick guide for that!
How we picked
We looked for a cordless vacuum with light and flexible handling and enough battery life to clean a two-bedroom house or apartment and with enough chops to get floors nearly as clean as a decent, cheap plug-in vac.
To start, we looked at manufacturers' websites and Amazon's bestseller lists and made a list of all vacuums currently for sale that run on battery power and weigh less than 10 pounds. As it turns out, almost every cordless vacuum made weight. Since 2014, we've found 53 models that meet our spec requirements, though some may be discontinued by the time you read this.
The battery is the most important component in a stick vacuum, so we shortlisted models with at least 18 volts of battery power as well as lithium or lithium-ion chemistry. Based on our experience with handheld vacuums, that's the baseline that makes a decent cordless vac. Weaker batteries struggle with larger debris, like road salt or chunks of food. NiCD and NiMH batteries take much longer to charge than lithium-based cells; NiCD is particularly awful because it starts to lose suction about halfway through its running time. That eliminated 21 models from the running, most of which cost less than $100.
Big-name editorial outlets had some influence on our picks. Of the notable testing houses, CNET is the best source for this category because they take care to rank sticks against sticks, not corded uprights. At the time of this update, they hadn't reviewed some important models yet, but we paid close attention to the ones that they had. Their reviews convinced us to cut the Gtech AirRam, the Bissell Bolt ION line, and the Black & Decker MAX Lithium Stick Vac models. Consumer Reports upped their coverage of cordless sticks recently, and that new data proved to be useful in helping us pick our finalists. The other notable testing houses didn't affect our research much: Good Housekeeping hasn't updated its rankings in years, and Reviewed.com hasn't reviewed many cordless vacs.
User and enthusiast reviews helped tip us off to problems with clogging and middle-term reliability, and gave us a better idea of each vacuum's weak points in the real world—whether they struggle on rugs, or if their brush roll ends up scattering debris across a bare floor, for example. Best Cordless Vacuum Guide, which seems like the work of an enthusiast, was a good source of info, and we found some useful nuggets at Vacuum Wizard, too.
All that winnowing got us down to about 12 models. Then we re-dismissed a handful of models that were finalists in the first version of our guide, but that we did not end up recommending. They include the Hoover Air 3.0 Cordless BH50140 (not to be confused with the Air Cordless 2-in-1) and the Rowenta Delta Force and Air Force lines. We also set aside several Dyson cordless models, including the refurbished DC44, which was our step-up recommendation in an older version of this guide, as well as the Dyson V6 Motorhead, V6 Animal, and V6 Absolute, which are all comically overpriced.
That left us with three finalists. The Hoover Platinum Collection Linx Cordless, which was our reigning champion from the previous version of this guide; the Hoover Air Cordless 2-in-1, a new model; and the Dyson V6 base model, a re-branded version of last year's DC59, now with a massive price cut (though fewer accessories).
How we tested
Consumer Reports and CNET already publish great data on cleaning performance for most of our finalists, but there's always more to learn. We ran our finalists through a set of performance, handling, and upkeep tests, and also made a point to use all of them around the house for regular cleanings. It's a similar procedure to the one that we've used in our other full-size vacuum guides.
Cleaning performance came first. We vacuumed baby powder, cat litter, and pet hair, each off of a wood floor and a medium-pile carpet, and lentils and Cheerios off of a tile floor. Our results lined up with CR's pretty closely.
We also performed a side-suction test, where we threw a bunch of cat litter into a corner and tried sucking it up with each vacuum. They all did well.
For this guide, we tried out a new suction test. We poured out a two-inch line of cat litter onto a wood floor, put the cleaning head of each vacuum up to one end, and turned each vacuum on. The idea was to measure suction. None of the vacs performed well, so it didn't tell us much, but hey, it was worth a shot.
Then each model ran through our timed slalom course to get a feel for steering and maneuverability. We drove each vac through a few rooms, around and under a bunch of furniture, and over a mix of bare floors and area rugs. Since they're all so light and thin, with swiveling steering heads, all of the finalists performed pretty well. Racing a vacuum through an obstacle course isn't exactly how you'd use one of these in the real world, but it clued us in on a few frustrations and flaws that might bug owners. Also, it's a test that CNET and Consumer Reports don't run.

The slalom course.
We also made sure to use each vac, when we could, for "above-floor" cleaning—upholstery, countertops, windowsills and curtains, stairs, and even the ceiling. When it would've improved performance, we used the tools that came with the vacuum.
And as with every vacuum category, we ran some stress tests. It's our favorite kind of test to run, because it gives us the best idea of how each vacuum stands up to the dumbest operator errors (we've all made them). Basically, we tried to clog and tangle each machine with tough debris like shredded copy paper, cat hair, sawdust, and socks.
Our pick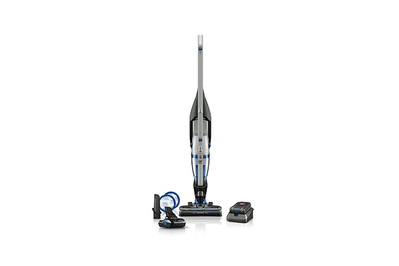 Hoover Air Cordless 2-in-1
This cordless stick vac does great work as an upright and a handheld. For people in small homes with bare floors and short carpeting, you can't find better features and performance for the price.
*At the time of publishing, the price was $180.
For some people, the Air Cordless 2-in-1 is versatile enough to clean their entire home and their car, and that makes it a phenomenal value.
We talk a lot at the Sweethome about finding the sweet spot for value. In the world of cordless vacuums, the $180
Hoover Air Cordless 2-in-1 BH52120
is it. It's an upright vac that converts into a capable handheld vac—and at this price, that's a key distinguishing feature. The double-duty ability means it does solid work cleaning just about any vacuumable surface: bare wood and tile, short carpets, upholstery, car seats, windowsills… you name it. It handles like an extension of your arm, it's reliable, it's easy to maintain, and it didn't clog up at all during our testing. For some people, the Air Cordless 2-in-1 is versatile enough to clean their entire home
and
their car, and that makes it a phenomenal value.

Cat litter on rug. Hoover Air Cordless 2-in-1 on the left, Dyson V6 on the right.
The right kind of home for the Air Cordless 2-in-1 is an apartment or small house with a mix of short carpets and wood or tile flooring. In our experience, it has enough battery life to cover up to 800 square feet, or roughly two bedrooms, accounting for the space taken up by appliances, furniture, and other fixtures.
(An important note: The Air Cordless 2-in-1 comes in two configurations. We recommend the BH52120, the version that comes with a spare filter and a mini turbo tool. At some retailers, the BH52120 costs up to $30 more than the lesser version, the BH52100. Other retailers don't sell the lesser version at all. We've taken care to point all of our links to the BH52120 at the lowest prices we can find. But it's a good idea to double-check that you're putting the right one in your shopping cart.)
As an upright cleaner, the Air Cordless 2-in-1 cleans as well as any cordless vac at this price—it's not perfect, but good enough for most people who don't own thick carpets.
Off a bare floor, the Air Cordless 2-in-1 sucked up all of the baby powder, cat litter, lentils, and Cheerios that we put in front of it. It did a solid job cleaning carpets as well, collecting almost all of the large particles and most of the baby powder that we'd smushed into the fibers (only Dyson cordless vacs have performed better in this test). Side- and corner-cleaning were great, only stranding a few grains of cat litter or lentils, and those were jammed way into the corner. Sometimes it took two or three passes to collect every particle, but that's about what you should expect at this price, even with a plug-in vacuum.
What makes the Air Cordless 2-in-1 work so well, and better than most other cordless vacs at this price? The 20-volt battery is the linchpin for the whole machine. It's as powerful as it gets for under $200, strong enough to suck up all sorts of debris from almost any surface in a typical household or car.
It also has a better cleaning head than most cordless vacuums. The simple, streamlined design has enough clearance to move freely on medium-pile rugs without choking on tall, soft fibers, but sits tight enough to the floor to pull up debris from cracks between floorboards. Also, while the side brushes look small and stubby, they do strong work pulling particles away from baseboards.
The hand vac is essentially the engine for the whole machine, so it doesn't lose any power when you detach it from the upright frame.
The Air Cordless 2-in-1 works great in hand-vac mode, too—it's not just some crappy toss-in. The hand vac is essentially the engine for the whole machine, so it doesn't lose any power when you detach it from the upright frame. The configuration we recommend comes with two tools: a short crevice-tool attachment, and a powered mini turbo-brush. The latter is a boon for pet owners who need to clean upholstery and really helps clean cars with cloth seats. We used it to clean cat hair off of a couch and to clean a car that had bits of nature-grit, more cat hair, and bits of styrofoam packing peanuts scattered around the trunk and seats.
We tested the Air Cordless 2-in-1 side-by-side against our favorite handheld vacuum, the Black & Decker 20V MAX Flex Vac. It's not quite as versatile as the B&D, which has a flexible hose that helps reach awkward spots at odd angles. But the power level is about the same—they both have 20-volt batteries, and they pulled about the same amount of cat litter in our suction test (about two millimeters with the crevice tool attached). The B&D does not have a mini turbo-brush, either. (While the B&D comes with a "stick" attachment to turn it into an ersatz upright vac, it's not a real substitute for an upright cleaner. There's no brush roller, and the air flow is weak at the end of the tube.)
Apart from this guide here, there aren't any expert reviews of the Air Cordless 2-in-1 yet, as it's still pretty new. But based on our own tests, the floor-cleaning performance is right on par with the Hoover Linx, which has great reviews. (It was our top pick in a previous version of this guide, and is still our step-down choice.) We'll update when other testing houses come out with their reviews.
Seriously, if you live in tight quarters, switching to a cordless vacuum can be a revelation.
The Air Cordless 2-in-1 handles as smoothly as any cordless stick we've encountered, basically like an extension of your arm. It ran our slalom course in about a minute, which is faster than most other cordless vacs by a few seconds, thanks to the flexible steering joint and relatively little friction when we drove it onto the medium-pile carpet. The real difference, though, is that it ran the course about 40 seconds faster than any corded vacuum we've tested. That's simply because we didn't have to wrangle with a cord. The time you lose to untangling a cord from around furniture or moving it out of the path of the vacuum adds up—not to mention the frustration. Seriously, if you live in tight quarters, switching to a cordless vacuum can be a revelation.
The Air Cordless 2-in-1 weighs about seven pounds, which is typical for a stick-style vacuum but less than half as heavy as the average upright vac. The cleaning head has a tilting and swiveling joint that makes it easy to get under furniture and around obstacles. Plenty of vacuums have this kind of head, but this one is particularly flexible for the price. The weight is balanced in the center of the vacuum, and it rolls on relatively large rubberized 2.5-inch wheels, both of which help the steering stay lighter than other vacuums we tested.
By comparison, the Hoover Linx has a stiffer joint, so it's a bit harder to get under chairs and into corners. And the Dyson V6 is top heavy, which can be uncomfortable if you have a wrist injury (it made my tendonitis flare up at times), and it has much smaller wheels, which can bunch up the edges of small area rugs.
Maintaining the Air Cordless 2-in-1 should be painless. The washable filter, bagless bin, and non-stretch belt should put the cost of ownership close to zero, at least for the first few years. (These are things you also see on a lot of competing vacs.)
Thanks to its short and straight air-flow path, the Air Cordless 2-in-1 shouldn't clog often (we couldn't clog it at all), and is easier to fix than its peers when it does. The tube between the intake and the dust cup is only about 4 inches long, which is as short as we've ever seen on an upright (some intake paths are several feet long, like the 29-inch tube on the Dyson V6). In case the 2-in-1 does get stuffed up, the path is short enough to clean with your index finger if you need to.
Cleaning the brush roller is mercifully easy, too. The baseplate comes off without any tools, and then the roller pops right out, which makes it very easy to cut away tangles and clear debris from the bearings. Most other cordless sticks are closed up with screws, sometimes even Torx screws—not the end of the world, but the 2-in-1 design is just simpler and more streamlined.
As far as longevity goes, all we can do is guess—reliability is a tricky thing to pin down, especially so early in a product's life cycle and in a relatively new product category. That said, we think that the Air Cordless 2-in-1 should hold up for at least a few years, which is reasonable for the price. The important, workhorse parts are designed well. The belt, which connects the brush roller to a motorized drive shaft and makes the roller spin, is the geared kind. It'll last the lifetime of the vacuum, opposed to a typical flat rubber belt, which loses tension and needs to be replaced at least once a year to keep the vac running well. The brush roller itself is made of hardy plastic and should hold up well for at least a few years.
A two-year limited warranty is standard with the Air Cordless 2-in-1. It covers defects, not regular wear and tear—although Hoover will replace the battery under warranty. Brian Driscoll, a vacuum shop manager and service tech who has done a series of popular AMAs on Reddit, told us that something like one-third of cordless vacs end up needing a replacement battery within the first two years of ownership. So it's a good thing that this is covered (and for what it's worth, that coverage is standard fare for cordless stick vacs). If something should happen outside of warranty, individual replacement parts are available through Hoover, and anyone with a basic set of tools should be able to handle the labor—this is a simple vacuum.
Here's a feature you don't see very often at this price: The Air Cordless 2-in-1 has an LED headlight on the cleaning head. If you've never had a vacuum with a headlight, it's more useful than it sounds. It lights up debris that blends in with your flooring, like individual strands of hair or color-matched grit. Essentially, it's a spotlight on the parts of the floor that aren't clean yet. It's probably a drain on the battery, but we think it's a worthwhile tradeoff because you end up picking up more of the crud that's on your floor.
Unlike Dyson's stick vacs, the Air Cordless 2-in-1 stands on its own, like a proper upright vacuum. It also has a removable battery and a separate charger, so you can stuff it into a closet between uses and still charge the battery. Other cordless vacs (maybe about a third of them, including all the current Dyson models) have built-in batteries that needed to be charged directly. We don't think one design is better than the other—it's more of a personal preference thing. But the 2-in-1 does allow you the flexibility of buying a spare battery to supplement your overall run time.
Flaws but not dealbreakers
The most annoying thing about the Hoover Air Cordless 2-in-1 is that if you accidentally run over the fringe on a rug, or a sock, or some other piece of fabric that can jam the brush roller, the Air Cordless 2-in-1 will shut itself off, like most vacuums would. But unlike most vacuums, it won't turn back on for at least two minutes, usually closer to five minutes, and, in rare cases, up to 30 minutes.
We asked Hoover why they designed it this way. Essentially, it prevents the motor that drives the brush roller from overheating and breaking down before its time. "We felt that this, while potentially a nuisance, would be less troublesome than actually having to replace a 'burnt out' component," the Hoover rep said.
It's a nuisance, for sure. We just had to get used to avoiding carpet fringe (and stray socks). Will it really keep your vacuum out of the shop? We might never know. Just try not to jam the brush roller, and you'll avoid the issue altogether.
The running time for the Air Cordless 2-in-1 could be longer. It comes with a standard Lithium Life battery, which gives it about 15 minutes of running time on the hard floor setting (without the brush roller), or about 11 minutes with the brush roller turned on. That's anywhere from one to nine minutes shorter than other cordless vacs we've liked, including the Hoover Linx and the Dyson V6.
As we've mentioned a few times, we estimate that the stock battery for the Air Cordless 2-in-1 has enough juice to clean an 800-square-foot apartment (about two bedrooms), factoring in the area covered by fixtures like furniture and appliances. If you can remember to turn off the brush roller when you're on bare flooring, you should be able to stretch it out further—a few extra minutes for using the hand vac to tidy up your windowsills, for instance. But some of our readers, and other user reviewers, have said that the battery offers barely enough time to clean 650 square feet. Your mileage may vary.
You could buy a spare battery to increase the run time to about 25 minutes and to cut the recharge time from nine hours to three hours, but it's not cheap.
Of course, we wish Hoover included the higher-end battery with the Air Cordless 2-in-1. But if this is a total dealbreaker for you, a cordless vacuum might not be the best bet for your home. Models with extra-long battery life are beginning to appear, but they're all very, very expensive.
The Air Cordless 2-in-1 is a competent carpet cleaner but not a great one. The cleaner head sits at a fixed height from the ground that lets it work well on bare floors and short carpets, the most common kinds of flooring. However, like any tool in this category, it struggles with dense, high-pile rugs. Tall carpet fibers jam the air intake and block the brush roller, so it's difficult to even push the vacuum across a plush carpet, let alone get it to clean well. On the other hand, it's a little too far from the ground to deep-clean short carpets, because the roller can't agitate the carpet fibers as aggressively as vacuums that sit closer to the floor. For what it's worth, the Air Cordless 2-in-1 is actually a bit easier to push across a thick rug than other cordless vacs we've tested.
Some of our readers and other user reviewers have written that they're dissatisfied with the cleaning power of the Air Cordless 2-in-1, claiming that it fails to pick up debris from hard floors, barely works on carpet, and doesn't clean as well as the Hoover Linx—results that differ from our own testing and long-term use. Perhaps some units don't work quite as well as the one we tested. But we think some owners just expected more from a midpriced cordless vacuum than what such devices are realistically capable of doing. If you're concerned that the Air Cordless 2-in-1 can't clean to your standards, look into our upgrade pick or buy a midpriced plug-in vacuum.
For a stick, the Air Cordless 2-in-1 is characteristically loud. We measured it at about 78 dB using a calibrated microphone and an iPhone app. That's squarely in the range that becomes annoying to your ears after a couple of minutes. High-end vacuums are much quieter than this; the Miele Twist runs as soft as 65 dB, for example. But it's actually a shade quieter than either the Dyson V6 or Hoover Linx.
The filtration system on the Air Cordless 2-in-1 is acceptable but not great. Some of the connection points where dust could leak out have rubber gaskets, which is a good thing. But Hoover makes no claims about air quality, there's no asthma or allergy certification, and it's certainly not a perfectly sealed system. We can't find any cordless sticks that meet those criteria. If air quality is a major concern in your household, no cordless vacuum will be suitable, and that includes the Air Cordless 2-in-1.
Hoover also recommends that you wash the 2-in-1's main filter every four to six uses. That might seem pretty frequent (Dyson filters, by comparison, need to be washed only once a month). But the 2-in-1 comes with two filters, so you can use one while the other dries. If you can remember to clean each one on schedule, great. If you can't, just clean it when it looks dirty—the buildup is a helpful visual cue.
As an affordable, lightweight, cordless vacuum, the Air Cordless 2-in-1 just isn't built to be as sturdy as bigger, higher-end, plug-in vacuums. Now that it's been out for more than a year, we're starting to see patterns of reliability issues.
For some owners, the problem persists even after Hoover replaces the battery under warranty.
The battery seems to be the most common source of trouble. A
notable number
 of
user reviews
reference
problems
with the battery providing power to the unit after a couple months of use, either due to the
battery itself
 or due to a
bad connection
between the battery and the vacuum. For some owners, the problem persists even after Hoover replaces the battery under warranty. As a result of these quality issues, the average user rating for the Air Cordless 2-in-1 has fallen from 4.3 out of five stars down to 3.8 out of five stars across 371 reviews at Amazon.com.
We've reached out to Hoover, but the company has not yet commented on the issue. We'll be keeping an eye on it. Our advice: If you're concerned about these reported problems, the Hoover Linx has a better track record for reliability, so you could consider that model. If possible, return a defective unit to the retailer before trying to deal with Hoover customer service.
Long-term test notes
We've had the Hoover Air Cordless 2-in-1 for more than a year now, and we still think it's a solid little vacuum. When I first tested it, I lived in a smallish apartment with a cramped floor plan and just a few area rugs, and I found it to be perfect for that setting. At any given time, I have somewhere between five and 20 vacuums that I can use, but I always reached for the Air Cordless 2-in-1 first.
As time passed, the Air Cordless 2-in-1 began to struggle on occasion with some bigger bits of debris, such as large crumbs in the kitchen. This happens to any bagless vacuum as the filters pick up some permanent grime and small clogs build up in the system, restricting airflow. Washing the filters regularly helps offset the drop, although I found myself keeping the brush roller switched on at all times, even on bare floors; it was simply more effective that way. Also, just as I expected after the first few weeks of testing, the Air Cordless 2-in-1 did not pull all the dust out of my area rugs. Every few weeks, I'd use a more powerful model on my rugs, and that model would pull up a few grams of fine dust. If that sounds like a problem for you, step up to a better cordless vac or go with a plug-in model.
Eventually, I moved to a bigger apartment (roughly 1,000 square feet) with a few carpeted rooms, and I stopped using the Air Cordless 2-in-1 as often. It does not have sufficient battery life to clean that space in one charge, and it removes only surface crumbs from the carpets.
That said, I still use the handheld portion (plus the mini turbo brush) to clean cat hair and crumbs off my upholstery. The battery is still working fine, and the cleaning power is still present, even as the dirt cup gets foggy.
A runner-up—with no handheld feature
Hoover Platinum Collection Linx Cordless
Formerly our top pick, the Linx cleans bare floors and short rugs as well as other cordless vacs at this price—but you give up the main pick's hand vac capabilities.
Don't need a handheld vac, or already have one? Check out the
Hoover Platinum Collection Cordless Linx
. The Linx was our top pick for this guide from Fall 2014 up until this update, published in Summer 2015. We loved it because it had one of the best batteries of any cordless vac at the time; it cleaned bare floors and carpets better than any of its closest competitors; and it was easier to maintain than most stick vacs. Times have changed, but the Linx might still be a good choice for some people.
We like the Linx for some of the same fundamental reasons that we like the Air Cordless 2-in-1. They are equally capable floor-cleaners (their cleaning heads are similar), a cut above other cordless sticks at this price. They're both light, at roughly seven pounds, and easy to steer around a cozy apartment.
The Linx even has two advantages compared to the Air Cordless 2-in-1. First, it's cheaper by at least $20, sometimes up to $50. Second, the stock battery has a longer run time: 16 minutes, versus the 11 to 15 minutes that the 2-in-1 can manage.
Beyond that, there are some downsides to consider. The big one is that the Linx can't convert into a hand vac, and it has no hose. That means do any above-floor cleaning—no windowsills, crevices, ceilings, blinds, upholstery, or car seats. If you already have a great handheld vac, that's no big deal—but for anyone who has a crappy hand vac, or no hand vac at all, the Air Cordless 2-in-1 offers that second machine for a few bucks extra.
The handling on the Linx isn't as nimble as the Air Cordless 2-in-1. The Linx turns well, and should be able to get under most furniture. But you might have to shift some items around from time to time. Example: With the Linx, to clean around a tall table with four tall chairs, we usually had to shift the table a couple of inches. With the 2-in-1, we could lay it almost-flat and maneuver it around or under the legs, no problem.
Cleaning the Linx is a bit messier, too. Long hair tends to wrap around the pre-filter baffle tube, and needs to be manually removed. The main filter picks up dirt faster (visually, at least), and doesn't come with a spare, so the whole vac has to go out of commission for at least 24 hours while the foam dries out after a wash.
But if you want to save a few bucks, only need to vacuum your floor, and really don't think you'll miss the ability to vacuum every other part of your house and car, then grab the Linx.
The upgrade: better carpet cleaning, longer run time
Dyson V6
The base model in Dyson's cordless lineup has 20 minutes of battery time and an aggressive low brush head that works well on carpets. The price is steep and it's missing a couple of key tools, but cordless vacs don't get more powerful than this.
If carpet cleanliness is your top priority, or you have a larger home and need a longer run time, the
Dyson V6
($300) is an incredibly powerful vacuum that might be worth the extra cash.
For those of you who are keeping track, the V6 is the same vacuum as the DC59—Dyson just renamed it and repackaged it with a few different accessory bundles. The version of the V6 we're recommending is the base model, because it's sold for a huge price cut compared to the old DC59 and is cheaper than the other V6 models, which come with different accessories.
The V6 does a better job than any cordless stick we've seen at getting dust out of rugs. In our tests, it picked up baby powder that the Air Cordless 2-in-1 left behind—and that was on the regular power setting, at about 28 air watts of suction. It also has a Max mode that boosts the suction to an insane 100 air watts. At Consumer Reports, the V6 gets an Excellent rating for carpet cleaning. It's a great cleaner because it creates more agitation and suction than its competitors. The brush is aggressive, the cleaning head sits tight to the ground, and the 21V battery and 6-cylinder motor are as powerful a combination as you'll find in a cordless vacuum today.
What's the real-world benefit? If you have pets, they leave a lot of dander in your rug or carpet. And that's on top of the dust that naturally settles into carpet fibers. Most cordless sticks, including the Air Cordless 2-in-1, don't have the chops to pick those particles out of the fibers, especially once they're ground in. If you can't deep-clean it by other means—taking the rug outside and whacking it with a tennis racket, for example—then you'll eventually run into some air-quality problems. The Dyson V6, while not as effective as the best plug-in models, will do a heck of a lot more to suck up all that dust and dander.
Battery life is the other big advantage that the V6 has over most cordless vacs. It runs for about 20 minutes on regular mode, which is anywhere from five to nine minutes longer than the Air Cordless 2-in-1. That extra running time will let you clean a few hundred extra square feet of floor space on one charge. Since the power switch is actually a trigger, the vacuum can rest for a few seconds at a time if you're moving it around—no wasted energy. Our guess is that you'll be able to vacuum about 1,500 square feet with the V6.
Like the Air Cordless 2-in-1, the V6 has nimble handling. It turns on a dime, and can lie totally flat to get under furniture. Compared to the older Dyson DC44, the trigger-grip is looser and easier to squeeze, so you're less likely to end up with a hand cramp after a cleaning session, though it still might be uncomfortable for people who have arthritis or other nagging pain in the hand or wrist.
The V6 also converts into a hand vacuum for above-floor and car cleaning (it's also sold separately as the V6 Trigger, which we recommend as our step-up pick in our handheld guide). You'll be able to clean your ceilings with the V6, too—just pop off the cleaning head and leave the 29-inch extension tube attached.
But it's not all charming British accents and elegant TV adverts.
The same cleaner head design that makes the V6 so good at sucking up dust also gets the way of picking up big bits of debris, particularly on bare floors. Chunks of food or even larger pieces of street grit can't always fit under the front of the head, so they get "snowplowed"—that is, pushed around in front of the vacuum. Sure, there are more dust particles in your home than grains of road salt, so the V6 picks up most debris most of the time. But the road salt is a lot more annoying when it gets stuck to the bottom of your foot and follows you into bed.
Even though the V6 costs $300, it doesn't come with a mini turbo-brush, the tool that makes it easy to clean pet hair and other static-clingy stuff off your couch and car seats. You can buy the tool separately for $56, but, wow, these costs are adding up fast, aren't they? One workaround is to connect the cleaning head directly to the handheld portion of the vacuum, but it's unwieldy.
The battery is also built into the V6, which means that it's not easy to replace, you can't keep a spare, and you can't charge it separately from the vacuum between cleanings. It rests in a docking station, which you can screw into a wall or just leave lying around, your choice. The upside to wall-mounting the dock is that the V6 will stay in place when it's not in use—it's a very top heavy vacuum and can't stand up under its own power.
In strict cleaning terms, the V6 is a stronger vacuum than the Air Cordless 2-in-1. But we think that most apartment dwellers will be happier with the 2-in-1, because it's as much as $150 cheaper, it comes with the mini turbo-brush, and has enough battery life to clean most one- or two-bedroom homes.
But if your home is a little bigger, you have your heart set on a cordless, and you could use the extra carpet-cleaning prowess, the V6 is a hell of a vacuum.
Competition
Right off the bat, it's safe to dismiss pretty much any cordless stick vac that costs less than $130. Vacuums that are this cheap all use low-voltage batteries that struggle to pick up some kinds of debris—road grit, for example—especially if it's jammed into a crevice or against a wall. The $110 Electrolux Ergorapido EL1022A, for example, only has a 12-volt battery. Cheaper cordless vacs are also more likely to clog, since they lack the raw power to pull bigger, potentially obstacle-forming particles through the air stream into the dust bin. Cheaper models also tend to use crummy old NiCD batteries, which take much, much longer to charge than lithium and especially lithium-ion batteries, and the power level drops throughout each charge cycle.
We used to recommend the refurbished version of the Dyson DC44 as our runner-up pick. It's still available (which is surprising), but we don't recommend it anymore, now that the Hoover Air Cordless 2-in-1 and Dyson V6 are available. The biggest advantage the DC44 had over the Hoover Linx (our old top pick) was that it converted into a good hand vacuum; it only marginally better at floor-cleaning. But now, the Air Cordless 2-in-1 converts into a good hand vacuum and costs $80 less than the DC44, so that advantage is gone. And from the high end, the V6 is a superior cleaner and easier to handle than the DC44—better enough on both marks that it's worth the extra $70. The DC44 had a great run, but its time has passed.
What about all the other V6 models that Dyson sells? They're all built on the same base as the plain ol' V6, just with different sets of accessories. There's the V6 Motorhead ($400), which has a cleaning head that's so aggressive it sends debris flying when you try to use it on bare floors; the V6 Animal ($500), which includes a few extra accessories including the a mini turbo-brush; and the V6 Absolute ($600), which comes with a ton of accessories and was supposed to solve the "snowplowing" problem, thanks to a new cleaner head design that Dyson is calling the Fluffy. But CNET got an early review unit of the Absolute, and they found that the head presents a new set of challenges—pet hair clings to the surface of the brush roller, and you'll have to clean it manually.
None of the Dyson V6 step-up models are worth the extra cost, even if the prices drop.
In any case, none of these V6 step-up models are worth the extra cost, even if the prices drop. If you're using a cordless stick in the right environment, the base model V6 has pretty much everything you'd need in a vacuum. If you need the mini turbo brush, just add it on separately because it's always going to be cheaper than buying a step-up package. Dyson stick vacs are great but wicked expensive, so don't get fooled into paying more than you have to.
We tested the Hoover Air 3.0 Cordless in an older version of this guide. It's in the same line as the newer Air Cordless 2-in-1, but there are big differences. The Air 3.0 aims to be a proper whole-house upright that happens to be cordless instead of a typical cordless "stick." But it's no better at cleaning bare floors, short carpets, or thick carpets than any of the other models we tested; it also costs more than most of them. The hose should be an upside, but it's short and awkward to use. We also found that it clogs more easily than the stick-style vacs do, because there are more twists and narrows in the channel between the cleaner head and the bin. It's great that the Air comes with two extended-life batteries, which effectively pushes the run time to 50 minutes, but you're really paying for a cheap vacuum with two expensive batteries. The price has dropped dramatically since we first reviewed this vacuum from $300 to $200. It might seem like a deal, but it's really a red flag.
Hoover also makes an Air Cordless Lift ($400), which has a detachable, lift-away canister—a handy design made popular by Shark vacuums. Like the Air 3.0, it aims to be a replacement for a traditional plug-in upright, rather than a convenient lightweight model for a small home. It's the right target to aim for, but from what we've seen so far, the batteries just aren't good enough to support that kind of workload—not yet, anyway.
We tested the Rowenta Delta Force in a previous version of this guide, too. It has good-looking specs like a triangle-shaped cleaning head for getting into corners and a 40-minute run time. But it's powered by a NiCD battery, which takes ages to fully charge, and starts to lose suction power about halfway through the expected run time. The cleaning head is so low to the ground that the vac barely works on any carpeting at all—it suction cups itself to the ground. In a world where the Air Cordless 2-in-1 is available for $150, the Rowenta Delta Force just doesn't quite cut it.
As for other models that we dismissed:
The Electrolux Ergorapido line of 2-in-1 models is popular, and a couple models almost made our finals, but the specs didn't quite line up. The 1030A has a sweet 18-volt battery but no brush roll, so it's useless on any kind of carpet. The 1061A has a brush roll, but a weak 12-volt battery. Other cheaper models in the series, like the 1022A and 1014A, have even weaker batteries.
After we made the Hoover Air Cordless 2-in-1 our main pick, Electrolux came out with a couple of new Ergorapido models. The 2055A (10.8 V) and 2081A (14.4 V) both fall below our threshold for battery power, but Electrolux sent us the 2081A to check out anyway. It's a decent cleaner for the price, the lithium battery is great, the headlight is useful, and the Brushroll Clean feature (essentially a razor blade built into the cleaning head) is a great way to get long hair off of the roller, and a feature we'd like to see on most vacuums. But it's just a little too weak to reliably clean even bare floors, and we think it's worth spending the extra $20 or so on the Hoover 2-in-1.
The Gtech AirRam has an absurdly powerful battery, but it's $300, and CNET said it "consistently underperformed almost every other vacuum we tested."
Rowenta has another line called Air Force, in 18-volt and 25-volt models. They use NiMH batteries instead of NiCD as the Delta Force does, which means faster charging and more consistent suction. But the Air Force models are not easy to find in the US.
The Shark Navigator Freestyle SV1106 gets good reviews from its owners and Consumer Reports thinks it's okay, too. But it has a weak, non-lithium battery, and doesn't seem to do anything better than any of our other finalists, so we dismissed it.
Bissell is known for cheap vacuums, not necessarily good ones. Still, a few models in the new Bolt line have some promising specs like high-powered batteries, long run times, and convertible hand vacuums.
However, any illusions we might've had were shattered when CNET got their hands on the Bolt Ion ($200) for testing. They gave it just 2 out of 5 stars, one of the worst scores we've ever seen from that site. Reviewer Andrew Gebhart put it bluntly: "It's such an ineffective pain that I wouldn't recommend it at any price point." The Bolt Ion XRT ($230) has a higher-powered battery, but that won't save it from its own janky design, so we're confident dismissing it too.
Black & Decker makes our favorite handheld vacuum, the 20V MAX Lithium Flex Vac, so we hoped for good things from their new cordless stick, the 24V MAX Lithium ($240). Owners seem to like it fine, so far. But CNET reviewed the 36V version ($300) and weren't impressed. "It's a pain to keep clean, lacks features and makes a mess of pet hair," Gebhart wrote. "At best, it's a middling performer without any notable extras to help it rise above the crop." If that's the best the overpriced, high-end model can manage, the step-down version probably won't cut it, either.
Rounding out the bottom end are super-cheapo models from Dirt Devil, Bissell, and Eureka. These are all cheap vacuums, some better than others, but we wouldn't consider any of them as a primary cordless vac because their batteries are weak and the brands have spotty reputations.
What to look forward to
Inevitably, cordless vacuums will replace most cord-powered vacuums. That might not happen soon—battery tech develops pretty slowly—but a few manufacturers are already moving in that direction. A Hoover rep told us that within the next five years, half of the company's vacuums will be battery-powered. For small-area vacs like the Air Cordless 2-in-1, we think that's great. But battery tech will need to improve (or get cheaper) before it makes sense for most people to use a cordless vacuum in a larger house with lots of carpeting.
A few models with whole-home cleaning ability are starting to trickle out, and it's forcing us to reconsider how we think about cordless vacuums. Now that the batteries are long-lived enough and powerful enough to clean an entire house, should we reconsider what a reasonable price is for one of these models? We're planning to test a bunch of these particularly high-end models, and we'll see how we feel after that.
The newest high-end cordless vacuum is the Dyson V8. In the US it won't be widely available until September, but you can buy it at the Dyson website if you're interested. CNET has a good preview of the V8, covering all the changes over the V6. But the headline feature is the 40-minute battery life, which is twice as long as the V6's and ample time to clean most homes fully. The current price tag for the Dyson V8 is a whopping $600, though, and Dyson is releasing only this one version of it "for now," as reps told us. Maybe in time the company will have multiple versions at different prices, as it does with the V6. We will be testing the V8 over the next few months.
Earlier this year Simplicity released the Cordless Freedom, which is powered by an impressive 44-volt lithium-ion battery with more than an hour of cleaning time. This is the first instance we've seen of a company taking one of its preexisting corded vacuums and swapping the power source over to a battery. The downside? It's $700, it's bagged, and it has no hose for above-floor cleaning. We hope to test it sometime this fall.
This year at the CES trade show, CNET covered LG as it unveiled another cordless vacuum, the CordZero, with the additional ability to follow you around on its own power as you work. We're not sure how necessary such a feature is, but we'll look out for reviews and reactions when the vacuum arrives in stores. The CordZero apparently has a 40-minute run time and 200 watts of power. LG has set neither a price nor a solid release date as of yet.
Care and maintenance
As with any other vacuum, you absolutely need to do some basic maintenance to make sure that the Air Cordless 2-in-1 keeps running well.
Most importantly, empty the dust cup after each use. It's a small bin, and if it's jammed up with too much debris, air can't flow freely through the vacuum, and it won't work as effectively.
Make sure to clean the filters habitually. Filthy filters also restrict air flow. Hoover recommends that you clean the filter with warm water every four to six uses, and you should let it dry for at least 24 hours before putting it back in the vacuum. Luckily, the Air Cordless 2-in-1 comes with two washable filters, so you can use one while the other dries. Whenever the mesh pre-filter is visibly dirty, take it out and knock the debris loose.
If the filters are clean but the vacuum still isn't picking up like it should, check for tangles and clogs. Remove the battery first. If the brush roller looks tangled, you can just pop it out of the cleaning head—the base plate comes off without any tools—and cut away any hair or string. If you think a clog is the culprit, detach the hose between the cleaning head and the dust cup by pinching the two plastic tabs. The pathway is short enough that you should be able to push out any clogs with your index finger, but a pipe cleaner or even a clothes hanger will work, too.
Wrapping it up
If you live in a small house or apartment without thick carpet, the Hoover Air Cordless 2-in-1 is a versatile vacuum that'll clean your entire home, and even your car, without fuss—there's not even a cord to trip over. The Hoover Linx is a good way to save a few bucks if you don't need a hand vac. And if you want a longer run time and your carpets to get a deeper clean, the Dyson V6 is a great step-up option.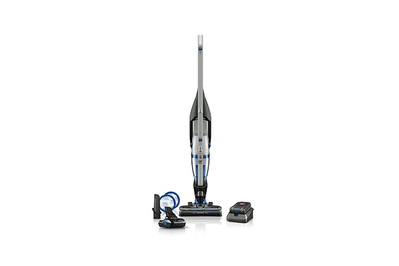 *At the time of publishing, the price was $180
To share this page via email, fill out the fields below:
Message Sent!
Oops! Please try again
Send
Originally published: June 19, 2015