The Best Cheap Vacuum
To share this page via email, fill out the fields below:
Message Sent!
Oops! Please try again
Send
If clean enough is good enough for you, the vacuum to get is the Shark Navigator Lift-Away NV352. Easy to use in several modes, this bagless upright outperforms other cheap vacuums because it cleans most kinds of debris from most common surfaces. The NV352 also needs little maintenance and should last at least five years. That's a combination of benefits we can't find on any other product in this price range. It won't last as long or clean as deeply as the best high-end vacuums, but if you're not ready to commit to a $450 vac for a couple of decades, the Shark NV352 represents an effective, affordable, simple-to-use compromise—and it beats the pants off its competition.
We came to this conclusion after spending almost 250 hours researching, testing, and writing about all kinds of vacuums in the past two years. For this guide alone, we scoped out 160 cheap vacs over 30 hours of research, and put in 12 hours of testing with the best few models. We tried clogging them with shredded paper and cat hair (and then unclogging them), we steered them under low couches and into tight corners, and we watched them suck up baby powder, cat litter, cat hair, and food crumbs off bare floors and carpets.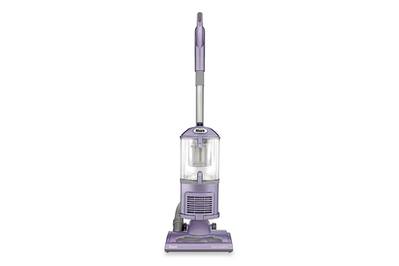 Shark Navigator Lift-Away NV352
An effective, affordable, reliable, easy-to-use bagless vacuum that will work well for most people in most homes.
*At the time of publishing, the price was $160.
The Shark NV352 will be a comfortable fit for most homes—any place larger than 800 square feet, with most kinds of flooring, with or without stairs, and with or without pets. It sucks up more kinds of debris from more kinds of flooring than most other cheap vacuums (and plenty of pricier models). That performance comes largely on the strength of its cleaning head, which sits at a height that creates strong brush action on short- and medium-pile carpets and also allows vigorous airflow on bare floors. It'll pick up pet hair, dust, and loads of other debris that your old vacuum probably left behind. A handful of attachments come with the NV352, including a motorized hand brush that makes cleaning stairs and cloth furniture much easier. Handling is as light and fluid as you'll find in a corded vacuum at this price, thanks to a 12-pound frame and swiveling joint. The main assembly even lifts away from the rest of the vacuum to help you roll under furniture or reach the ceiling. The cost of ownership should be close to zero, because it's bagless and equipped with washable filters and a belt that won't stretch out over time. And if something does go wrong, it has a five-year warranty that Shark seems to honor readily.
After first gaining attention as an infomercial product, the NV352 has been around for more than five years now, and it's been our favorite cheap vacuum for more than a year and a half. The thousands of user reviews are overwhelmingly positive, producing a weighted score of 4.5 out of five at Amazon and an average score of 4.6 out of five at Google Shopping (aggregated from several major retailers). Other vacuum manufacturers have caught on and are trying to clone the NV352 and other Shark models. But for our money, the NV352 is still the best value by a long shot.
Who shouldn't get this vacuum? People in small apartments are probably better off buying a cordless vacuum. If you live in a very large home or if you have special-care flooring such as shag carpet or scratch-prone stone tile, a high-end vacuum is a wiser purchase.
*At the time of publishing, the price was $160.
If the NV352 is sold out, keep in mind that Shark makes a ton of models that are essentially identical. The NV350 and NV351 are carbon copies with different tools (though they're much harder to find these days), while the NV355, NV356E, NV360, and NV370 typically cost a bit more and have a few extras such as larger dust cups, different button placements, or additional tools. All of them are built around most (if not all) of the same parts. If you have to get another model instead of our first choice, we suggest the NV356E, which has a slightly larger dust cup and usually a higher price but is otherwise very similar. We chose the NV352 over the other Shark models because we think it most effectively balances a low price and plentiful tools, but you can feel free to poke around and decide differently—the Shark models should perform and hold up equally well.
Panasonic MC-CG902
This canister vac has an adjustable-height cleaning head that lets it clean long-fiber carpets. It works fine, but far more people in the US prefer an upright.
If your home has high-pile carpets (or if you simply prefer canister-style vacuums), check out the Panasonic MC-CG902. Its adjustable-height cleaning head can handle shag, saxony, and other long-fiber rugs without choking or tangling like many other vacuums at this price will. Some other canister models hit the same marks, but the MC-CG902 has a strong reputation after years of availability, and it tends to cost less, too. (We'll cover the differences between canisters and uprights later, but neither design has any strict advantages or disadvantages over the other. The decision is just a matter of what you're more comfortable with.)
Table of contents
Why you should trust me
I've covered vacuums for The Sweethome for more than two years, logging about 300 hours of vacuum research and testing in that time. That's involved reading hundreds of reviews (if not more than a thousand), mostly from vacuum owners but also from Consumer Reports, CNET, and other testing outlets. I've interviewed more than a dozen experts, including repair technicians, shop owners, engineers, air-quality specialists, enthusiasts, and editors from the big testing houses. I have at least passing knowledge of hundreds of models, and have personally tested a few dozen of them, across all types and most price points. I know what to expect from different kinds of vacuums and what the best models are capable of. With all that knowledge, I've put together The Sweethome's guides to high-end vacuums, cordless vacuums, robot vacuums, handheld vacuums, and how to pick the right vacuum for your home.

Who should buy a "cheap" vacuum
When people ask me in person which vacuum they should buy, I usually tell them to choose one of the "cheap" models we recommend here. (They're actually more like midrange vacuums, but "cheap" makes for a better headline.)
Cheap vacuums pull about 80 percent of the workload for about 40 percent of the price, and should last five years if you perform some basic upkeep.
Compared to the
high-end models we recommend
, cheap vacuums pull about 80 percent of the workload for about 40 percent of the price, and should last five years if you perform some basic upkeep.
These cheaper vacuums may not be a perfect fit for every home, but they're at least a solid choice in most homes in the United States and Canada.
We think it's worth considering other options, whether it's a high-end vacuum that'll last for decades, or a cordless vacuum if you live in an apartment, or something that can handle your long carpets or scratch-prone floors. Check out our guide on how to find the best vacuum cleaner for your home and your needs if you need some help.
How we picked
This is the fourth edition of our cheap vacuum guide, the second one that I've written, and the second time we've picked the Shark NV352 as the top dog.
The NV352 became our top pick in spring 2014. We chose this model because in comparison with most other cheap vacuums, it cleans better in most homes, needs less maintenance, and comes with a longer and more comprehensive warranty. In our testing, this model was the best affordable vacuum by a long shot. The only other vacs that came close were more expensive Shark models like the NV500.
It's been close to a year and half since we made that recommendation, and dozens of new, affordable vacuums have debuted since then—a handful of which are obvious attempts at cloning the Shark NV352. The time is right to give the category another look.
Our goal this time was to find a vacuum that could out-Shark the Shark.
We spent about 15 hours doing research for this update, and we found more than 50 new models. Counting the last version of this guide, we've looked at more than 160 affordable vacuums over the course of about 30 hours of research. Our goal this time was to find a vacuum that could out-Shark the Shark—a versatile, effective cleaner with easy handling, strong user reviews and high ratings at editorial outlets, and the build quality (or warranty coverage) to last for half a decade without too much maintenance.
We started dismissing challengers for any of the following reasons.
Average user ratings of fewer than four out of five stars: Such scores tend to indicate performance or quality-control problems.
No brush roller, or a brush roller that won't shut off: These models won't work well in homes with a mix of carpets and floors.
A canister design: The vast majority of people prefer uprights.
A bag: While bags help high-end vacuums last longer, that isn't the case with cheap vacs—and it's a hassle to buy more accessories.
A stretchy, non-lifetime belt: You'll have to swap the belt every few months to keep the vac running well, and some people might be intimidated by the idea of doing such a swap. Plus, why bother with this type if you can find better belt designs anyway?
A price tag above $200: Experience tells us that going past that price puts you in a no-man's-land between good cheap vacuums and worthwhile high-end models.
A price tag under $100: In our experience, vacuums that cheap are more trouble than they're worth to keep up with the maintenance.
Among models that survived those cuts, we favored higher user ratings, a strong editorial review from a major testing house (including Consumer Reports, CNET, and to a lesser degree Reviewed.com), the length of the warranty and the ease of making a claim, and a lift-away feature, which allows the vacuum to clean above-floor surfaces as well as to get under short furniture.
We decided to test two vacuums for our main pick this time around: the Shark NV352, our reigning champ, and the new-for-2015 Samsung VU3000, a Shark clone that seemed capable of competing for the crown based on its specs and user reviews.

How we tested
We have a set of ever-evolving in-house tests that measure cleaning performance, handling, and ease of maintenance.
Consumer Reports and CNET publish useful data, and we usually view our tests as a complement to their ratings rather than as a replacement for them, even if we disagree with some of their evaluations. That said, the only professional review of either one of our finalists is a review of the Shark NV352 at Consumer Reports, so for this year's guide we had to lean on our in-house findings more than we usually do.
Cleaning performance came first. We vacuumed baby powder, cat litter, and pet hair off a wood floor and a medium-pile carpet, and we vacuumed lentils and Cheerios off a tile floor.
For the pet-hair testing, we purposely let a short-knit area rug collect medium-length cat hair for a couple of weeks at the beginning of the summer. By the time we tested, the rug hadn't been cleaned in about two and a half weeks. We vacuumed in stripes, compared the haul, and then used each vacuum on a stripe that it hadn't yet vacuumed, to see if it picked up anything the competitor left behind.
We also performed a side-suction test, where we threw a bunch of lentils into a corner and tried sucking the mess up with each vacuum.
Our airflow test was up next. We poured a 2-inch line of cat litter onto a wood floor, put the cleaning head of each vacuum up to one end, and turned each vacuum on. The idea was to measure the strength of the airflow from the front of the cleaning head.
We then ran each model through our timed slalom course to get a feel for steering and maneuverability. We drove both vacuums through a few rooms, around and under a bunch of furniture, and over a mix of bare floors and area rugs. The point was to gauge how well these vacuums handled in a real-world home with a tight floor layout. Racing a vacuum through an obstacle course isn't exactly how you would use one of these, naturally, but it clued us in on a few frustrations and flaws that might annoy owners, such as sucking up area rugs. It's also a test that you don't see at Consumer Reports or CNET.
In addition, we made sure to use each vac for "above-floor" cleaning—upholstery, countertops, windowsills and curtains, stairs, and even the ceiling. We used the tools that came with the vacuum when doing so would improve performance.
And as with every vacuum category, we ran some stress tests. It's our favorite kind of test to run, because it gives us the best idea of how each vacuum stands up to the dumbest operator errors (we've all made them). Basically, we tried to clog and tangle each machine with tough debris like shredded copy paper, cat hair, sawdust, and socks—and if we succeeded, we then tried to figure out how to unclog them.

Our pick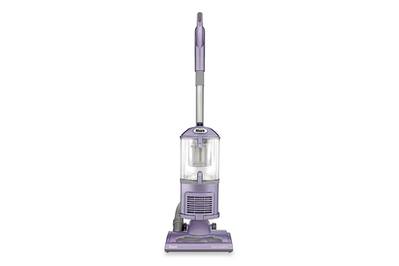 Shark Navigator Lift-Away NV352
An effective, affordable, reliable, easy-to-use bagless vacuum that will work well for most people in most homes.
*At the time of publishing, the price was $160.
The Shark Navigator Lift-Away NV352 bagless upright is the best affordable plug-in vacuum right now. It isn't the best because it has one particular ability, but because it combines several key aspects better than the other 160 vacuums priced under $200 that we considered.
Owners tend to love it, comparing it favorably to their old vacuums—even models that cost much more.
It will clean up pretty much any kind of debris (including pet hair) from almost any kind of bare floor or carpet in your home, which is more than most cheap vacuums can do. With its washable filters and durable moving parts, you won't have to put much time, effort, or money into its upkeep, and it will run better, for longer, than most of its peers. If parts do break, they're covered under the five-year warranty, and Shark makes cashing in on that coverage pretty easy if you buy from an authorized retailer. The near-guaranteed longevity alone puts the NV352 ahead of most cheap vacs. It becomes the obvious choice when you combine that with its performance: Handling is smooth and light thanks to a 12-pound frame and a swiveling joint between the chassis and cleaning head. The lift-away canister, the pull-out wand, and the mini brush attachment give it more versatility and reach than is common at this price. It's a great fit for most homes in the United States and Canada, and owners tend to love it, comparing it favorably to their old vacuums—even models that cost much more.
As with any affordable version of any product, Shark had to make some compromises in the design of the NV352 to keep the price in check. This model won't last as long or clean as deeply as a high-end vacuum. For the price, however, the NV352 stands head and shoulders above other cheap plug-in vacuums right now.
Cleaning performance is one of the NV352's chief strengths. In our testing, its side-suction performance stood out—it picked up almost all of the lentils we scattered into a corner and up against baseboards, outperforming even some high-end vacuums we've tested. We were impressed by how quickly and completely it picked up cat litter from a bare floor (in a single back-and-forth pass) and from plush carpet (two and a half passes). It picked up more pet hair than we expected to find in our short-knit area rug. Relative to other cheap vacuums we've tested (including cordless models), it did a great job. We're not saying that it would beat every cheap vacuum in each of our tests every time, but it is consistent—it performed well above its price tag by picking up the most common shapes and sizes of debris in just a few passes, from the variety of flooring types that you'd find in most homes.
Cat litter on a rug. The Shark NV352 is on the left, and the Hoover Air Cordless 2-in-1 (our favorite cordless vacuum) is on the right. Quite a difference! If you have lots of rugs, using a plug-in vacuum pays dividends.
Consumer Reports is the only top-tier testing house that has reviewed the NV352. CR gave it a Very Good rating for carpet cleaning and an Excellent rating for floor cleaning. The review scores also say that this vacuum is merely Fair in pet-hair pickup, though our experience (and that of many users) doesn't reflect that evaluation. In the end, the NV352 earned an overall score of 63 (CR's top-ranked bagless vac earned a 69, and this ranked fifth out of 42 models), and Recommended status. That's a great result for a $160 vacuum going up against models that cost $400 or more.
Owners tend to be very happy with the NV352's cleaning prowess, too. We looked at a cross-section of user reviews from Amazon and Google Shopping to get an accurate picture of the strengths and weaknesses (about 150 of roughly 3,000, filtered a few different ways2).
Tons of user reviews, even a bunch of the negative ones, mention that the NV352 is an excellent cleaner. (Reviewers often write that it has "great suction," which doesn't technically translate to great cleaning power, but based on the context we understand the wording to mean that the reviewers are happy with how much debris the vacuum picks up from their floors.) Pet-hair pickup in particular earns wide praise. Amazon reviewer Cambria says, "I cannot believe how much dog hair it picked up." One review is titled "Crazy cat lady approved," and reviewer Cosmo says that it does a "fine job" picking up after three dogs.
Several reviewers mention that when they first bought the NV352, they were surprised by how much debris it picked up compared with their previous vacuums. Amazon reviewer Gary A. Blomquist is one of them, writing that "the Lift-Away again sucked up tons of dirt/sand/dust/hair that the Kirby couldn't." (Kirby makes absurdly expensive upright vacuums that should outperform anything in the Shark's price range.) M. Anderson writes that an old vacuum had left behind so much debris over the years that picking all of it up took three months' worth of weekend vacuuming with the Shark. Since then, M. Anderson says, the Shark's dust bin no longer gets so full, and less dust is settling on furniture around the house—proof that the Shark is working very well, in M. Anderson's opinion.
What makes the NV352 clean so well compared with other cheap vacuums? We're pretty sure that the secret ingredient is the cleaning head.
What makes the NV352 clean so well compared with other cheap vacuums? We're pretty sure that the secret ingredient is the cleaning head. It sits at a fixed distance from the floor, but right at the happy medium where the airflow is strong enough to suck up small, static-clinging particles from a bare floor yet the brush roller still has enough clearance to agitate a carpet without getting blocked by the fibers. Ideally, you'd like to see an adjustable height setting to handle thicker carpets. But Amazon reviewer LILass, in the user-voted "most helpful"
review of the NV352
, says that "I haven't missed [adjustable height] on the varied height rugs I have, and it's not beating up my taller piles." LILass says it even rolls across a shag carpet as long as the beater is turned off and the suction vent is open. Honestly, you should probably get a different vacuum if you have more than a few dozen square feet of high-pile carpet in your home, but it's good to know that the NV352 can at least avoid choking on a shag carpet.
Handling and maneuverability are another bright spot for the NV352. It weighs about 12 pounds, which is much lighter than most full-size upright vacuums (17 pounds is pretty typical). Combined with a swiveling joint at the cleaning head, that relatively light weight makes the NV352 easy to steer around corners or to haul up the stairs. The lift-away feature helps it get under furniture that many other uprights will just bash into, and although the cleaning head is narrower than that of your typical upright (more on that topic later), that design proves to be helpful for getting the vac in between chairs. It ran our slalom course in about 1 minute, 30 seconds, which is on the quick side of typical for a plug-in upright. Hundreds of Amazon and Google Shopping reviewers praise it for its lightweight frame and easy handling.
The lift-away feature on the NV352 lets it get under low-clearance furniture like this futon.
Reliability is usually a weak point with cheaper vacuums, but the NV352 has two big advantages that help it hold up better than most of its peers.
First, the belt and filters are designed to last the lifetime of the vacuum. In cheaper vacs, those parts are meant to be replaced periodically. That isn't necessarily a bad thing, but it ends up costing more over time. More important, most people simply don't bother to replace the used-up parts, so the performance drops off a cliff after about a year. With the Shark NV352, that isn't a problem. Even if you're okay with doing some vacuum maintenance now and then, you don't have to do much of it at all with the NV352.
For example, the NV352 uses a geared belt in the brush roller. The belt maintains tension throughout the life of the vacuum, so the brush roller will spin as fast as it did in year five as it did on day one, and a fast brush roller means better carpet cleaning. (Read more about belts here.) Most cheap vacuums, on the other hand, use flat rubber belts, which stretch out and lose tension after a few months. The more the belt stretches, the slower the brush roller spins, and the less effective it is at cleaning carpet. A rubber belt needs replacing at least once a year. It isn't an expensive part, and it isn't difficult to replace. But why would you even bother with that system when you can get a vacuum like the NV352, with a belt that will outlast the motor?
Another example: The primary filter on the NV352 is washable. All you have to do is run it under cold water for a few minutes once every three months, and let it dry for 24 hours. The other filters, including the post-motor HEPA filter, should not require replacing during the lifetime of the vacuum, though you will need to knock the dust loose from time to time. This design keeps the operating cost lower than it would be if your vac had replaceable filters that you'd have to remind yourself to buy. Clean filters are a big part of what keeps a vacuum's airflow strong, and since washable filters are easy to keep clean, the NV352 should run well consistently.
The second big advantage that the NV352 has in terms of reliability and longevity compared with many other cheap vacuums is its five-year warranty. For the price of the vacuum, that's an incredible warranty period. And Shark makes cashing in on the coverage easy (most of the time). In a May 2015 review update, Amazon reviewer NikNak says that after four and a half years of regular use, several important components of the NV352 gave up the ghost—but Shark had no problem with the warranty claim and shipped all the necessary replacement parts.
We had a good experience with Shark customer service, too. When we first reviewed the NV352 in early 2014, we cold-called the company's hotline a few times to make a claim on a cracked hose. Each time, the representative readily offered a replacement hose and handle for free, including shipping.
Keep in mind a few warranty-related caveats. The warranty doesn't cover filters, and for motor-related failures you'll need to pay for shipping on claims. Buying your Shark vacuum from a recognized retailer sounds like the best course; as with most appliances, the manufacturer might make you jump through a few hoops to make a claim if you buy your vacuum from a third-party reseller. We've taken pains to make sure that the links in this guide point only to authorized retailers, but be sure to double-check before you hit the checkout button. Also, note that accessories such as the mini motor brush (for stairs and furniture) are not covered under the warranty. And if you use the NV352 in a commercial setting, the warranty is void.
If something breaks and you can't take advantage of the warranty (again, that last part seems pretty unlikely), Shark sells replacements for every part and accessory on the NV352. You won't even need tools to swap the new parts in. For what it's worth, Consumer Reports ranks Shark as one of the least repair-prone brands of uprights.
If the NV352 clogs, clearing the jams is easier than doing so on most vacuums. The body comes apart in more places than its competitors allow—dirt cup, cleaning head, handle, hose—and getting at obstructions is quick and painless, and usually involves no tools. And for what it's worth, we couldn't even clog the NV352 with our clogging mixture in the first place. The brush roller also automatically shuts off when it senses a hazardous obstruction wrapped around the bar, such as the edge of an area rug or a sock.
As for air quality, the NV352 does a reasonably good job of filtering out dust and other allergens. Not only does it have three filters (four if you count the mesh cone in the dust cup), including a post-motor HEPA filter, but the transfer points are also sealed with rubber gaskets. This very thorough review (on an air-purifier-enthusiast website) found a similar Shark to be sealed pretty well, releasing less than 2,000 particles sized 0.5 microns or larger per cubic foot (0.5 microns is about the size of a single grain of talcum powder). For most people, the NV352's filtration is good enough that they'll never even think about air quality. But if you're sensitive to dust and other allergens, and if clean indoor air is crucial to your quality of life, well, there are no easy answers. You should ask somebody who knows better than we do, but you'll probably have to get a high-end bagged vacuum like the one we recommend.
On that note, the NV352 is bagless. We've written at length about why bagged vacuums usually last longer, and longevity is particularly important if you're spending $450 on a high-end vac. But for cheaper models like the NV352 that are meant to last for only about five to seven years anyway, bagless is a hell of a lot more convenient. You'll never have to spend money on bags, and you'll never leave yourself unable to vacuum because you forgot to buy bags. And if you're unfamiliar with bagless vacs, you'll be happy to know that the NV352 makes emptying the dust cup very easy: You just hold it over the garbage and press a button, and the debris falls out of the bottom of the bin. Sometimes pet hair can get a bit wedged around the edges, but usually you have no need to get your hands dirty, and the risk of spilling is minimal.
The NV352 comes with an ample set of accessories, all of which attach to the pull-out wand. The most important one is the mini turbo brush, which is helpful for cleaning stairs and upholstery, especially if you have pets. Also included are a long crevice tool, a short crevice tool, and a utility-brush tool for cleaning windowsills, ceilings, or anywhere else the open-ended hose won't quite work. Some versions of the NV352 come with a dusting tool, but the unit we received for testing did not. Other configurations of the NV350 series come with different tool bundles, but they all include the most practical ones—a mini turbo brush, a crevice tool, and a utility-brush tool.
Owners also note that the NV352 is relatively quiet compared with other vacuums. With the brush roller turned on, we measured it at about 79 decibels—not exactly library-soft, but better than other cheap vacs we've tested, which regularly break 80 decibels. Judging by our frequency chart, most people won't find it to be particularly grating in terms of high-pitched whines.

Flaws but not dealbreakers
Any cheap vacuum has to make some compromises—otherwise it won't be cheap at all. We think that among all the sub-$200 vacuums out there, the NV352 makes the wisest set of compromises that anyone could hope for. Here's what you should know.
High-pile carpets, like shag or cable cuts, pose a big problem for the NV352. Long fibers can plug up the intake or tangle in the brush roller. Such jams make pushing the vacuum tough, and in this situation it won't be sucking up much debris anyway.
The thing is, most homes don't have high-pile rugs, so this is a nonissue for most people. The NV352 might have some difficulty rolling across softer medium-length carpets, such as a long plush cut, but the hose has a release valve. Twist it open, and the suction drops off enough so that the vacuum can roll smoothly without choking on the carpet fibers. (Higher-end vacs often have adjustable power settings to accomplish the same thing—Shark's method is a clever, low-budget solution.) If you do have long carpets in your home and you need an affordable vacuum, check out our recommendation for a canister vac below.
Another side effect of the fixed-height cleaning head: The NV352 sometimes suffers from the "snowplow effect." That is, sometimes large particles (pieces of Froot Loops cereal, for example) don't easily fit under the cleaning head, so they end up getting pushed around instead of sucked up.
Large particles are probably the least common type of debris, so this problem should be only an occasional annoyance for most folks. If you have a toddler who likes to toss Cheerios off the high chair, however, you have two easy workarounds. You can lift the cleaning head a skosh and place it on top of the debris, or you can bust out the wand and suck the particles up that way. Snowplowing is a common issue with vacuums of all styles and prices—even the top-of-the-line, $650 Dyson upright does this kind of thing—and it's an irritation that most people can learn to live with. Worst comes to worst, you can use a broom to pick up the big pieces. If this is a major problem for you, check out our canister vacuum recommendation instead.
Since the NV352 is predominantly plastic, some of its parts are prone to breaking. The chief complaint seems to be the accordion hose. That component is a little stiff to begin with, so you can imagine that the constant flexing puts serious strain on the material, especially as it ages and gets more brittle. Other reviewers point out that the clips attaching the dust cup to the rest of the main assembly can wear out over time—particularly if you carry the assembly by the handle in lift-away mode. And in a now-famous Reddit AMA from 2013, vac-shop manager and repair technician Brian Driscoll (aka /u/touchmyfuckingcoffee) called out the Shark brand as repair-prone, though that's the only place we've heard that criticism.
Your experiences may vary, but all the evidence we've seen leads us to believe that the NV352 is more reliable than most affordable vacuums. As we mentioned earlier, it has a lifetime belt and washable pre-motor filters, so you don't have to worry about forgetting to buy spare parts. If parts do break, Shark honors the hell out of its warranty these days, from most accounts we've heard. Most of the bad feedback about customer service comes from reviews posted prior to 2013, while most of the reviews referencing premature breakdowns are by owners who seem unaware that they can just call Shark and get most parts replaced for free. The warranty lasts for five years, and there's no reason that this thing shouldn't last that long for everyone who buys it.
Among owners, one of the most common design complaints (that is, gripes about a feature that's present on purpose and not a problem that results from a part breaking) is that the NV352 has a tendency to tip over if you yank the hose too hard. It isn't completely unbalanced, but yes, it does fall over more easily than some other vacuums do. If you find tipping to be a constant problem, you can use the lift-away feature to detach the assembly and rest that part on the floor—it'll provide a sturdier base.
Related to that problem, many owners write that the cleaning head is too narrow—or at least narrower than what they're used to. The shape makes the vacuum more likely to tip, and also means you'll have to make more passes to cover the same area.
The narrow cleaning head offers one particular benefit, though: It can get into corners and between chair legs more easily. So it's all in the eye of the beholder.
Another legitimate gripe is that the cleaning head does not easily disassemble. So if long hair or string tangles around the brush roller, you'll have to remove it while the roller is still installed in the cleaning head—the easiest way around that is to use a razor blade.
Some owners mention other sources of dissatisfaction.
Your mileage may vary. Most reviewers don't mention any of these issues, but we wanted to tell you everything we know. And of course, for everything that we (and many owners) say is great about the vacuum, you'll find at least one review from somebody who thinks the opposite—vacuum makers can't please everyone all the time. We've tried to present the prevailing opinion.
A big part of Shark's success is that it doesn't try to half-ass anything it can't do right. If your vacuum wish list includes several features you can't live without, you'll have to pony up the extra money to get something like our pick for the best overall vacuum.

Long-term test notes
When I wasn't actively testing it, I used the Shark NV352 occasionally between January 2014 and September 2015. (I was living in a small apartment at the time, so I favored cordless models when it was time to clean up.)
I didn't put too much strain on the Shark, but it did hold up well. The only sign of wear I noticed is that the dirt cup gets perma-dirty after a couple of months, similar to a foggy wine glass that no one has cleaned properly in a while. But that's mostly cosmetic, and any bagless vac with a clear cup will have that problem.
We shipped the NV352 to Sweethome editor Harry Sawyers for long-term testing a few months ago. His family has become accustomed to canister and cordless vacuums, so they've had to adjust back to a traditional upright. It's heavier and more difficult to get under furniture than the vacs they've gotten used to, and its corner suction is not perfect. But they find it maneuverable and easy to empty, and also like how easily it transitions between floors and carpets.
Sweethome editor Michael Zhao bought the Shark NV500 based on the previous version of this guide (he got it for less than the NV352's price at the time) and had this to say after using it for more than a year: "In the way where if you hold an iPod and an 'MP3 player,' the iPod feels like the right product even though they do the same thing." The Shark is the iPod in this scenario.
If you're looking for a more long-term perspective, some Amazon reviewers have been wonderfully diligent about updating their reviews every year—sometimes into the fourth or fifth year of ownership! Bless these folks.

A canister, if that's your thing, or if you have shag carpet
Panasonic MC-CG902
This canister vac has an adjustable-height cleaning head that lets it clean long-fiber carpets. It works fine, but far more people in the US prefer an upright.
If you prefer canister-style vacuums (some people just like them), or if your home has lots of thick carpet that a Shark would choke on, check out the Panasonic MC-CG902.
It's a perennial favorite at Consumer Reports, consistently sitting near the top of the canister vacuum rankings and earning Best Buy status (a step up from Recommended).
Effectively, the MC-CG902 is an all-surface cleaner. The powered cleaning head has a four-step manual height adjustment, so it works well on bare floors and pretty much any kind of carpet—even high-pile cuts like shag or cable.
We previously recommended the Kenmore 21514 in this slot as our affordable canister pick. As it turns out, Panasonic actually manufactures vacuums for Kenmore/Sears (we'd heard that this was true for years, and we confirmed it with a Panasonic sales rep this spring). The MC-CG902 is almost identical to the 21514. The Panasonic version generally costs less and crops up at more retailers, and its replacement parts are more widely available.
So why wouldn't we recommend this cheap, easy-to-find vacuum as our main pick, all other things equal? We can list a handful of reasons. For starters, its build-quality problems are well documented. Many owners cite a shoddy electrical connection between the vacuum and the cleaning head—it craps out after a couple of years, leaving the device with no juice to power the brush roller. Parts of the plastic body have a tendency to fall off, as well, and the tools don't always fit snugly onto the hose.
The MC-CG902 should be reasonably reliable thanks to a lifetime belt in the cleaning head. But it's a bagged vacuum with replaceable filters, so you'll need to remember to keep those in stock and replace them as necessary.
Also (and this is really just a cultural bias), most people in the United States and Canada don't like canisters as much as they like uprights. That preference has a lot to do with the history of flooring types in North America and the way that vacuums used to be designed.
The difference, in a nutshell, is that canisters are "split," meaning that the motor and cleaning head are separated by a hose measuring a few feet long, whereas uprights house all of their components in one slender body. Way back in the day (as in pre–World War II), canister vacuums lacked motorized brush rollers, so you could use them only in homes with bare floors. Wall-to-wall carpet was pretty common in American homes back then (at least among households that bought vacuums), so upright vacs became the default style.
Today (and for the past several decades, really), either type of vacuum can work well in any kind of home. From a practical standpoint, neither design is better or worse than the other—they're just different. Some people like that the weight of a canister vac is split between two components, while others can't stand the feeling of pulling the canister behind them. Most people in the US have only ever used an upright, and such models still outsell canisters 10 to 1. It's really just a matter of personal preference. We've heard some experts try to argue that canister vacuums are superior from a technical design aspect, but we'd counter by saying that because uprights are so much more popular here, manufacturers put more effort into their affordable uprights. If you're going cheap, you get a better value in an upright than in a canister.
Ultimately, however, your choice comes down to personal preference. Unless, of course, you have long carpets, in which case the MC-CG902 is the best value among both canisters and uprights.

The competition
Stepping up to a high-end vacuum is a wise investment for almost anyone. A well-built upright or canister vacuum will clean better than a cheaper model will, and it will last for at least a decade, probably longer, if you take decent care of it. If you can spend $450 on a vacuum, do it. If you can't, don't feel bad—we stand behind the picks we make in this guide. You'll just have to go vacuum shopping again in five years.
What about the middle ground between the good affordable vacuums and the best vacuums overall? Well, between $200 and $400 or thereabouts, it's a no-man's-land. Such models are usually just cheap vacuums loaded with features that might make them a bit more fun to use but typically do little to improve performance or increase longevity.
If you step down too far (under $130, give or take), you give up reliability, ease of use, and cleaning ability. The main drawback at this tier is that super-cheap vacs need even more maintenance than the cheap vacs we recommend. If you're not diligent about maintenance—replacing belts, clearing clogs, replacing filters—the vacuum's performance will drop off sharply after a few months, and the machine will barely pick up anything after about a year and a half.3
Even if you like to tinker and don't mind putting in the work, low-grade vacs usually don't clean carpets (or even bare floors) as effectively as the midrange models we recommend—or if they do, they weigh quite a bit and suffer from stiff handling.
Why does anyone bother with this kind of vacuum? Well, any vacuum seems great when it's replacing something with clogged filters and a floppy belt. You buy one $80 vacuum to replace your last $80 vacuum, it works great for a couple of months, it slowly stops pulling its weight until it's completely ineffective, and the cycle repeats.
If you're okay with the idea of saving $80 now so you can spend $160 later and waste 20 pounds of plastic in the process, you might as well know that the Bissell Cleanview 9595A is the most popular upright at Amazon. It has decent reviews from people who probably haven't had it long enough for it to start breaking down. If you maintain the 9595A perfectly, you will end up paying more than you would have for the Shark NV352, because you'll need to spend $20 on a new belt and filter every year. And you'll have a vacuum that's heavier, harder to steer, and worse at cleaning. Why would you do that to yourself?
What about all the other vacuums that fall in the sweet spot, between $150 and $200? As we mentioned, Shark makes a handful of other NV350-series vacuums. The NV350 and NV351 are essentially the same vacuum as our top pick but usually sold through different retailers, with slightly different sets of accessories in the box. The NV355 and NV356 are the "Pro" models, with slightly larger dust cups, but are otherwise pretty much the same machine. Shark has released a couple of newer models, too: The NV360 is the NV352 with a different handle and buttons plus an appliance wand for cleaning under your fridge, while the NV370 is the NV356 with those same upgrades. You can pick any one of these models, and you will have made a great decision. Choose the configuration with the tools you like, or the one that's the cheapest—it's up to you.
As for the Shark NV500 (and NV501 and NV502—same vacuum, different retailers), it's ostensibly an upgrade, but even after testing the models head-to-head for the last version of this guide, we couldn't find a compelling reason to spend the extra cash. The dust bin is a bit bigger and the cleaning head is wider, but those features aren't necessarily worth an additional $50 for everyone. The NV500 also comes with a rolling base for the lift-away unit—it's supposed to make the machine feel like a canister vacuum when you want that. Sweethome editor and NV500 owner Michael Zhao told me, "The rolling base is in a closet in our basement. We never touch it." Your mileage may vary, but we don't anticipate that most people will care one way or the other. That said, if the price of an NV500 vacuum drops to match the cost of one of the NV350-series models, go ahead and grab it if you wish.
You might be familiar with the new, higher-end Shark models in the NV650 and NV750 lines. They're each a marginal improvement over the NV350 and NV500 series, but not enough of an upgrade to justify the extra cost. The primary difference is that power runs through the wand so that the brush roller can spin even in lift-away mode. The feature seems smart in theory, and a few people who obsessively vacuum under their couches might love it, but we think most people would rather save the $120 and use regular ol' suction to clean under the sofa. In addition, the powered wand initially produced some shocking results for NV650 series owners—no, seriously, the wand actually shocked some people, and Shark had to recall the vacuums. The company has fixed the problem, but we still think this design tweak is a silly upgrade, and otherwise the vacuums are basically the same as their cheaper counterparts.
It attaches to the ground like a leech.
We brought in the
Samsung VU3000
lift-away upright for testing, but it disappointed us. It has all the right specs on paper (it looks like a convincing Shark clone), and it boasts solid user reviews as well. But this thing simply does not compete with the NV352 on any level. It performed worse than the Shark NV352 in every single one of our tests, and in general it's unpleasant to use. The problem? The airflow is all wrong. The vacuum produces tremendous suction, but it pulls from directly underneath itself (rather than angled toward the front of the cleaning head), so it attaches to the ground like a leech. The VU3000 is exceedingly difficult to push across any kind of rug except for low, tight-knit, wall-to-wall carpet. Like the NV352, it has a release valve on the wand to reduce the suction a bit, but even with that adjustment, it doesn't pick up debris any faster or any more effectively than the Shark does. Handling is stiff and heavy. It's unmercifully loud. Even the buttons are in awkward spots. Frankly, we're surprised that this thing has such solid user ratings. Just goes to show you, it's not so easy to copy success.
At one point, the Eureka Boss SmartVac 4870MZ was our top pick in this guide. Consumer Reports gives it a great rating, and it's a powerful cleaner that works well on a variety of surfaces. But people who own it say that it's difficult to steer because it's so heavy, and they note that the belt has a tendency to pop or to wear out quickly. Ease of use is incredibly important in a vacuum, and this Eureka doesn't have that.
Once our top contender, the Panasonic MC-UL81X bagless upright has good reviews from Reviewed.com and Consumer Reports, both of which cite its cleaning performance and its value for the money. User reviews, however, say that it's hard to maneuver and sometimes frustrating to maintain. Its short warranty is the final nail in its coffin.
We considered testing the Dirt Devil Lift & Go UD70300D, which clearly represents an attempt to undercut the Shark lift-away models. User reviews are pretty positive, too. Unfortunately, this model failed Consumer Reports's emissions test, and it isn't great at cleaning carpets. CNET gave it a mark of 2.5 out of five, one of the lowest scores we've seen that site bestow on a vacuum. Pass.
We also did a sweep of the low-end models from the upscale brands, including Dyson, Miele, Riccar, Sebo, and Simplicity. But none of those came in below our maximum price of $200.
Aside from everything we just listed, we looked at another 150 vacuums, give or take. Some of those dropped out of the running quickly because of poor reviews, subpar specs, limited availability, or an obviously janky design. Others got a closer evaluation. Below, you can take a look at the long list of vacs we brushed aside 4 if you want. But the TL;DR version is that we couldn't find anything else that seriously challenged our favorite cheap vacuums.

Wrapping it up
If you're floored by how badly your current vacuum sucks, get the Shark NV352. It's a pleasure to use and it cleans well, and with the warranty, there's no reason you should get any less than five years of reliable service for the purchase price.
Photos by Liam McCabe
Footnotes:
1. Uprights come with heads that are designed to clean both floors and carpets. You often can't separate the head from the rest of the vacuum, and even if you can, it's so you can clear clogs, not swap heads. Only a few uprights are made to work with multiple cleaning heads, including the Dyson V6 and the Sebo Felix, and those models are expensive.
Canisters, on the other hand, often come with multiple floor tools to attach to the end of the hose, including one for carpets and one for bare floors. As for the risk of scratching, it's not that the Shark NV352 will definitely scratch your floors; it has rubber wheels, which don't scratch as plastic wheels do, and the brush roller isn't super-powered. But if you're lucky enough to have soft stone flooring, a non-wheeled, non-motorized tool like a parquet tool is good for peace of mind. Protect your investment, that kind of thing. Jump back.
2. At Amazon, we looked at a few pages' worth of reviews at each scoring tier (five-star, four-star, three-star, and so on), as well as the most recent reviews and the user-selected "Most Helpful" reviews. The last category is a treasure trove, as it includes notes from people who bought the vacuum from Amazon in 2011 (via verified purchase) and have updated their reviews annually since then. At Google Shopping, we looked at a few pages' worth of reviews at each scoring tier. Jump back.

3. This rule of thumb applies only to cheap vacuums with brush rollers—if you want a suction-only vacuum to clean bare floors, you don't need to spend much money to get something decent. Check out the Eureka Mighty Mite. We've used it, and it's legit. Jump back.
4. Dismissals
Bissell AeroSwift 1009: Basically a stick vacuum—light, but weak suction. Doesn't clean well.
Bissell Cleanview Helix Series: Middling user reviews. Can't switch off brush roller.
Bissell Cleanview One-Pass Series: This line includes at least a dozen models, with lots of different features and design choices. We mention the 9595A in this guide as maybe the least-awful cheap upright, but these are just not great vacuums. You'll need to put in time and money to keep one of these running well. Whether you maintain or replace, the Shark NV352 will cost less over a couple of years, and you'll have had a better vacuum the whole time.
Bissell HealthyHome 165NF: Mediocre Amazon.com user rating. Heavy. Anti-microbial feature seems like only marketing.
Bissell Heavy Duty 50C9: Walmart exclusive. Maintenance issues.
Bissell Lift-Off Multi-Cyclonic Pet 89Q9: Poor carpet performance, hard to maneuver.
Bissell Momentum Series: Super-cheap, too much maintenance required.
Bissell OptiClean 30C7T: Target exclusive. Super-cheap, too much maintenance required.
Bissell PowerClean Series: At the higher end of Bissell's lineup, but the brand does not have a great reputation for long-term quality. These models are heavy, too, and their durability is questionable. Availability seems to be limited.
Bissell PowerClean 16N59: Older model, availability is limited now. Heavy. Durability issues.
Bissell PowerEdge Pet Hard Floor: No brush roller. Super-cheap, too much maintenance required.
Bissell PowerForce Series: Five seemingly unrelated models, except that they are all inexpensive and exclusive to Walmart. A few bagless styles with different cyclones or tools, plus one bagged and one stick. All super-cheap, too much maintenance required.
Bissell PowerGlide Pet Series: The premier model (27683) in this series has some redeeming qualities, such as a lift-away feature. But user reviews point to frequent belt failures, and it performed poorly in Consumer Reports' emissions, noise, and tool-airflow tests. Cheaper models in this line aren't any better.
Bissell PowerGlide Pet Lift-Off 276xx: Not great on carpet, no height adjustment.
Bissell PowerGroom Series: Good user rating. Adjustable height, which is nice for the price. But it's loud, heavy, and at risk for cheap-vac maintenance issues.
Bissell PowerLifter Pet: Super-cheap, too much maintenance required. No user or editorial reviews available at time of writing.
Bissell Prolite 17G5: Not widely available. Middling user reviews. Super-cheap, too much maintenance required.
Bissell PurePro 59G9: Not widely available, not much info. Super-cheap, too much maintenance required.
Bissell Rewind PowerHelix Series: Cord rewinder causes maintenance issues. Super-cheap, too much maintenance required.
Bissell SmartClean 58F83: Super-cheap, too much maintenance required.
Bissell Total Floors 52C2/61C5x: Some owners find the Febreze filter smell overwhelming. Plastic construction. Heavy. Hard to assemble.
Bissell Trilogy 81M9: Decent, but users report durability issues.
Bissell Velocity 3863: Poor user reviews.
Dirt Devil Dash Multi Power Canister SD40055B: This is Dirt Devil's most expensive model, but it does not fare well in user reviews. Same goes for the un-powered SD40050B variant.
Dirt Devil Dash Upright + Floor Tool UD70250D: This model is an upright vacuum with a separate floor-cleaning attachment for the hose. Seems like the company should have built a better upright instead.
Dirt Devil Power Reach Canister SD40030: Subpar user reviews. Bagless canisters are arguably the least popular type of vacuum, too.
We've also looked at another 28 Dirt Devil models, only a few of which cost more than $100. Vacuums like this aren't built to last long, with iffy filtering systems and cheap parts. Many of these models aren't even equipped with brush rollers to clean carpets. You have no good reason to try your luck with a Dirt Devil when you have so many other, better options.
Electrolux Ergorapido Series: All of these vacuums are battery-powered models, so they're outside the scope of what we're covering in this guide. Check out our cordless vac guide for more information.
Electrolux Ergospace Green EL4101A: Has a non-motorized (air-powered) brush roller, which jams easily if you use the machine on thicker carpet. You have to switch tools for different surfaces. Tiny dust cup.
Electrolux Precision Brushroll Clean EL8807A: On the pricy side for a cheap vac, with mediocre user ratings.
Electrolux T8 EL4071A: Has a non-motorized (air-powered) brush roller, which jams easily if you use it on thicker carpet. Requires switching tools for different surfaces. Tiny dust cup.
Eureka AirExcel 990A: Floors only, no brush roller.
Eureka AirExcel NLS 5403A: Poor user ratings, limited availability.
Eureka AirSpeed AS100xA: Brush doesn't shut off. Regular maintenance can be frustrating. Quirky operation. Hard to maneuver. Low Amazon user rating.
Eureka AirSpeed AS105xxx: Bagged, which is inconvenient for such a cheaply made vacuum. The company makes at least five nearly identical 105xxx models.
Eureka AirSpeed ONE AS20xxx: Middling ratings. No off switch for the brush roller. Weak motor.
Eureka AirSpeed Pro All Surface Rewind AS1092A: Looked promising at first, but omits key features compared to the Shark model (lift-away, for example).
Eureka AirSpeed ULTRA AS40xxx: No brush roller off switch. Weak motor. Not much to differentiate from the ONE AS20xxx series. Not widely available.
Eureka AirSpeed Unlimited AS303xA: Decent ratings for such a cheap vacuum. Judging from the design, however, we know that keeping it running as well as better models will be a struggle.
Eureka AirSpeed Zuum AS5xxxx: Not widely available. Barely better than other AirSpeed models, which is not saying much.
Eureka CompleteClean 955A: Poor user ratings.
Eureka ReadyForce Total 3500AW: Poor availability, costs $50 more than other canister vacuums we like.
Eureka SuctionSeal AS1104xx: Mediocre Amazon user rating. Roller seems to be a common point of failure.
Eureka SuctionSeal 2.0 Pet Rewind AS310xA: Poor Amazon user rating.
We also came across about 17 sub-$100 Eureka models, most of which appear only at one big-box retailer, have few (or low-scoring) professional or user reviews, and have nothing on their spec sheets that stands out as being worth a look.
Hoover Air UH72400: A decent cheap vacuum in most regards. But Consumer Reports calls it out for being fairly noisy and not great on carpet. And with no lift-away feature, it can't out-Shark the Shark.
Hoover Air Pro UH72450: Same as above, though slightly more expensive. Pretty noisy, has problems on carpets (per Consumer Reports), no lift-away.
Hoover Air Cordless 3.0 BH50140: When Hoover released this model about a year ago, it was not a cheap vacuum. We reviewed it for our cordless vac roundup—you can find our notes there, but in short this is an underwhelming machine.
Hoover Air Hard Floor Canister: As of this writing, this model has an average Amazon rating of just one star across 17 user reviews. A new low.
Hoover Air Pro Bagless Canister: Bagless canister vacs are unpopular, and owners rate this one poorly. Ditto for the WindTunnel Air Bagless and Zen Whisper canister models.
Hoover Platinum Lightweight 30010COM: This offering is more of a vacuum package, with a commercial-style upright and small canister. A nice idea, but it doesn't handle like a modern upright, and it's a shade on the expensive side.
Hoover Platinum UH70015: Reliability issues. Appears to be discontinued, as it's no longer listed on Hoover's website.
Hoover T Series WindTunnel Pet Rewind UH70210: Poor carpet performance, reports of overheating and reliability issues. The UH70120, the non-pet version, suffers from similar issues, as does the UH70105, which has no auto-rewind mechanism.
Hoover Tempo WidePath U5140900: Short warranty, bagged.
Hoover U6485900: Great cleaning performance, but reliability seems to be a problem. Self-propulsion technology adds weight and makes the vacuum exceptionally difficult to push when the propulsion system goes bad.
Hoover UH30300: User reviews point to weak suction and mechanical problems around the brush roller. Ditto for the UH30310, which adds a pet-hair brush.
Hoover UH70400: Poor long-carpet performance, tons of parts to maintain (canister, filters, and roller).
Hoover WindTunnel Air SH40070: A bagless canister, the most unloved of all vacuum types. Tiny dust bin.
Hoover WindTunnel MAX UH30600: Reports of clogging problems. Relatively expensive. Mediocre user ratings.
Hoover WindTunnel MAX Multi-Cyclonic UH70600: Poor long-carpet performance, tons of work to maintain. Belt problems. The same goes for the UH70605.
Hoover WindTunnel Supreme U5472900: Not widely available.
Hoover WindTunnel 2 High Capacity UH70800: Decent performance for the price ($70), but it's likely to require quite a lot of maintenance. Ditto for the UH70811 (includes a mini pet brush), as well as the UH70820 (includes a self-rewinding cable, which always jams on cheap vacs) and the UH70830 (includes both the pet brush and the self-rewinding cable).
Hoover WindTunnel 3 Pro UH70905: Middling user ratings, relatively cheap. Nothing special. Also applies to the UH70935.
Kenmore 29229: Cleaning head not as versatile on different types of carpets as the step-up Kenmore and Panasonic models.
Kenmore 29319: Great cleaning performance, but cheap construction and reliability issues. Costs about the same as our favorite cheap canister, has less upside.
Kenmore Bagless Canister 10065: Bagless canister is not a well-liked design. This model is also on the expensive side for the category.
Kenmore Bagless Canister CJ112: Bagless canisters are not popular. Poor user reviews.
Kenmore Intuition 31040: Poor pet-hair performance and difficult maneuvering. Expensive.
Kenmore Intuition 31100: Pricier model, shorter warranty, and inconsistent floor performance.
Kenmore Intuition 31200: Consumer Reports loves this model, and because it uses a direct-drive system for the roller, it has no belts to snap or stretch. But it handles like a brick, and it faltered on CR's pet-hair test. It's a bit too expensive for the category.
Kenmore Progressive 31069 (Red): Similar to the Kenmore 21514 (and 21614 and 21714) in most ways, but less durable and not rated quite as well in Consumer Reports's evaluation.
Kenmore also sells eight vacuums that each cost less than $100. It's the same story as with other brands—keeping any of these things running well is too much of a hassle, and these models don't appear to be made to work nicely on carpet anyway.
LG LuV200R: A novel design, but LG has stopped selling vacuums in the US. It's a tough crowd out here.
Oreck bagged upright vacuums are great at what they do—that is, they clean the hell out of short, tight commercial carpet. Have staples in your institutional rugs? Get an Oreck. But these vacuums lack hoses and require bags. Their handling can be stiff for some folks' tastes, too. Nothing against Oreck vacuums in general, but this isn't the right category for them.
Panasonic Jet Force MC-UL42x: The brush roller doesn't turn off, which is a bit of a disadvantage on bare floors.
Panasonic JetSpin MC-UL915: Poor long-carpet performance, tough to maintain. Heavy. Not a great score from Consumer Reports.
Panasonic MC-UG223: Bagged. Not skilled at handling pet hair.
Shark NV341: The NV341 is an odd duck. It's a lift-away model with some premium features such as an LED headlight in the cleaning head, and it's a couple of pounds lighter than the NV35x (and up) models. But it isn't easy to find. Only two retailers sell it: Target has it for $190, while Kohl's marks it way up to $280. It's hard for us to recommend when the availability is so limited, but if you're interested and you want to take a flyer, this model might be worth a look.
Shark NV400 series: We passed on these models, including the NV400, NV450, NV480, and others we're probably missing. They tend to cost more than the NV3xx models, and they don't offer the lift-away design. If there's a cleaning benefit, it's negligible, and user reviews aren't any better.
Shark Rocket: We had these stick-style models (HV300, HV310, HV321) on our radar because they're light and easy to get under furniture. But the design has a few disadvantages. It's top-heavy, which can be a strain on sensitive wrists, and tough-to-clear clogs can form in the long, straight, narrow tube between the cleaning head and the dust bin.
The lowest-end Shark vacuums, including the NV22 and NV1xx series, haven't earned great performance scores in various testing. They also have no lift-away feature, and they don't cost much less than the NV3xx models. Jump back.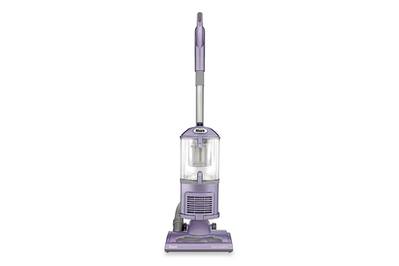 *At the time of publishing, the price was $160
To share this page via email, fill out the fields below:
Message Sent!
Oops! Please try again
Send
Originally published: August 10, 2015