The Best Bath Towel
To share this page via email, fill out the fields below:
Message Sent!
Oops! Please try again
Send
After roughly 42 hours of new research and real-world tests, including dozens of times drying off after showers, recording how quickly the towels dried, and weighing and measuring them for fiber loss and shrinkage, we think Target's Fieldcrest Luxury Solid Towel is the best for most people. This towel was our runner-up in our original review, and we've consistently found that it feels nearly as soft and outperforms those twice the price. It doesn't rank as the most luxurious towel we tried, but it does absorb water quickly and dry faster than plusher ones. It comes in a wide (if muted) range of colors, and you can upgrade to a bath sheet if you prefer a bigger size. And the Fieldcrest line's very reasonable price means you could stock a bathroom with a set of four for around $50.
Last Updated: June 15, 2016
Expand Most Recent Updates
May 29, 2015:
Updated with additional long-term test notes for our main pick after using the towels for more than a year.
November 11, 2014:
After weighing, soaking, drying, and washing a dozen of the best bath towels, we recommend the
$25 Pottery Barn's Hydrocotton
. It offers a great balance of softness, absorbency, affordability, and durability, and is likely to last over five years with regular use. In our testing it absorbed five times its weight in water and dried almost completely in six hours - just as quickly as the thinnest, cheapest towels we tested.
November 4, 2014:
We're still putting the finishing touches on our new towels guide, but we do know that we have a new pick: the
Pottery Barn HydroCotton towel
. Check back soon for the refreshed guide with all of our new research and testing from the past few months.
August 5, 2014:
We're setting this to wait status while we investigate issues related to 1888 Mills's quality and whether anything has changed in their process recently.
May 12, 2014:
For this update, we revisited our initial research and decided to consider a wider variety of towel types. We polled Sweethome readers to find out what they were looking for in a towel. Armed with that criteria, we then tested seven additional towels to see if our initial pick really is the best choice. And according to our tests, it is.
February 12, 2014:
It's getting hard to find our pick in stock in colors other than white, so we are looking around at other models and will update this guide in the coming weeks.
January 13, 2014:
Removed wait status because Amazon has our pick back in stock. We also removed the Costco buy link because they don't appear to be carrying the 1888 Mills anymore.
January 6, 2014:
The 1888 Made in Africa towels aren't currently available anywhere at a reasonable price so we are putting this piece on Wait Status and plan on revisiting it soon. In the meantime, if you can't wait, we recommend 
Amazon's Pinzon
. I would't regret ordering the Pinzon towel if I needed a towel right now (they're really quite good and well-made), but they are a bit on the heavier, fluffier side and can take a while to dry, so be aware of that.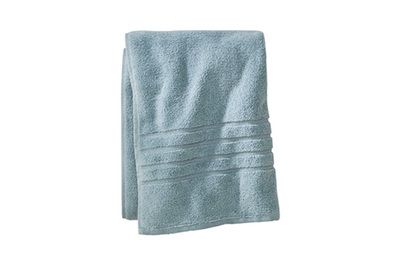 Fieldcrest Luxury Solid Towel
Target's Fieldcrest towel is almost as soft as towels more than twice the price. It absorbs well, dries relatively quickly, and comes in a good (though muted) range of colors.
Lands' End Supima Bath Towel
This choice is a little softer and plusher than our main pick but also pricier. It comes in brighter colors than the Fieldcrest line.
If you can't get our main pick, the Lands' End Supima Bath Towel is more of an investment, but you get a lot for your money. This medium-priced towel is made from Supima cotton, a long-staple breed that is particularly soft and durable. Compared with our main pick, the Lands' End towel absorbed a little more, dried faster, and felt nicer against the skin—but not so much that it offset the difference in price. This towel comes in an outstanding selection of colors and is available in bath-sheet size. Lands' End also offers a nice range of matching nonskid bath rugs if you want to coordinate your decor.
Although the Towels by Gus Natural Plush Micro-Cotton Towel definitely counts as a splurge, it received the highest marks across the board in our tests, from our staff testers and from me. This was the softest of all the towels we tried this year, plusher than our main pick, and it comes in a variety of elegant colors. Like our runner-up, this towel is made from long-staple cotton and is available in bath-sheet size.
Table of contents
Why you should trust us
For this update, we sifted through hundreds of towels online (the selection is dizzying and ever-changing) to whittle down the field. Sources covered both big-box stores and large online retailers, including Amazon, Bed Bath & Beyond, Lands' End, Target, and The Company Store. We took into account user ratings and comments. Consulting user ratings, blogs, and the opinions of Apartment Therapy, Good Housekeeping, HGTV, and Into The Gloss, we came up with a dream team of 11 towels to start with.
We also spoke with experts in several fields about cotton types, absorption, and dyes. These experts included Martin Bide, PhD, a professor in the Department of Textiles, Fashion Merchandising and Design at the University of Rhode Island; Sean Cormier, an assistant professor in the Fashion Institute of Technology's Textile Development and Marketing Department; and Angela Massengill, a fabric evaluation technologist at Cotton Incorporated. We also spoke with Ben Mead, a customer relations and technical specialist at Hohenstein Institute, the US testing lab for the Oeko-Tex standard, a certification you'll see on some towels.
I am something of a test-drive fanatic, having done them for publications such as The New York Times, The Wall Street Journal, Domino, and Real Simple. One boss called me "the product whisperer" for my bloodhound-like ability to sniff out just the right product from a large field. In my own life, I'm passionate about towels and constantly on the lookout for affordable ones that perform.
Who should get this
A good towel should last five to 10 years—or longer, depending on how you wash and dry it. But even the best towels will eventually wear out after daily use: The seams can come undone, the base fabric can begin to shred, and the loops can degrade, resulting in a less fluffy feeling. If that's the case with your bath towels, it's time to invest in some new ones.
We surveyed Sweethome and Wirecutter readers, and among the 267 who responded, the main complaints about their existing towels were that they dried too slowly, didn't absorb enough, and didn't feel nice. As for why survey respondents wanted to purchase new towels, the main reasons they gave were to replace fraying ones and to upgrade to something nicer. The main qualities our surveyed readers said they looked for in a towel were the perfect feel and long-term durability.
How we picked
When you reach for a towel, it should first and foremost be effective at drying you off. It should wick water away from your body and into itself. The towel shouldn't feel especially wet, or as if it's just pushing the water around. It should also feel soft and comfortable against your skin while performing this simple, daily function. Beyond that it should dry quickly, so that it's ready for your next shower and not prone to developing a mildewy smell. Over the long term, it shouldn't fall apart, shred, or unravel. Pilling, shrinkage, and fading—although normal with repeated use—should not occur to an annoying degree.
Of the readers who responded to our survey, 88 percent said they wanted basic or extra-thick terry-cloth towels. Terry cloth has loops of yarn that extend from the weave and absorb moisture well. For our original review, we considered waffle bath towels and flat-woven Turkish (peshtemal) towels, but for this update we opted to focus entirely on terry cloth.
Although you'll find some fans of alternative fibers such as rayon made from bamboo, the consensus is that a 100 percent cotton towel delivers the combination of absorbency, softness, and durability that most people want. And while authorities such as Consumer Reports have recently stated that rayon is more absorbent than cotton, most people still look for cotton when they shop for a new towel. Some evidence indicates that bamboo is not as eco-friendly as originally trumpeted, too.
As with other home textiles, such as sheets, the best towels are made from long-staple or extra-long-staple (ELS) cotton, which produces smoother, stronger yarn than regular cotton does. Generally the fibers of the long-staple variety range from 1⅛ to 1¼ inches, while ELS is 1⅜ inches or longer. Labels that say Turkish, Egyptian, Pima, Supima (the brand name for American Pima), or MicroCotton usually indicate long-staple or ELS cotton. According to many sources, including the thorough Macy's Towel Buying Guide, this type of cotton is softer, stronger, and more absorbent.
Be aware, though, that some manufacturers use terms like "Egyptian cotton" and "Turkish cotton" to sell inferior, shorter-staple cotton. As Mark Bagby, a representative for Calcot (a cotton marketing organization), told us for our sheets review, "I wouldn't say Egyptian, Pima, or Turk are generic names as much as they identify country of origin. Not all apparel or fabric goods made of Egyptian or Turkish cotton are ELS."
Some manufacturers use terms like "Egyptian cotton" and "Turkish cotton" to sell inferior, shorter-staple cotton.
Good Housekeeping says to pick combed or ring-spun cotton, but many other sites suggest that all extra-long-staple cotton is ideal for bath towels. The highest-end cotton is more expensive, but worth the investment for its combination of attributes. If a towel label says only "cotton," it's probably a shorter-fiber cotton, and the towel is probably less durable and possibly less soft.
You'll also see a lot of hyperbolic claims about absorbency, but after a certain point it's overkill. After all, you don't have several gallons of water on your skin when you step out of the bath or shower. A towel's ability to soak up three or more times its weight in water might sound good on paper, but that's mostly marketing hype. As long as the towel wicks the water off your skin quickly, without spreading the moisture around or feeling unpleasantly wet, it has done its job.
Depending on your personal preferences, you may want a lighter- or heavier-weight towel. Towel weight is quoted in GSM, or grams per square meter. A lower GSM translates to a lighter, thinner towel that will dry more easily. A higher GSM indicates a denser, plusher towel that will likely be luxurious to wrap up in but will take longer to dry. Overall we found the most popular towels available online to be between 400 and 800 GSM or so. (Many towels do not specify their GSM, so we weighed and measured each towel upon arrival to get a rough estimate.) If you like a thinner, lighter towel, you can go even lower on the GSM.
The "zero twist" label also gets a lot of hype. According to another of Macy's towel buying guides, "Twist refers to the number of twists per inch of yarn. The lower the amount of twist in a yarn, the more plush the towel will be. A higher twist adds strength and uniformity to a yarn, resulting in a more durable, substantial feeling towel. Low- or zero-twist fabric can only be constructed from longer staple cotton yarn." Because both zero-twist and higher-twist towels have their positive attributes, we called in both types.
As for construction, sources such as Good Housekeeping and eBay say that the edge seams should be folded, with tight or double stitching to ensure maximum durability. Woven edges are more susceptible to fraying over time. We avoided ornamentation, embroidery, and pattern, looking for towels that would be appealing to most people.
When we surveyed our readers about towels, 65 percent of respondents said they were looking for colors rather than white or off-white. We asked experts whether one color of towel is more likely to fade than others. Although some anecdotal information online says that red towels run more than any other, the people we talked to didn't agree. (Any towel that bleeds will transfer dye to other items in the wash, and perhaps that infamous pink is merely the most pesky.) It's all about which type of dye is in the towel, how it's fixed, and so on. And because brands often switch manufacturers, and those companies use different dyes, you have almost no way to know what you're getting.
For this update, we looked for new editorial reviews (we didn't find any) and combed through user reviews on the sites for retailers such as Amazon, Macy's, Target, and Walmart.
This year we looked at 20 towels and eventually narrowed that selection for testing to 11. This set included our prior winners, the Pottery Barn Hydrocotton Bath Towel, the Fieldcrest Luxury Solid Towel from Target, and the Lasting Color Cotton Bath Towel Collection by WestPoint Home (our previous top pick, runner-up, and budget choice, respectively). We tested those against the following:
With the two major updates we've done since we first published this guide, we've learned that towel quality can vary from year to year depending on production and materials. So we purchased all of these towels brand-new, just as you would, so that we'd be sure to get the same quality you'd receive.
How we tested
To avoid brand bias, we removed the labels from all of the towels and marked each with a number for identification. Before using or washing the towels, we weighed and measured each; after an initial wash, we weighed and measured them again to track shedding and shrinkage.
At this point, I used the towels in my home for real-life testing. I showered several times a day and used each of the towels a couple of times over the course of a week, taking notes about such aspects as the towels' softness, how well they dried in my bathroom, the stitching of the edges, whether the decorative bands were annoying, and the overall experience of how nice (or not) each one was to use. In all, I showered over two dozen times while testing.
Afterward, Sweethome and Wirecutter staffers got in on the act, using the top contenders to dry their hands and evaluating the towels for drying ability, feel, and appearance.
We washed the towels a total of 10 times, weighing and measuring them again after the fifth and tenth washes. I then used the top contenders again, looking for any major differences that a few additional washings could have made. Sometimes towels take a couple of weeks to become "themselves," by which time the fabric finishes wash away and the true softness comes through—or doesn't. I wanted to make sure I hadn't been swayed by qualities that didn't hold up over time.
We washed the towels a total of 10 times, weighing and measuring them again after the fifth and tenth washes.
We also tried an overnight drying test, which consisted of spritzing 12 ounces of water evenly on each towel and putting them on a hook to dry. We examined and weighed them (to see how close to their dry weight they were) right after spritzing, at 6 hours, and at 24 hours. But the test proved inconclusive, as none of the towels were completely dry in the morning—perhaps because we crowded them too tightly along our wall of hooks. In my home tests I didn't have this problem across the board; for me, only the heaviest and thickest of towels still had some residual dampness in the morning.
What the test showed—and this is exactly what we expected—is that thinner, lighter towels dry faster than big, fluffy ones. Overall, both the staff and I gravitated toward a middle-weight towel, which we think is the most appealing type for most people.
Our pick
Fieldcrest Luxury Solid Towel
Target's Fieldcrest towel is almost as soft as towels more than twice the price. It absorbs well, dries relatively quickly, and comes in a good (though muted) range of colors.
Target's Fieldcrest Luxury Solid Towel isn't the softest or absolute best towel you can buy, but it is our overall favorite for most people, because in our tests it absorbed moisture almost as well and felt nearly as soft as towels more than twice the price. It's of medium weight, so it feels soft but dries faster than plusher towels. It didn't shed excessively in the dryer (a complaint about our former top pick). It comes in a wider variety of colors (17 in all) than most of the brands we looked at. And its very reasonable price means you can pick up a set of four for around $50 currently.
This is the second time we've tested the Fieldcrest towel (it was the runner-up in our original review), and both times it outperformed much pricier towels. This year it felt nearly as good against the skin and absorbed as effectively as the Lands' End and Towels by Gus offerings, our runner-up and upgrade picks, which are two to three times as expensive. The bargain price of the Fieldcrest towel likely reflects that it's made from lower-quality cotton, which might mean it won't wear as well over the long term (compared with our other picks). Target's site indicates that these towels are made from "micro-cotton." Even after we made two calls and sent an email to Target, the company wouldn't confirm whether this material is the same as the long-staple MicroCotton (the trademarked cotton our Towels by Gus upgrade pick is made of). We suspect it isn't, particularly because the company doesn't use the trademarked word in its description. Typically, towels at this price are marked "made of 100% cotton," which usually indicates a lower-grade, short-staple cotton. In our tests, the Fieldcrest towel did feel better against the skin than the other towels marked as 100 percent cotton, such as those from IKEA and WestPoint Home. We'll monitor how well the Fieldcrest stands up to more washings, but so far we have no complaints about it getting rougher or thinner after 10 washes.
In both our staff hand-dry tests and my own at-home, full-body tests, the Fieldcrest towel struck an appealing balance between thin and fluffy. This isn't a super-plush luxury-hotel towel, but it also isn't the thin type of towel you'd find at a gym. It's made of a really nice medium-weight terry cloth that has a pleasing springiness, or give, when you press against the loops. Those loops are shorter than on the Lands' End towel, but they're very soft, even against the face. While this towel isn't as thin as our upgrade pick, it is thinner than the towel from Lands' End. It wraps easily around the body, and it's comfortable for lounging or for walking from the bathroom to a closet. It came in at 625 grams after the tenth wash, landing in the middle of the pack, in terms of weight, among the assorted towels we tried. One tester, describing this middle ground, noted, "Not plushy, but that works in its favor." The weight of the Fieldcrest towel also means it dries relatively quickly next to thicker, fluffier towels (such as the Nordstrom hydrocotton towel we tried this year).
A major complaint from our readers about our former top pick, Pottery Barn's Hydrocotton Bath Towel, was that it shed excessively in the dryer, even after many washes. After 10 cycles through the wash, the Fieldcrest lost roughly 19 grams of weight, about in the middle in terms of weight fluctuation across the towels we tested. The towel from IKEA, for one, lost less, but that's also a much thinner towel with less fiber to begin with. And for the record, in this round of testing the Pottery Barn towel shed less than the Fieldcrest one (only about 13 grams after the tenth wash), so we suspect that the offending towels might have had some quality issues. The Fieldcrest, like the other towels in this round of testing, lost the most weight during its first wash and dry, and didn't seem to lose a lot of fiber in progressive washings. Overall, we don't think excessive shedding will be an issue with the Fieldcrest.
As for colors, this towel comes in more shades than our runner-up or our splurge choice—17 in all. Although you won't find any notably bright colors here (such as yellow, orange, or turquoise), the hues on offer all look like they could mix and match, which is great if you want to try different colors.
The Fieldcrest towels are also Oeko-Tex Standard 100 certified. This program certifies that fabric is free from certain substances and processes that are potentially harmful to people and the environment. A few of the substances listed on the organization's site include formaldehyde, plasticisers, pentachlorophenol, and heavy metals. Oeko-Tex certifies only end products, so it doesn't tell you anything about how the cotton was grown. But the certification may be important to you if you have sensitive skin, especially if you work with formaldehyde, and are worried about contact dermatitis.
Target seems to carry some matching bath rugs in the Fieldcrest Luxury line, but they're a little scattered on the site, so it isn't simple to find one that will match your towels.
Flaws but not dealbreakers
The Fieldcrest Luxury Solid Towel might not be for you if you're looking for an especially plush towel. As I've mentioned, the terry cloth is of medium thickness, and it isn't the softest towel we tried (look to our runner-up and our upgrade pick for softer options). A couple of Sweethome testers found the Fieldcrest to be not so soft, with one saying "it feels a little rough and thick," and another describing it as "rather crunchy." But an equal number of testers found it comfortable to use.
This towel retained a bit more water in our spritz test this time around, and in our original review we found that it took a little longer to dry than our prior top pick from Pottery Barn. In my house, though, it dried within 24 hours, taking about the same amount of time as all the other towels in the group.
If you want brightly colored towels to accent a bathroom's decor, note that all of the Fieldcrest colors are relatively muted. We also read some complaints on Target's site and from our readers indicating that the darker towels faded or became blotchy over time. We haven't experienced this issue, but we'll keep an eye out for it during our long-term testing.
Long-term test notes
One Sweethome editor has owned some of these Fieldcrest bath towels and hand towels for nearly four years and says they're fantastic. They've worn really well, and they remain soft, absorbent, and fluffy. Her only note is that the stitching came out of the hem of one of the towels. Overall, she says she's very happy with them, and she has been replacing an old set with new Fieldcrest towels whenever they go on sale at Target.
A slightly plusher, more absorbent alternative
Lands' End Supima Bath Towel
This choice is a little softer and plusher than our main pick but also pricier. It comes in brighter colors than the Fieldcrest line.
The Lands' End Supima Bath Towel has a plusher, softer feel than the Fieldcrest towel. If you really like the luxurious feel of terry cloth, this one might be a better pick for you. While it isn't as thick as a luxury-hotel towel, the fabric has more spring to it than that of the Fieldcrest towel (or our upgrade pick from Towels by Gus). The loops are longer, but not as dense as those in the Fieldcrest. The Lands' End towel also felt slightly more absorbent and dried more quickly in our spritz test than Target's towel. Overall I found it more pleasing than the Fieldcrest, but not by such a wide margin that I think most people would want to pay twice the price of the Fieldcrest.
The individual loops on the Lands' End towel are longer than on the Fieldcrest towel, imparting a fluffier and softer feel. Although this offering has the same 650 GSM (grams per square meter) as the Fieldcrest, it feels more substantial. In our weight tests, the Lands' End towel came in at 678 grams after the tenth wash, heavier than the Fieldcrest but sitting about in the middle of our middle-weight towels. In the Sweethome office hand-dry test, participants found that it looked nice, dried well, and remained soft but absorbent.
It's made of Supima cotton (a trademarked type of Pima cotton), an extra-long-staple variety. One of the Macy's towel guides says, "Known for producing rich, extra-long staple fibers prized for their strength and absorbency, Pima is considered to be a superior blends of cotton."
The Lands' End towel is available in 14 colors, including some bright and highly saturated tones that aren't in Target's Fieldcrest line. It also comes with a lifetime guarantee, which means you can return it for a refund or exchange if you're not totally satisfied. Like the Fieldcrest, this towel is Oeko-Tex certified. It also comes in bath-sheet size, and you can get a range of matching nonskid bathroom rugs in the same colors.
The softest and most luxurious towel we tried
If you're willing to pay more for softness, you may prefer the Towels by Gus Natural Plush Micro-Cotton Towel. MicroCotton is a trademarked type of long-staple cotton that was developed in India. We found this towel to be among the lightest and thinnest in our group (thinner than the Fieldcrest), with a dense texture and shorter loops than on the Fieldcrest. Thin towels generally feel rough or scratchy (think cheap gym towels), but the Towels by Gus towel we tried felt especially soft, even against the face. It's softer than both the Fieldcrest and Lands' End towels. Basically, you get the best of both worlds: a thin towel that dries quickly but is notably soft and absorbent.
In both our office hand-dry test and my at-home tests, this towel felt the softest. One staffer commented, "It dries really well. Very nice and thick." Another said, "Loops seem more densely distributed. I liked this. Towel felt less bulky but more absorbent." It was the softest overall even though it wasn't the plushest in terms of the length of the loops—and it felt thicker than a lot of the towels we tested. The Sweethome staffers and I also liked that it was the only towel in the test group with no decorative (and potentially scratchy) bands.
While it doesn't look especially plush, the proof is in the touch. In our tests this towel was the most pleasant against the skin. The loops had not a hint of crispness or abrasiveness, and the towel was very light. After the tenth wash, it came in at 544 grams, making it one of the lighter towels we tried (the Fieldcrest and Lands' End towels ended up near the middle of the group at 625 grams and 676 grams, respectively). It's the combination of softness and lightness that really makes this towel a pleasure to use. It is also very absorbent, and in our tests it performed about the same as the Lands' End towel in drying.
The Towels by Gus bath towel is a little smaller than the corresponding size for our other two picks (27 by 54 inches versus 30 by 56 inches), but it's still easy to wrap around the body. And it's much easier to wrap around the body than a plush, hotel-style terry-cloth towel.
The 14 colors might not be the most on offer, but they are (in my opinion) the nicest. They have a rich quality that just looks more expensive than the others. Towels by Gus also offers a unique swatch program whereby you can request four samples and receive 4-by-4-inch swatches to make a more informed decision.
Care and maintenance
Towel makers typically treat them with a variety of coatings and finishes, such as fabric softener, to give them "shelf appeal"—that is, to make them feel fluffy and soft in the store. Like a peacock's plumage, it's there to entice you! However, such coatings make the towels less absorbent, so you want to get rid of them before using the towel. (And honestly, how many people groped those towels before you did?) Wash your new towels in plain water with a cup of white vinegar, and then with a bit of detergent.
Using too much detergent can make your towels feel stiff and cause a buildup of residue. Likewise, fabric softener can leave a waxy buildup on towels that decreases the cotton's natural absorbency. Using a softener every once in a while (if your towels feel scratchy) is probably fine. But by and large, try to avoid using softeners regularly.
Follow the laundering directions on your towel's tag. Several articles about towel care, including those from Better Homes and Gardens and Real Simple, recommend cold or warm water. Hot water will fade colors more quickly and cause the material to lose softness. (The one exception is white towels, which can get dingy in cold water over time.) And you should wash your towels every three to four uses. To put it right out there, you shed. Skin cells. Millions of them. So even though you're squeaky clean when you dry off, you're still leaving something behind. Also, the longer your towels go between washings, the more likely they are to develop mildew.
Don't let your towels sit in the washer for hours after the spin cycle. Get them into the dryer (or onto the clothesline) quickly to prevent mildew. If you're hanging them up in the bathroom after your bath or shower between washings, they'll dry better draped over the towel bar—unfolded—than scrunched up on a hook (or, worse, left on the floor).
Life happens, though, and should your towels develop a mildewy odor, use the vinegar rinse described above to freshen them up. Half a cup of baking soda in the wash cycle also works wonders. (Of course, don't use vinegar and baking soda at the same time, unless you want a science-fair volcano to erupt!)
The competition
Chakir Turkish Linens Luxury Hotel & Spa Bath Towel: This towel had high ratings on Amazon at the time we checked, but in our tests it wasn't particularly plush or cozy feeling. It was a bit scratchy and had a soapy, coated feel, even after several washings.
Nordstrom at Home Hydrocotton Bath Towel: Several readers wrote in to say that this towel was great, and it does have its merits. Unfortunately, although this towel was pleasantly plush in our tests (the second-heaviest in the group), its thickness proved to be its downfall. Its sponginess translated into slow drying times (in both our technical test and in my own bathroom), and that means a towel that is likely to still be damp in the morning.
Pottery Barn Hydrocotton Bath Towel: Following our selection of this towel as the winner in the previous version of this review, we received a lot of complaints about its shedding significantly in the dryer. It didn't shed all that much in our newest round of tests, though. Interestingly, the Pottery Barn towels we purchased this year didn't perform as well across the board with our staff testers, who said it felt rough and didn't absorb water effectively. Testers also thought this towel looked cheap. For the money, we now prefer either the Lands' End towel or the Towels by Gus offering.
Restoration Hardware 802-Gram Turkish Bath Towel: This towel gets a lot of love online, so we decided to try it despite the high price. But our sample, with an uneven loop height, didn't look luxurious. It was also not as soft as we would have liked for a long-staple cotton towel.
Lasting Color Cotton Bath Towel Collection by WestPoint Home: We had high hopes for this bargain towel because of the fair number of high ratings online. (It was also our budget pick in our original bath-towel report.) It comes in an appealing, if smallish, range of colors, and you can't beat the price. In our tests, though, it didn't have a nice look (inconsistent loop lengths, patchy appearance), and we could see pinholes of light through it when we held it up. It also felt rough and scratchy.
L.L.Bean Egyptian Cotton Towel: This towel dried slowly, remaining damp both in our office test and in my home. Some staff members found it scratchy and said that it didn't wick water away as effectively as our top contenders. It was only medium-soft, too. For the price, we didn't think it was worth an investment.
IKEA Fräjen Bath Towel: We always root for the underdog, but this towel didn't quite make the grade. It had an unusual weave that wasn't exactly terry cloth, so it didn't seem right for this test group. On top of that, it was quite thin, and we could see light through it when we held it up. It was very low on the softness scale and a bit scratchy, too.
The Company Store Green Earth Quick-Dry Towel: We were intrigued by this towel, which looks a bit like chenille. But it turned out to be rather thin, with light showing through when we held it up. It also shrank more in length (by almost 2 inches) than the average, reducing by 5 inches in all. This shrinkage seemed like too much when paired with the thinness.
For our original review we also tested the following:
1888 Mills Luxury Cotton Made in Africa Bath Towel: This was our original pick in 2013, but readers complained about quality issues. When we retested it in 2014, we found that the quality had gone downhill, as the towel we tried that year was lighter and sloppily finished.
Amazon Pinzon Luxury 820-Gram Bath Towel: This towel was too dense and too heavy, and it took a long time to dry out—a surefire recipe for a musty towel.
JCPenney Royal Velvet Egyptian Cotton Solid Bath Towel: We found this towel to be decent, but it didn't compare to our main picks, especially for the price.
Macy's Hotel Collection MicroCotton Luxe Bath Towel: This towel had notably soft and fluffy pile, but it began to pull and fray after only two washes.
Even using our criteria, you have tons of towels to choose from. If you're wondering why we didn't test towels from a certain brand or popular store, here's a list of those that didn't make it to the testing round.
Bed Bath & Beyond: Other than the WestPoint Home towel, we didn't test any other towels from this home-linens giant. Most of the store's top-rated towels have abysmal seasonal embroidery (who's rating these things?), and its higher-quality offerings simply can't compete with our picks in terms of pricing.
Crate and Barrel: This home store has a small selection of towels with midrange GSM, but these average items aren't worth their luxury prices.
Overstock.com: For some reason, this site seems interested in selling bath towels exclusively in sets—three, four, six, you name it. Unfortunately, what works for a family of four may not work for a single person, and none of Overstock.com's towels stood out as must-test options.
Walmart: We had plenty of reasons not to test any towels from Walmart. The retailer's website is useless for sourcing information. Few of its towels have labeling that indicates what kind of cotton they use, and none of them have their weight expressed in GSM, the industry standard. One potential contender from the Made Here Towel Collection seemed promising, but it is available only in sets of two, and Walmart gives no information about the towel's weight or construction.
(Original reporting by Melissa Tan. Photos by Michael Hession.)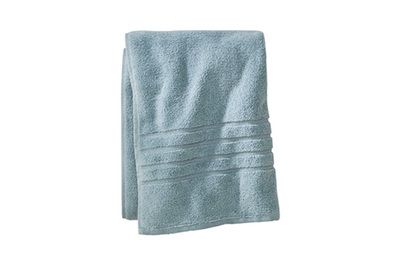 We do our best to stay on top of prices.
If something's changed, let us know.
To share this page via email, fill out the fields below:
Message Sent!
Oops! Please try again
Send
Sources
Bath Towel Buying Guide,

Macy's

,

2016

Bath Towel Buying Guide,

Wayfair

,

2015

Towel Buying Guide,

Good Housekeeping

,

August 13, 2007

Terrific Bath Towels,

Good Housekeeping

,

October 5, 2010

5 Ways You're Ruining Your Bath Towels,

Real Simple

,

2015

,
How Often Should I Wash My Kitchen and Bath Towels?,

The Wall Street Journal

,

June 29, 2015

,
You Need To Wash Your Towels More Often Than You Think. Here's Why.,

The Huffington Post

,

October 16, 2014

,
Bath Towel,

How Products Are Made

The Importance of Using High Quality Bath Towels,

King of Cotton

,

2015

professor, Department of Textiles, Fashion Merchandising and Design, The University of Rhode Island

,

interview

, ,

assistant professor, Textile Development and Marketing Department, Fashion Institute of Technology

,

interview

, ,

customer relations and technical specialist at Hohenstein Institute

,

interview

, ,

fabric evaluation specialist, Cotton Incorporated

,

interview

, ,
Why does red clothing dye bleed more readily than other colors?,

Yahoo Answers

,

2008

Your Guide to Buying Ultra-Soft (and Affordable) Bath Towel Sets,

eBay

,

March 3, 2016
Originally published: June 8, 2016